Biden's Dog Major Returns To The White House. Here's What We Know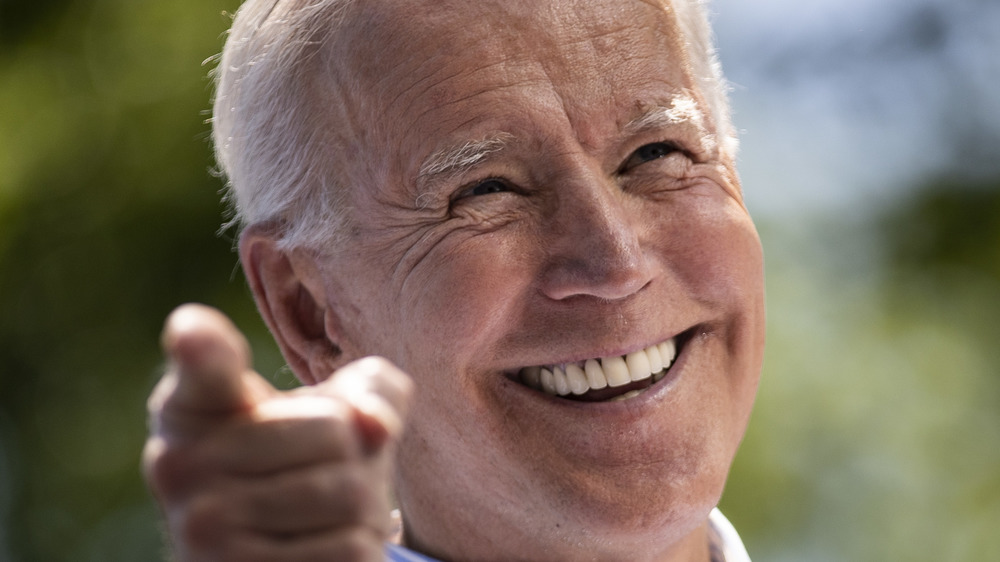 Drew Angerer/Getty Images
The Trump presidency was personified by many dark moments, but one of the most troubling aspects for many constituents was the lack of dogs in the White House after years of pooch-related fun, as noted by the Washington Post. That discrepancy was immediately corrected when President Joe Biden moved in, with his adorable family dogs Major and Champ in tow. The pooches took up residence just days after Biden's inauguration and were quickly spotted frolicking on the South Lawn and settling in to their plush new surroundings accordingly. However, following a mysterious biting incident, Major was put in the dog house, quite literally, when he was sent back to Delaware for further training, with his big brother in tow (via ABC News). 
All that was known at the time was Major had caused a "minor injury" to an unknown person. During an interview on Good Morning America last week, President Biden confirmed the skin was not broken and defended Major as a "rescue pup" who's easily startled. "You turn a corner, and there's two people you don't know at all. And he moves to protect. But he's a sweet dog," he explained. The commander-in-chief also acknowledged the dogs were sent to Delaware while the first lady was traveling, clarifying, "I didn't banish him to home. Jill was gonna be away for four days. I was gonna be away for two so we took him home." Now, though, it appears the First Dogs are back in the family fold once more.
Major Biden has completed further training
The Daily Mail shared shots of Major being led around the White House grounds on a leash, by a handler, on Tuesday. It's unclear when the 3-year-old German shepherd and his 12-year-old brother returned but a White House spokesperson confirmed to People that they are indeed back at 1600 Pennsylvania Avenue, advising, "Yes, both dogs are at the White House." Biden told GMA the strange new environs were difficult for the whole family to get used to, noting, "what surprised me is the White House itself, living there: Every door you turn to, there's a guy there in a black jacket."
He confirmed, "The dog's being trained now [with] our trainer at home in Delaware." During a press briefing on March 9, Press Secretary Jen Psaki explained, "Major was surprised by an unfamiliar person and reacted in a way that resulted in a minor injury to the individual, which was handled by the White House Medical Unit with no further treatment needed." The Biden dogs are hugely popular online, likely because the American public was starved of dog content during the Trump administration. Major is likely the first rescue dog to live in the White House too, which is a major moment.