Mama June Answers Critics Of Honey Boo Boo's New Look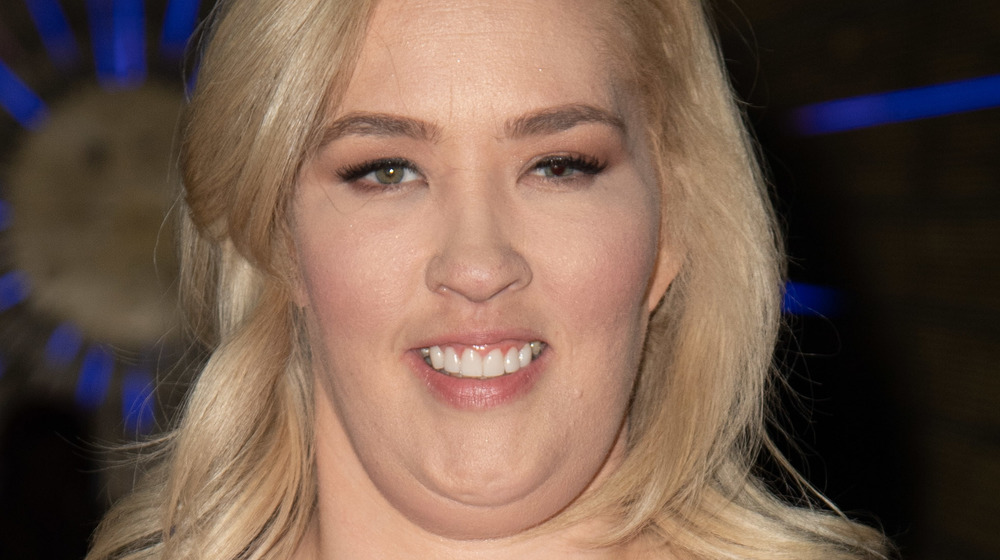 Earl Gibson Iii/Getty Images
The little girl who won over audiences on Toddlers and Tiaras with zingers like "A dollar makes me holler," "The last time I had a salad was never," and "I don't need the drama" is now a teenager. But despite her catchphrases, Alana "Honey Boo Boo" Thompson has had more than her share of drama in the years since she left the child beauty pageant circuit. 
Her mother, "Mama" June Shannon, and her new boyfriend developed a meth and crack addiction that emptied her bank account and led to her arrest in 2019 for drug possession. The Shannon family matriarch admitted to Access Hollywood that she dished out nearly $1 million to feed her addiction, leaving just $1.75 in her account when she decided to turn her life around. By that time, she was living out of a car. "I texted the girls, I texted my production company. And two days later we were on a plane," she told Us Weekly. Alana was sent to live with her older sister Lauryn "Pumpkin" Efird, herself the mother of a toddler, while June did her time and went into rehab. Now, viewers are tuning in to see how Alana and her family are faring in TLC's new series Mama June: Road to Redemption. 
We don't know yet how — or if — Mama June reconciles with her youngest daughter; the first episode (via Hollywood Life) showed her unsuccessfully trying to reach out. But the troubled matriarch recently made it very clear that she won't stand for anyone hating on her Honey Boo Boo.
Mama June says Alana is just expressing herself
Like most teen girls, Alana likes to post selfies to Instagram. In many of them, she's wearing mega-long lashes and equally long acrylic nails. "Can't stand me, take a seat," Alana writes with a defiance natural only to teenagers in one post. Fans have criticized her look, saying it's inappropriate for a 15-year-old. Some have even seen it as a reflection of her being raised by her sister, Lauryn. June isn't having any of that. In a recent interview with In Touch Weekly, she pointed out that Alana is a veteran of the pageant circuit, where girls as young as 2 are expected to go full-on glam with spray tans, hair extensions, and full-face makeup. In fact, Toddlers & Tiaras drew plenty of attention to — and hatred of — the child pageant industry for just that reason. "[P]eople gotta realize that she's 15 ... she's been wearing acrylic nails since she was like eight," June told the tab, pointing out that the family has been posing for the "public eye" for nearly a decade.  "These stripper lashes that I like to call [them] ... you know, she's just being Alana, she's expressing herself." 
June also defended Lauryn's skills as a caregiver. "Even though [Lauryn] didn't have to step up, she did, and you know, in our family ... we've always stuck together," she said, adding that "addiction or no addiction," she has diligently kept up with her daughters through their social media accounts. 
There's another side to Alana "Honey Boo Boo" Thompson
When Alana Thompson isn't sparking controversies with selfies sporting Dolly Parton-style fingernails and impossibly long eyelashes, she's doing what every other 15-year-old girl might. Honey Boo Boo is looking to make a little bit of spending money. Okay, a lot of spending money. Thompson recently hopped on the NFT wagon and is selling a music video on Rareible. Its current going price in the cryptocurrency ETH is around 84.156, roughly the equivalent of $134,000 dollars. She's also got her own "Back It Up Boo Boo" clothing line, in neon-pink of course (via Instagram). Finally, for $30.00 a minute, you can book a video chat with her on Real Talk Live. It's safe to say she's not going to be asking her mother for a clothing allowance anytime soon.
Fans can also expect to see a softer side of Honey Boo Boo as Mama June: Road to Redemption unspools this season. In one clip that Thompson posted to Instagram, her sister Lauryn begs Alana to clean up after herself. Honey Boo Boo, still in bed on her phone, retorts "don't be so cranky!" In another trailer clip (via The Sun), Alana (in minimal makeup) tearfully confronts her mother about not being there for her. "You don't know how many nights I cried myself to sleep," she admits. And, for once, the reality star known for her glitz and "sassitude" reveals herself as the vulnerable teen she really is.
If you, or anyone you know, is struggling with addiction issues, help is available. Visit the Substance Abuse and Mental Health Services Administration (SAMHSA) website or contact SAMHSA's National Helpline at 1-800-662-HELP (4357).