The Truth About Christina Hendricks' Divorce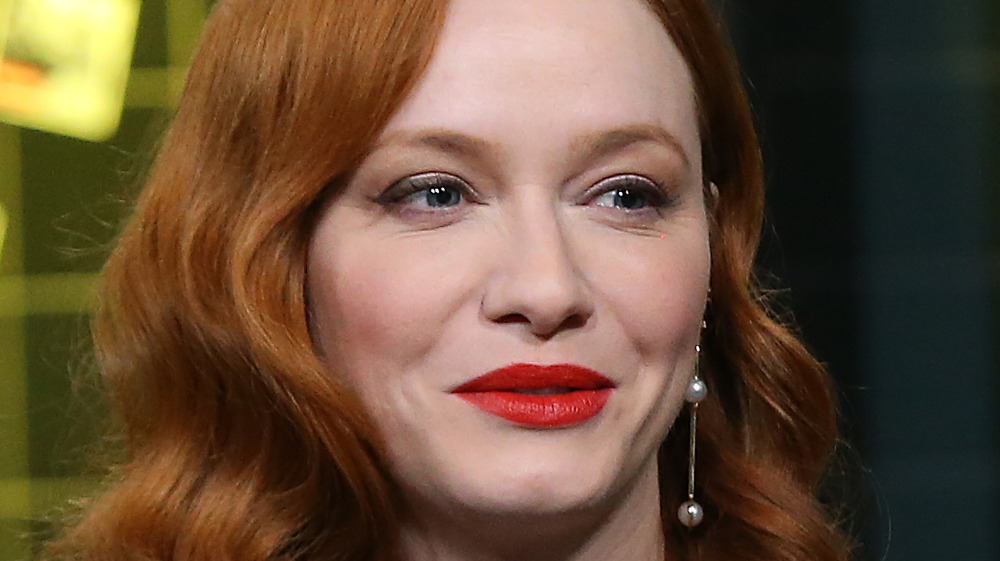 Bennett Raglin/Getty Images
As the saying goes, "'Tis better to have loved and lost than never to have loved than never to have loved at all." And even though Mad Men star Christina Hendricks and (500) Days of Summer actor Geoffrey Arend have called it quits after 10 years of marriage (via The Hollywood Reporter), it appears as though that's the attitude the two have in regards to their relationship.
In October 2019, Hendricks posted to her Instagram account a short statement written by both her and Arend, saying in part, We joined our two amazing families, had countless laughs, made wonderful friends, and were blessed with incredible opportunities. Today we take our next step together, but on separate paths. We will always be grateful for the love we've shared and will always work together to raise our two beautiful dogs." 
Arend shared the statement on his account as well. On what would have been the pair's anniversary, Arend posted a picture of himself with the couple's two dogs, at his shoulder and feet, respectively. He paired it with a caption that read, "Anytime you're feeling low, bookend yourself in dogs. Can't recommend it enough" (via Vulture).
Prior to the announcement, Hendricks had been seen earlier that month in Los Angeles at the 10th annual Veuve Clicquot Polo Classic, sans wedding ring (via The Independent). Per court documents, Hendricks' divorce papers denoted "irreconcilable differences" as the reason for the split (via People).
A match made on Mad Men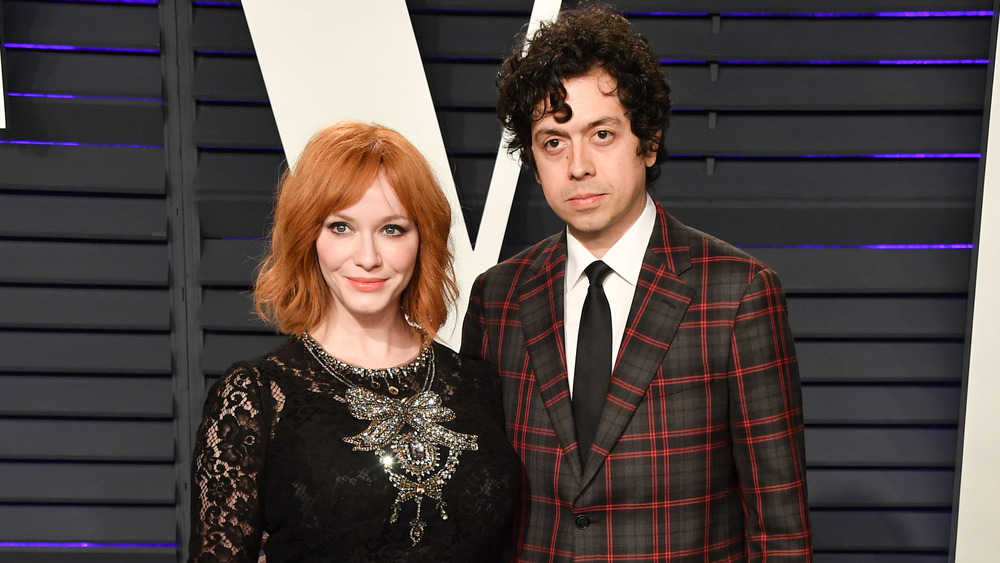 George Pimentel/Getty Images
While it's safe to say not many characters on Mad Men were big fans of Pete Campbell (via Screen Rant), thankfully, the cast felt a little differently about Vincent Kartheiser, the actor who portrayed him. In fact, it's thanks to him that Hendricks and Arend first had their meet cute in 2007, as Arend and Kartheiser are close friends (via Us Weekly).
"Geoffrey walked in and I was like, 'Who is this guy?' He had amazing hair and was all disheveled – he was running late and everyone was waiting for him. He just came in with this very high energy," Hendricks told Cosmopolitan UK in March 2012 (via New York Daily News). "He was just charming, funny, and very magnetic. I got his number that night under the pretense of, 'We could just be friends.' And, of course, I immediately went home and Googled him."
The two were engaged by December 2008 and married in October 2009, using the New York City restaurant Il Buco as the setting for their intimate ceremony (via Us Weekly).
Two later became four when Hendricks and Arend adopted two adorable pups. They got one, a cockapoo puppy, on Christmas Day, so they named her ZuZu, in honor of the It's a Wonderful Life character, ZuZu Bailey (via Us Weekly).
Choosing a life without children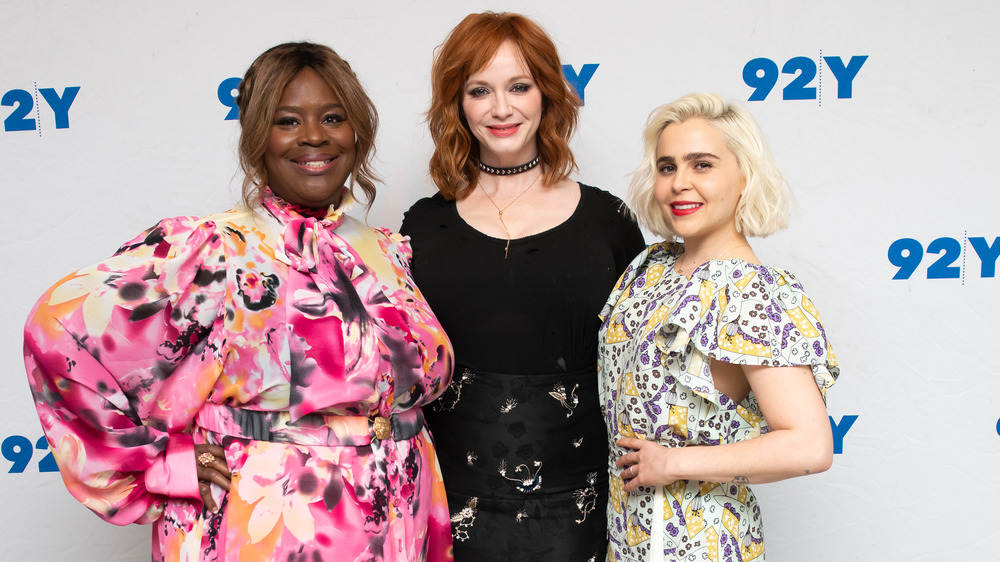 Noam Galai/Getty Images
Christina Hendricks, who now stars on NBC's Good Girls, has previously been open about her and Arend's decision not to have children.
"It seems like it's expected that you'd want to have kids. We've decided that we are not really interested in having children," she told Health in 2014. "It seems like it's expected that you'd want to have kids."
"We got a puppy, and that's my idea of starting a family," she told the outlet. "People say, 'Oh, that's practice for parenting,' but if it's practice for anything it's to be a mom to another puppy."
The two did eventually go on to add another puppy to the family, and it appears as though, despite their split, Hendricks and Arend have kept their promise to be good co-parents to their dogs, with each of them taking turns posting pictures of their fur babies on Instagram.