Royal Expert Reveals How Prince Charles Really Wanted To Respond To Meghan And Harry's Tell-All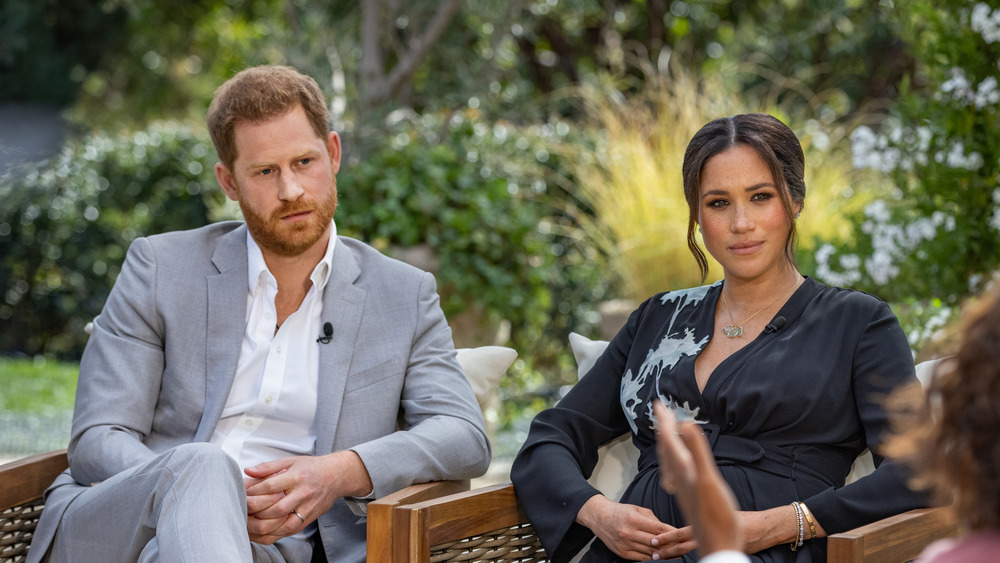 Handout/Getty Images
Following Prince Harry and Meghan Markle's bombshell interview with Oprah Winfrey on March 7, Buckingham Palace released a short statement two days later with no details on the interview precisely. Though the statement noted the royal family being "saddened" by the couple's revelations and stressed that "Harry, Meghan and Archie will always be much loved family members," the lack of confirmation or denial of specific points – "some recollections may vary" - certainly raised eyebrows.  
However, it appears Prince Harry's father Prince Charles actually wanted to issue a more detailed rebuttal, but agreed to the published memo instead. The new revelation was made by royal expert Katie Nicholl, via Entertainment Tonight, who said Prince Charles and Prince William "were keen to correct some of the things that the couple had said," but ultimately "decided that a shorter statement would be better."
Nicholl noted that Prince Charles was especially hurt by the idea that he did nothing after Prince Harry left the UK. "Prince Charles was particularly frustrated by the suggestion that financially he just cut the couple off, when if you speak to sources in Charles' camp, that wasn't the case. He did continue funding them for quite some time after they moved first to Canada and then to America," Nicholl explained. "So yes, I think there was at one point the feeling that they did want to address more than just the issue of race."
Is there a rift between Prince Charles and Queen Elizabeth II?
Max Mumby/indigo/Getty Images
The royal expert did not just offer her thoughts on Prince Charles' decision to keep the palace's response to Prince Harry and Meghan Markle's interview short and sweet. 
Katie Nicholl also addressed rumors that the Prince of Wales' mother, Queen Elizabeth II, was frustrated with her eldest son in some way. 
"I'm not sure there's truth to the queen being frustrated with Prince Charles," Nicholl told Entertainment Tonight. "I think in all of this, certainly over the past year, both as a result of the pandemic and as a result of Megxit, I think what you're seeing is a very closely aligned, top tier royals, the queen, Prince Charles, and Prince William, really working as a unit together."
She continued, "I think there isn't discord there. I think they're coming at this from the same place and working together as a team."
The couple's wedding date differs from what Meghan stated in the Oprah interview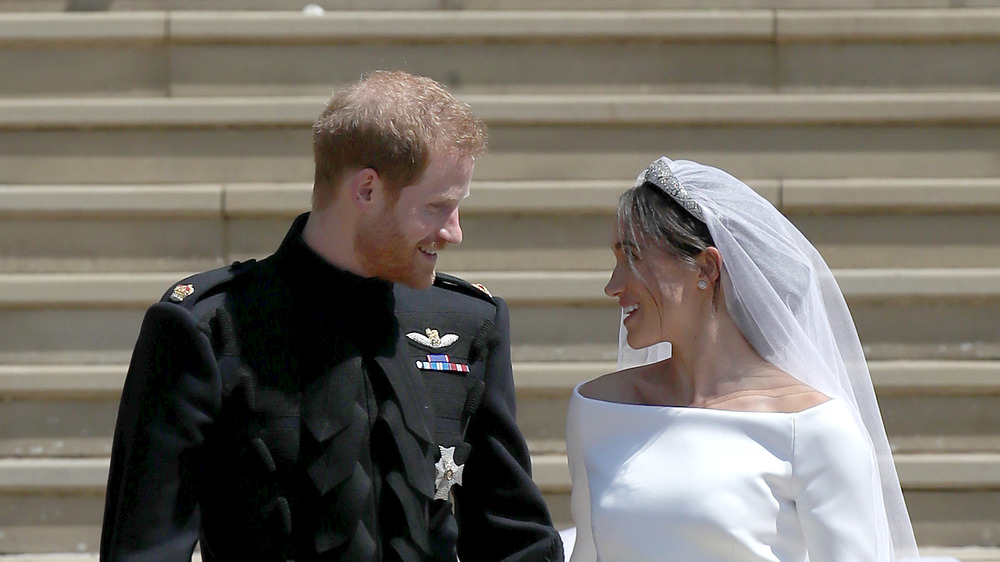 Wpa Pool/Getty Images
Katie Nicholl's comments about Prince Charles come just after The Sun published a copy of the couple's wedding certificate to prove that they had gotten married on May 19, 2018 at St. George's Chapel in Windsor Castle, not three days before, as Meghan Markle had shared with Oprah Winfrey during her televised interview. 
At the time, Markle said, "You know, three days before our wedding, we got married. No one knows that. The vows that we have framed in our room are just the two of us in our backyard with the Archbishop of Canterbury." She also said that the ceremony happened after they had asked the Justin Welby, Archbishop of Canterbury, to marry them in private at their home (via Today).
However, Stephen Borton, who prepared their marriage license, told The Sun that the paperwork required the wedding to happen at Windsor Castle. On the actual certificate for the wedding seen around the world, Prince Charles and Markle's mother Doria Ragland were listed as the two witnesses required by law to be at a wedding, making the ceremony legal.