Jenna Fischer's Real-Life Husband Played This Awkward Role In The Office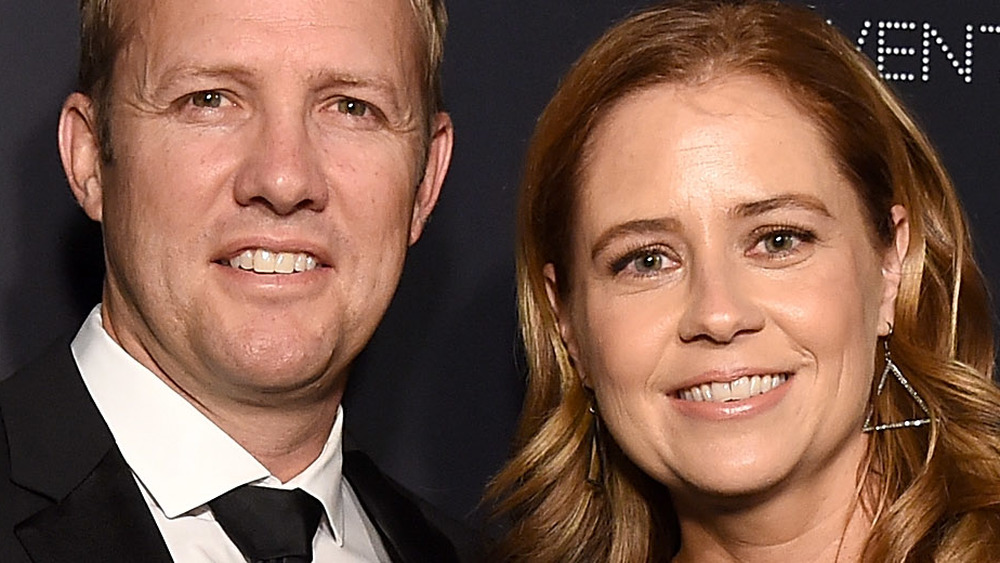 Michael Kovac/Getty Images
Jenna Fischer is best known for her role as Pam Beesley on the hit NBC comedy series The Office. Pam, along with her husband Jim Halpert (John Krasinski), was the heart of the show. However, in Fisher's real life, she has her own love story with husband Lee Kirk, who is an actor and director. According to The Knot, the pair met in 2008 when Fischer pitched Kirk an idea for a film. Kirk claims that he rejected the pitch, but that the pair did end up working together on a project. 
They struck up a friendship and didn't begin dating until several months later. "I was having weekly script dinners with Lee, and I realized, I'm looking at basically the perfect man. It doesn't get better than this," Fischer admitted to Redbook in 2011. The couple got engaged in Europe in 2009, and eventually tied the knot in Malibu in July 2010. Their wedding was officiated by none other than Survivor host Jeff Probst, who is an old friend of the actress (via E!). While Fischer and Kirk have been in the public eye as a couple for over a decade, some fans don't realize that they also shared a scene together on The Office.
Lee Kirk's hilarious cameo on The Office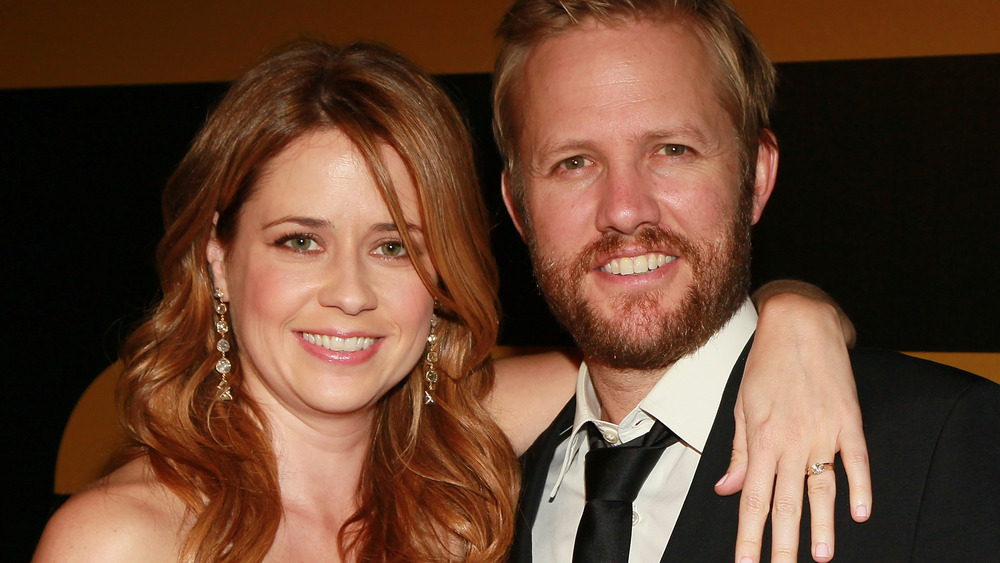 David Livingston/Getty Images
Lee Kirk joined Jenna Fischer on the set of The Office for one very hilarious scene. In the episode "The Delivery: Part 2," Pam and Jim are over the moon about the birth of their first child, daughter Cece. However, they are naive and neurotic new parents. When the little girl refuses to breastfeed, Pam begins to worry. A nurse tells the duo that she'll send in a lactation specialist to help her out, per Showbiz Cheat Sheet. The specialist was played by Kirk, whose character shows Pam the correct way to hold her breast in hopes of getting the baby to feed (via BuzzFeed).
Of course, Jim looks uncomfortable and awkward during the scene, but Pam and the specialist appear to have an instant, friendly connection. As soon as he leaves the room, the baby stops feeding. Pam tells Jim to ask him to come back, but he offers to help his wife instead. However, she turns him down, saying, "I think it would be weird if you did it" (via Showbiz Cheat Sheet).
Per IMDb, "The Delivery: Part 2" aired on March 4, 2010. Fisher and Kirk married that summer on July 3, and according to Bustle, many of Fischer's Office co-stars attended the ceremony. Rainn Wilson tweeted the next day, "Went to the most beautiful wedding I've ever experienced. Total Love, Jenna Fischer & Lee Kirk!"