Are Jenna Fischer And John Krasinski Friends In Real Life?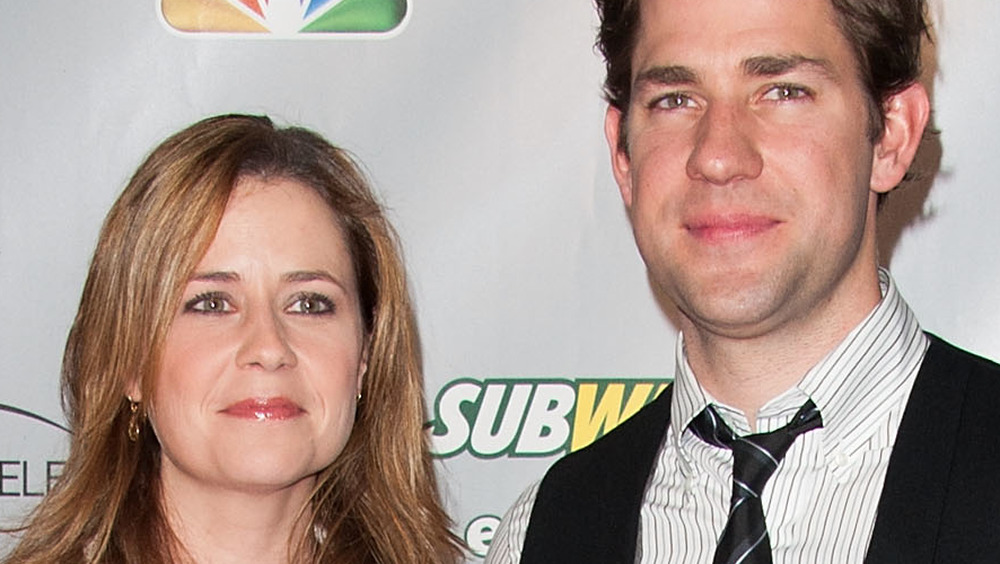 Valerie Macon/Getty Images
The Office fans know that Pam Beesly (Jenna Fischer) and Jim Halpert's (John Krasinski) relationship was the backbone of the show. Viewers are still obsessed with their love story to this day and continue to re-watch their lives play out in reruns of the hit NBC comedy series. The characters are one of TV's most beloved couples and total relationship goals for all of us looking to find our soulmate.
There is no denying that the actors had crazy chemistry on set as they played out Jim and Pam's epic romance. They proved it in each heartwarming moment that they endured as they fell in love, got married, and ultimately started a family together. According to NPR, it was Fischer and Krasinski's immediate chemistry that led them to be cast as the fan-favorite characters.
Fischer reveals that she and Krasinski instantly felt a connection during the audition process. "They filmed us with a camera for two days, mixing and matching us. And over the course of that two days, I was mixed and matched with John several times. And after the second day, we were walking out of a scene, and he turned to me and he said, you're my favorite Pam. I hope you get this job," she said (via NPR).
Over the years, fans have found it hard to distinguish between the actors and their popular characters, per Showbiz Cheat Sheet. Some have wondered if they may even be married in real life. However, they've made their relationship status clear.
Fischer and Krasinski's off-screen relationship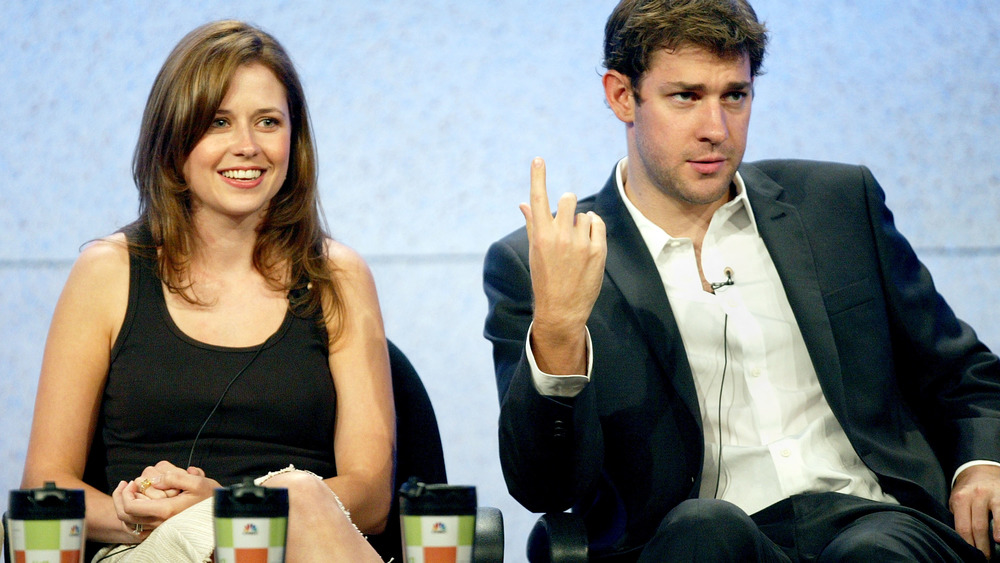 Frederick M. Brown/Getty Images
Jenna Fischer and John Krasinski may be perfectly suited spouses on The Office, but in reality, they're just good friends. Fischer admits that it was a strange situation to be intimate with Krasinski since they do have a close friendship bond. "It is the strangest thing to have a long-term fictional love interest. It's a type of relationship that is very intimate, and it's very powerful, but it's fictional. I mean, there is a part of me that is Pam, and there's a part of him that is Jim, and that part of me is in love with that part of him. But in real life, we are just friends," she told NPR.
While the actors may not have found love together off-screen, they do have parallel love stories. Screen Rant reports that Fischer met her husband, actor Lee Kirk, in 2008 around the same time that Krasinski met his wife, actress Emily Blunt. Ironically, they both also married their partners in 2010. In addition, the duo has even more in common. They're both die-hard hockey fans. Fischer is a St. Louis Blues fanatic, while Krasinski roots for his hometown team, the Boston Bruins.
It appears that the friendship that Fischer and Krasinski forged on the set of The Office has carried on through the years. Perhaps we'll even get to see them work together again in the future.