The One Dream Home Makeover Trick That Shea McGee Says Every Home Needs
Shea McGee of Netflix's Dream Home Makeover is an interior design goddess in our book. So, we are willing to follow her tips without question. From carving out more storage space in the bathroom, to creating focal points in every room, the Utah-based designer's word is gold when it comes to maximizing the look and feel of every living space.
If you feel overwhelmed watching Dream Home Makeover or browsing McGee's tips, relax. It's time to focus on just one trick the design maven swears by, and says every home can benefit from. And best of all, this is a tip anyone can pull off easily. So what is this simple home decor trick?
"I love a mirror in an entryway or to create an entry space," McGee revealed. "I think a mirror really opens the space up," she added (via Hello!).
Interior designers agree with her. But it turns out there are a few key things to know about adding a mirror to the first space people see upon entering your home.
How to pull off a mirror in your entryway the Shea McGee way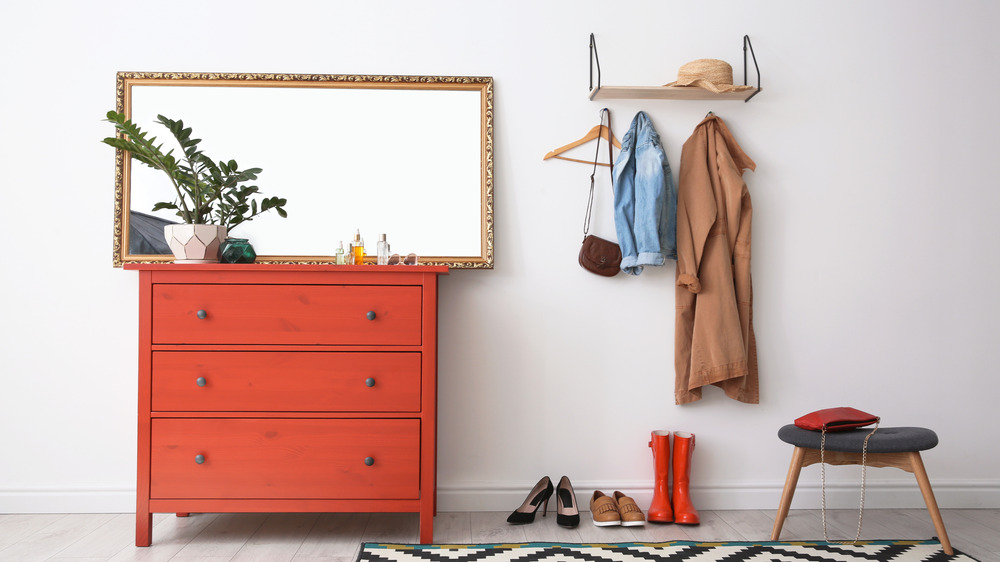 Shutterstock
As McGee points out, a mirror will make your entryway appear bigger. But, a mirror in an entryway can double as a functional element according to Andrea West, owner of Andrea West Design — so you can take a quick peek at your hair and makeup before heading to the outside world (via The Washington Post). "When you go a little bit larger in your scale, it makes it look so much more dramatic, continues the line of vision and it really visually expands the space," she also advises.
Tricia Huntley, founder of D.C.-based firm Huntley & Co. Interior Design further notes that hanging a mirror opposite a window can open up the space even more.
Home Decor Bliss adds that a mirror further acts as a transitional piece from the outside to the inside of your home. Just be sure to match your mirror in tone to the rest of your entryway decor so the piece will easily fit in. For example, if you favor modern furniture, a modern mirror will be the best pick for your style.
Meanwhile, McGee shared another home design tip with Hello! "I also love vintage and antique rugs. I think every home, regardless of the style, could benefit from an antique rug because I think it adds a lot of character to the space and also they're very durable" she said.