Here Are The Shoes You Should Be Wearing With Sweatpants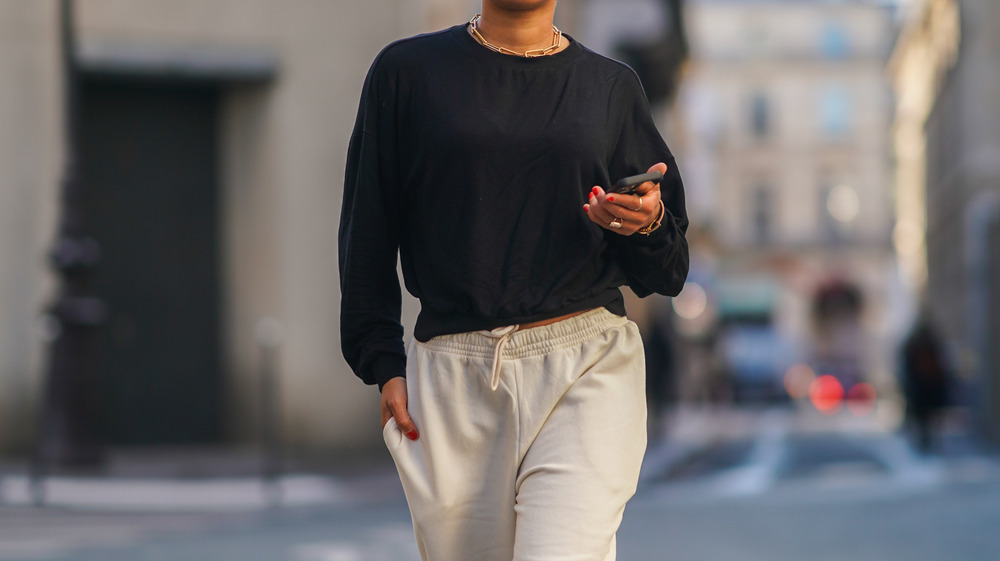 Edward Berthelot/Getty Images
A few years ago, the words "comfort" and "fashion" couldn't be uttered in the same sentence — this was particularly true if elastic waistbands, sneakers, or leggings were involved. Fast forward to 2020 and sweatpants (thanks to shelter-in-place orders, virtual meetings, and social distancing) were suddenly the look of the season (via CR Fashion Book). With the pandemic looming over us like a dark, gloomy, and ominous storm cloud, sweatpants (or joggers) are more than acceptable to wear while running errands, grocery shopping, or taking a socially-distanced stroll. Sweatpants are the new normal — just take a look at Em Rata or Hailey Beiber.
That doesn't mean this comfortable staple item comes without "rules," however. If you're trying to transform your new WFH garb into a stylish, chic ensemble that's ready to hit the streets (instead of the sheets), there are a few need-to-know tips you should follow, starting with your footwear.
Grabbing a random sneaker from the ever-growing pile by your front door won't work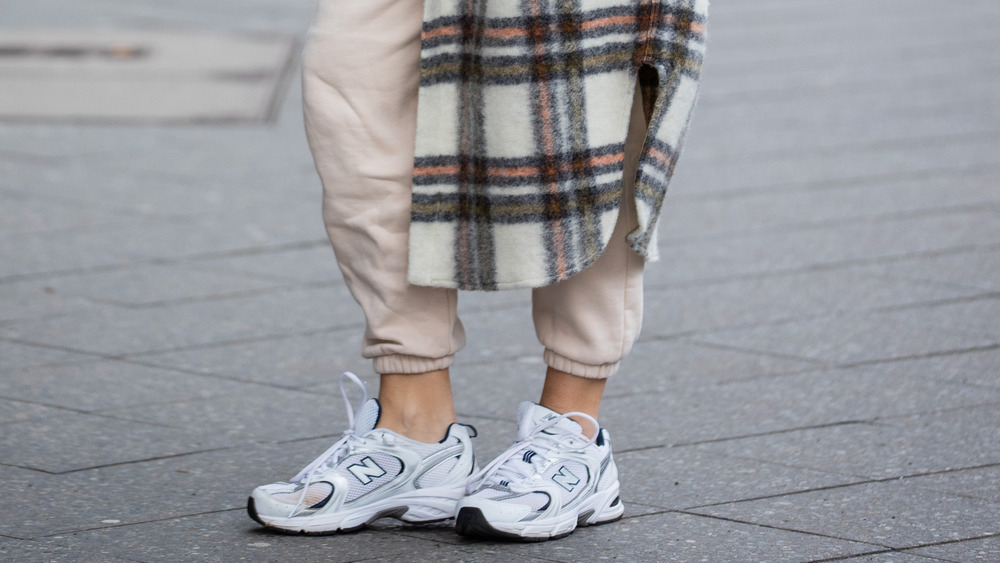 Christian Vierig/Getty Images
It seems ludicrous to think that sweatpants actually need to be "styled," but these are the cards 2020 dealt us. According to PureWow's fashion director, Dena Silver, the best way to zhuzh up a pair of sweats is to "highlight the ankle" (via PureWow). "It sounds simple, but there's something about a flash of skin (or sock) at the bottom of a loose, casual pant that makes this piece of loungewear feel more like a cool streetwear look and less like something tossed together from the dirty laundry pile," writes Silver. Of course, this tip only works if the pant in question is cinched at the ankle or cropped in some way.
Silver also recommends pairing your go-to sweats with a semi-clunky sneaker (read: not the dad sneaker) and a pair of white tube socks to get a look that's à la Mrs. Beiber. If tube socks aren't your thing, Silver says a high-top sneaker will do. "Another clunky shoe option (that's pretty in for 2021) is a shorter combat boot," writes Silver. And, if you'd like to experiment with the idea of wearing sweats to dinner, Silver suggests opting for a pointy pair of heels. Kitten heel mules or pumps should work, but "you'll want to be working with a sharp point."