Justin Bieber's Mom Has A Surprising Reaction To His New Peach Tattoo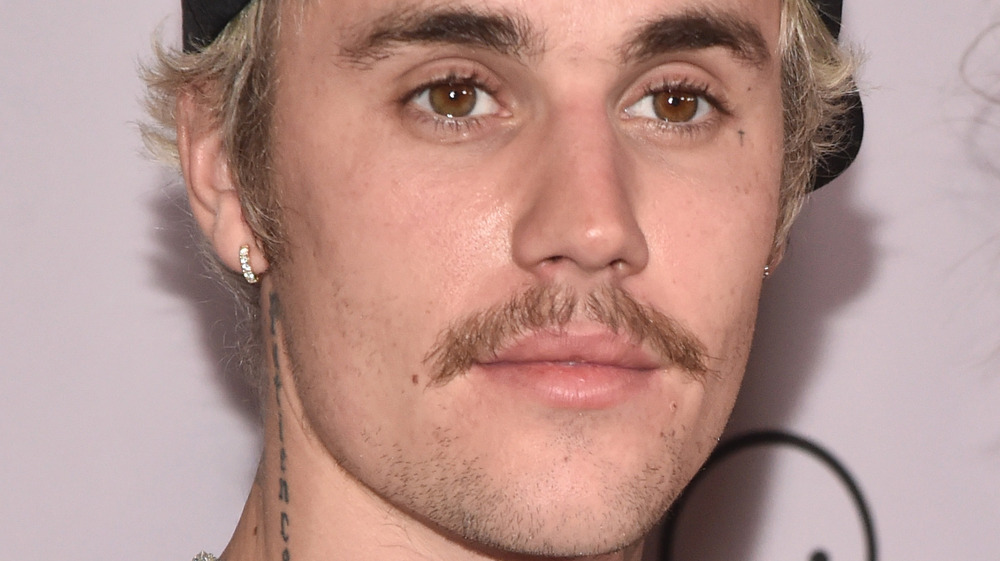 Alberto E. Rodriguez/Getty Images
Justin Bieber recently shared that there is one place he refuses to tattoo on his body — which, incidentally, is inked with over 60 tats. Spoiler alert! It's his hands that the singer wants to keep ink free, so he can wear a suit without any of his body art showing.
Meanwhile, the star just added a new tattoo to his repertoire, and documented the inking session on his Instagram. Fans of Bieber's songs won't be surprised by his choice of tattoo — it's a peach, in homage to his new song "Peaches" (via People).
Celebrity friends flocked to the comments section of the singer's post to share their support for his new tattoo, with The Rock saying, "Good pain." It's likely his wife, Hailey, was a fan of the peach, given that she herself is a big fan of body art. But one person in Bieber's life was not as impressed with his peach tattoo — his mom.
Justin Bieber's mom is not the only person in his life who has feelings about his tattoos
Bieber's mom's response to the brand new ink, which was created by star tattoo artist Doctor Woo, was both relatable and hilarious, and immediately made headlines, earning over 6,000 likes and inspiring over 400 comments at time of writing. "Don't you have enough yet?" Pattie Mallette commented upon seeing her son's neck tattoo of a peach (via ET Online). She added a crying emoji to her comment.
Meanwhile, it's unlikely that the fruit will be her son's last tattoo, given his predilection for ink. He confessed previously about future plans for his body art, "My back is still pretty open, and I don't have kids yet. So, I'm thinking of getting their portraits on my back."
Interestingly, although the peach is on his neck, apparently his wife requested that he stop inking this particular spot (via Cheat Sheet). Still, the iconic singer also noted on social media about his tattoos previously, "Over a hundred hours of art work on my body and I wouldn't take back a single one. I absolutely love art and I've made my body a canvas and it's so much fun."