Fans Can't Believe Chrissy Teigen's New Hair Color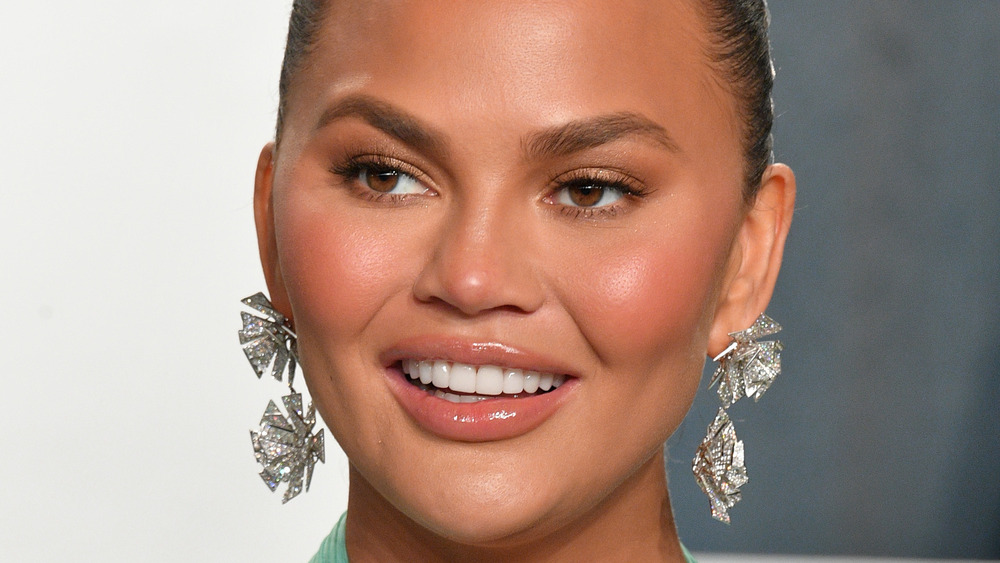 George Pimentel/Getty Images
Chrissy Teigen is basically synonymous with sexiness. Even when she is hanging with her kids, Teigen looks, well, incredible. But the star mom is making a decidedly unconventional choice about her appearance, having debuted a new hair color many of us may not equate with a 35-year-old former Sports Illustrated model.
Indeed, Teigen shocked her fans by showing off — wait for it — gray locks on Instagram over the weekend (via Today). Remember, in another shocking move, the former social media addict recently quit Twitter cold turkey. The cookbook author revealed her long, silver 'do in a video with a caption that joked, "trust me it's my midlife lol."
The model wore what appeared to just be a wig (phew) in a few other posts that also referred to her "midlife" — including one where she poses with comedian Sebastian Maniscalco and his wife Lana Gomez. Meanwhile, her new look inspired many surprising comments from some of her 34.4 million followers. Because would you most people were big fans of the distinguished, new look?
Is Chrissy Teigen's gray hair here to stay?
Celebrity friends were among the many admirers of Teigen's glossy, gray hair, with Kyle Richards commenting, "Now I need this hair." Richards' fellow Real Housewives of Beverly Hills co-star Lisa Rinna noted about the surprising choice, "I get it."
Fans of the star also chimed in to voice their approval of the look, with one follower complimenting Teigen, "That hair color is wicked awesome." Meanwhile, another fan noted, "A beautiful midlife." Dozens and dozens of comments followed, with fans weighing in that Teigen looked amazing and beautiful with her silvery tresses.
So, will the TV personality keep this new, headline-making look? Sadly, her latest post at time of writing showed Teigen was back to her blonde-highlighted, brunette 'do. But hey, maybe the celeb's temporarily gray-hued hair will help normalize the shade and make it sexy? Will white hair be embraced by all? Well, here's hoping!