The Most Interesting Guesses For The Orca On The Masked Singer
Have you been keeping up with The Masked Singer this season? If so, you know that the last masks left standing from Group A are Seashell, Robopine, the Russian Dolls, and the Wildcard entrant, Orca. Raccoon was finally made to give in to demands he "take it off!!" and revealed, to everyone's (everyone on the judging panel, at least) surprise, that he was really Danny Trejo. Who knew Trejo had such a crush on Jenny McCarthy?
Of the remaining singers, far and away the most electrifying performance of the night was given by Orca, the most memorable performing sea creature since Left Shark of Super Bowl XLIX infamy. He rocked the house with Twisted Sister's "We're Not Gonna Take It." While the irony of using this 80's teen rebellion anthem in a reality competition TV show was evidently lost on all in attendance, what wasn't lost on anyone was Orca's energy. 
So intense was his on-stage presence that Parade reports nearly all of the judges thought he must be a rocker for real. Nicole Scherzinger guessed his identity as Dave Grohl of Foo Fighters fame. Ken Jeong chose Billy Corgan, and Talent Recap adds that guest judge Joel McHale also went with the Smashing Pumpkins frontman. Jenny McCarthy took a slightly different direction with Kevin Bacon, but the actor does have a side gig with his band The Bacon Brothers, so it's not totally out of left field. 
What does social media think?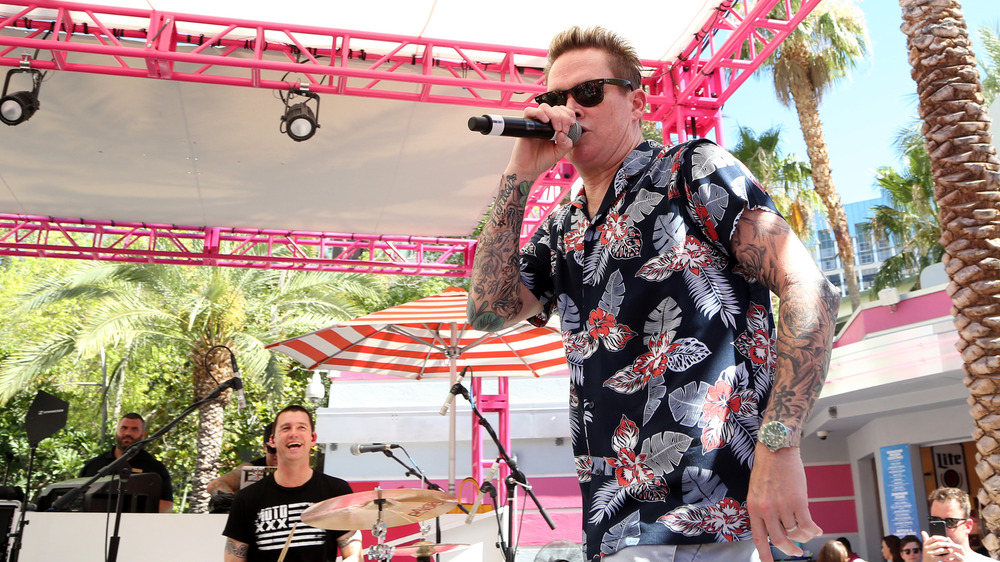 Gabe Ginsberg/Getty Images
Twitter, of course, has some ideas of its own. A few who speculated on Orca's identity thought he might be Rami Malek, an actor who did win an Oscar for channeling the spirit of the legendary Freddie Mercury. While there were a few off-the-wall guesses including former Charles In Charge actor Scott Baio and Alton Brown, a number of Twitter users think Tom Cruise or Adam Sandler could be likely candidates.
One Orca possibility that both social and traditional media seem to agree on is Mark McGrath of 90s several-hit wonder Sugar Ray. For one thing, McGrath definitely fits the profile of someone trying to revive their career via the reality competition route (Think Taylor Dayne, Season 4's Popcorn). For another, several clues do seem to point directly towards him. 
Both Gold Derby and Parade selected McGrath as their top pick, noting that the clock set to 2:59 could be translated into military time to read 14:29. Not so coincidentally, this happens to be the name of Sugar Ray's triple-platinum-selling third album. There's also the fact that the $9.49 pizza price could refer to the area code of McGrath's native Orange County, California, and the "extra anchovies" pizza could be a nod to McGrath's stint co-hosting Extra. Will we ever find out whether McGrath is the man behind the shark? Why yes, of course, and in just a few weeks' time (or less). That is the entire point of The Masked Singer, after all.