Fans Have An Interesting Theory About The Russian Dolls On The Masked Singer
When The Masked Singer premiered in 2018, no one could have guessed that the singing competition show would become an instant hit. But, according to The Hollywood Reporter, the reality show had the "best debut by a Fox series" with over 9.4 million viewers. Now the show is on its fifth season and has seen such celebrities as T-Pain, Joey Fatone, and even Kermit the Frog unmasked over the years (via Refinery29). 
The fun of the show comes from trying to guess who is under each mask. The audience at home gets to play along, and sometimes, their guesses are better than the ones of the celebrity judges. So far this season, Danny Trejo was revealed to be the Raccoon and Caitlyn Jenner was under the Phoenix mask. While there are still a few more episodes left in the season before the finale, fans are already convinced they know who is under the Russian Dolls costume.
These clues point to Hanson being in the Russian Dolls costumes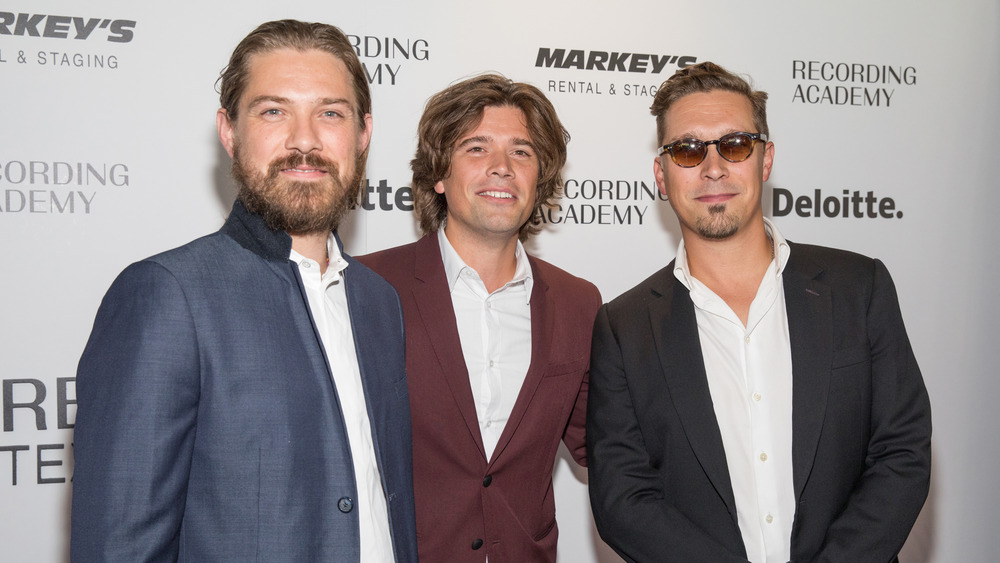 Rick Kern/Getty Images
If you're a boy band-loving kid of the '90s, you would be able to recognize the voices of the Russian Dolls in a heartbeat. The perfectly matched harmonies point to the Hanson brothers, most known for their 1997 single "MMMBop." Not only do the Russian Dolls sound like Hanson, but some of the clues point to the brothers as well. 
For instance, in the first video, you could see 15 Russian doll replicas in the background. Combined the Hanson brothers — Isaac, Taylor, and Zac — have 15 children (via Screen Rant). They also mention in the video that they were once the hottest toy on the shelves, but were "cast to the side" for newer ones (via YouTube). That could be referencing how they've been making music since the late '90s, but haven't quite matched the success of their first single. It was also snowy in their clue package, which could reference their Christmas album, Snowed In, and the milk on the shelf could be a nod to their Got Milk ad in the 1990s. In their second appearance, there's even a reference to one of them being rushed to the hospital, and in 2007, Isaac had to undergo surgery for a pulmonary embolism (via Tulsa World). 
Whether or not it is Hanson, the fan theories are strong with this one. And if you're a Hanson fan, you may just want to tune into The Masked Singer to find out.