Donald Trump's Legal Problems Are Heating Up
Joe Raedle/Getty Images
Suggestions that former President Donald Trump might face a wave of legal issues upon his exit from the White House have been circulating for quite some time. And just a few months after leaving office, Trump's legal problems are now beginning to intensify. 
In recent years, the reality-TV-star-turned-politician has been no stranger to legal challenges, including 29 lawsuits and several criminal investigations (via Vanity Fair). However, the Manhattan District Attorney's office investigation into Trump for possible bank, tax, and insurance fraud may be a worrying development for the former president. 
As the The New York Times reports, state prosecutors in Manhattan are currently investigating Trump and the Trump Organization and have subpoenaed the personal bank records of the company's chief financial officer, Allen Weisselberg. It is believed prosecutors are attempting to gain the cooperation of Weisselberg, who has not been accused of any wrongdoing, whilst investigating whether or not the former president and the Trump Organization manipulated property values in order to receive loans and tax benefits. 
Donald Trump also was sued by Capitol police officers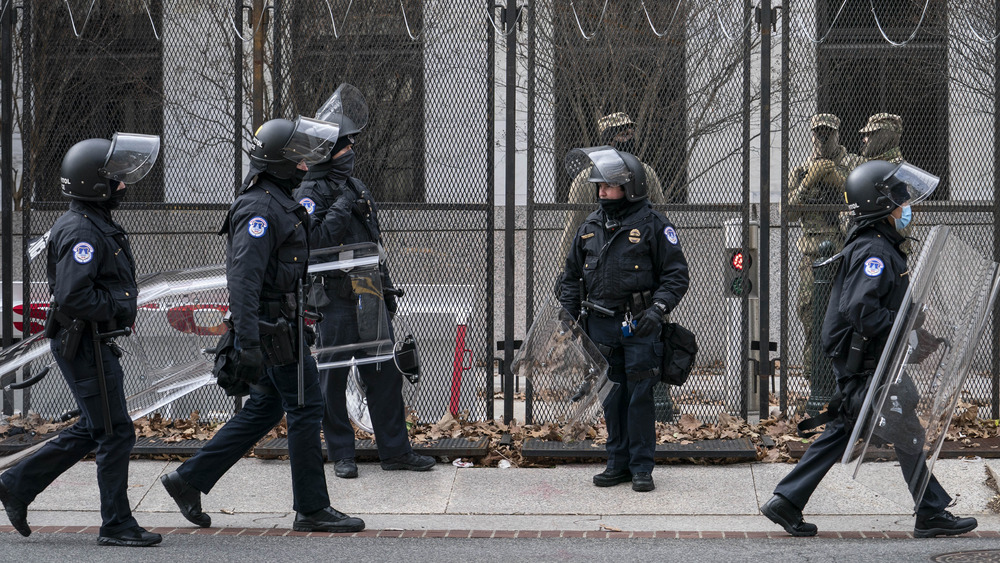 Bloomberg/Getty Images
Adding to Trump's legal woes are two U.S. Capitol Police officers, James Blassingame and Sidney Hemby, who recently sued the former president, claiming he was responsible for the "physical and emotional injuries" they suffered during the Capitol insurrection on January 6. As CNBC reports, the lawsuit was filed on Tuesday, March 30, and claims Trump "inflamed, encouraged, incited, directed, and aided and abetted" the Capitol building rioters. 
Per the Guardian, officers Blassingame and Hemby (who have served on the force for 17 years and 11 years, respectively) suffered significant injuries during the riot. According to the complaint, these include neck and back injuries, the damaging effects of chemical sprays, and continuing mental health issues. "He [Blassingame] is haunted by the memory of being attacked, and of the sensory impacts — the sights, sounds, smells and even tastes of the attack remain close to the surface," the lawsuit states.
In the days following the Capitol riot, former President Trump was impeached for a historic second time. However, he was later acquitted by the Senate.