The Truth About Donald Trump Jr.'s New Mansion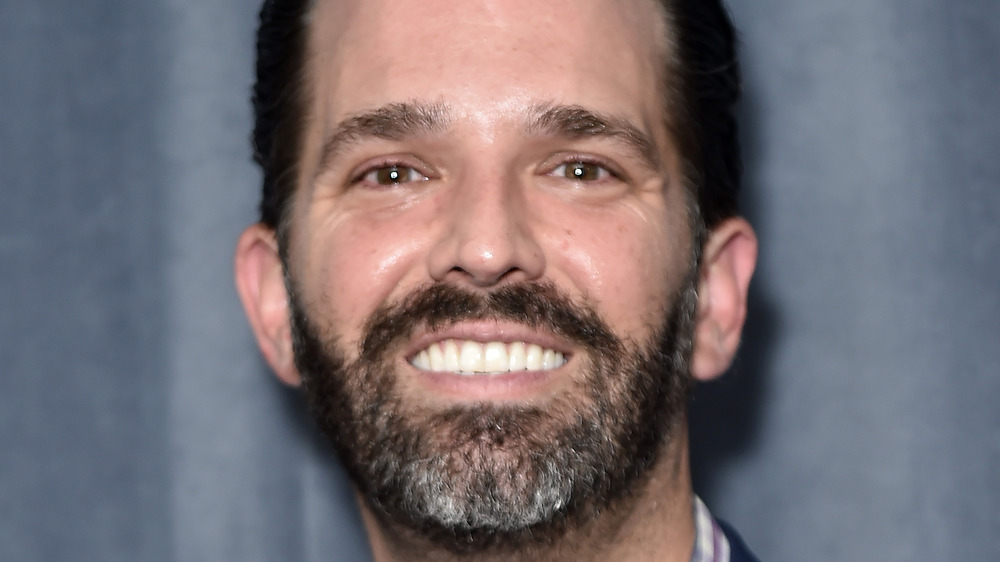 Steven Ferdman/Getty Images
There's something about Florida that the Trump family just can't get enough of. Former President Donald Trump has been living comfortably in Mar-a-Lago since his exit from the White House and has allegedly been loving life there. Since his move to the Palm Beach club in January, he has spent his days golfing, dining with friends, and reportedly planning his prospective 2024 presidential campaign (via AP News). And apparently life has been so good for the former president that his son, Donald Trump Jr., decided to get in on the action.
Just 20 miles from Mar-a-Lago sits Trump Jr.'s 11,000-square-foot Admirals Cove mansion, which he bought with his girlfriend Kimberly Guilfoyle. Reports say that the mansion set the couple back a whopping $9.7 million — which was apparently a steal. According to the New York Post, property records show that the house originally sat at $19.9 million, but due to it moving on and off the market for three years, the couple were able to cut the total cost down $10 million.
Not everyone in the residential community is on board with their new neighbors
The mansion houses six bedrooms and 11 baths and sits in the town of Jupiter, Florida. Residents pay membership fees in the ballpark of $195,000, which, according to the Palm Beach Coastal Realty, affords you "boating options, cabana usage, clubhouse, fitness center, swimming pool, tennis club and of course the golf course," just to name a few amenities. 
Some of the couple's neighbors include Baseball Hall of Fame member Mike Schmidt, Washington Nationals pitcher Max Scherzer, and former resident Celine Dion (via ABC News). And of course, Vanessa Trump, herself, Trump Jr.'s ex-wife with whom he has five kids. But an ex-wife isn't the only potentially unwelcoming neighbor. According to The Palm Beach Post, the community residents aren't exactly bringing out the welcome wagon for the couple. "About half have concerns about safety," said Peter Moore, general manager of the property owners' association. "The others have political concerns with what's happened in the last couple of weeks." One resident allegedly even called having the couple in Admirals Cove a "nightmare."
Only time will tell if Trump Jr. and Guilfoyle experience what Ivanka Trump and Jared Kushner did when they settled in their new home (via OK! Magazine).