The Truth About Bindi Irwin's Engagement Ring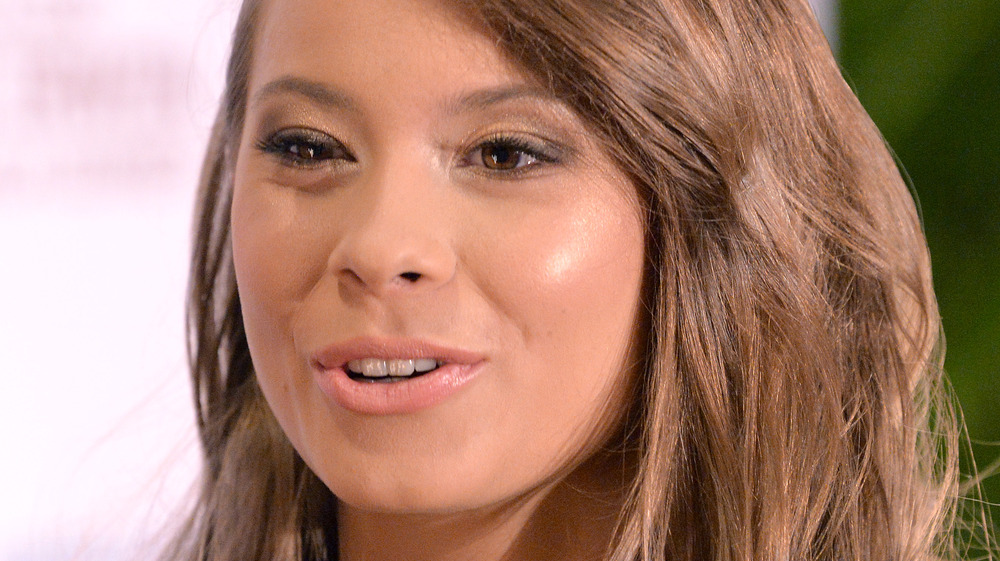 Bradley Kanaris/Getty Images
Bindi Irwin, daughter of "The Crocodile Hunter" Steve Irwin, and her husband Chandler Powell welcomed their first baby into the world on March 25, 2021, which just so happens to be the couple's first anniversary (via People). In many recent pictures shared on Irwin's Instagram, where she's seen cradling her baby bump or showing off wildlife, it seems like she's wearing a wedding band — or perhaps it's her sparkler of an engagement ring turned around.
You can see the engagement ring in its full glory in her engagement Instagram post from July 24, 2019, where she included in the comments a bit about the ring after fans had asked. "For those wondering about my ring, I'm so happy to share. My ring features a lab-grown diamond and is made with rose gold recycled metal. Chandler was incredibly thoughtful when he chose it. The ring captures the essence of who I am (with its vintage flare) and our life together with the twisted band and scattered diamonds" (via Good Morning America).
For more details on the engagement ring itself, Alastair Smith, author of How To Buy An Engagement Ring: Get The Ring She Wants At A Price You'll Love, estimates that the center oval diamond is two carats, and with its twisted sparkling pave band, the ring would probably cost around $25,000 (via rinspo.com).
Bindi Irwin's ring connects to her environmental activism
It makes sense that Bindi Irwin would go with recycled metal and a lab-grown diamond. Also called synthetic diamonds, they are a replacement for organic diamonds. Getting organic diamonds out of the ground has negative environmental impacts. Jeweler Ryan Shearman told Brides about what diamond mining could cause: "On average, for every one carat that is mined from the ground, up to 250 tons of earth are removed, 127 gallons of freshwater are used, billions of gallons of water are contaminated with acid mine runoff, 143 pounds of air pollution are emitted, and countless gallons of fossil fuels are consumed."
And if there's one thing Irwin is known for, it's being passionate about wildlife and wildland conservation. According to the Australia Zoo, which was founded by her grandparents, she has a veritable laundry list of good deeds. Among them: in 2020, she managed the Australia Zoo for 78 days during the pandemic; in 2019, she started work to help make it illegal to harvest wild crocodile eggs; and in 2015, she was awarded the Queensland's Premier's Sustainability Young Achiever Award.
Irwin also spends time to post pictures of animals from the Australia Zoo on her Instagram and celebrates the work being done there. In a recent post, she wrote, in part: "Our Australia Zoo Wildlife Hospital is a place of extraordinary healing. The dedicated team of vets and nurses have treated over 100,000 patients with that number growing every day."