Who Is Zach Kornfeld's Fiancee, Maggie Bustamante?
Randy Shropshire/Getty Images
Zach Kornfeld is famous for his YouTube shows, The Try Guys and The TryPod. Kornfeld co-created the show while working at BuzzFeed, and ended up leaving the media giant in 2018 to form his own company alongside fellow creators Keith Habersberger, Ned Fulmer, and Eugene Lee Yang (via Highlander News).
Kornfeld has been engaged to his longtime partner, Maggie Bustamante, since August 2020 (via YouTube). Kornfeld and Bustamante reportedly met in 2016, but kept their relationship under wraps until 2018 (via Player's Bio). The pair haven't released any details about their wedding plans, but there are definitely a lot of curious people watching for the moment when they do.
Bustamante is largely known for being an Instagram influencer and being Kornfeld's partner, but she also has a bit of a career in her own right. Maggie is one of the co-hosts of the podcast You Can Sit With Us. She works with fellow hosts Becky Habersberger and Ariel Fulmer, and the team's work is hosted by the creative hub site Ramble.
Maggie Bustamante is also a mom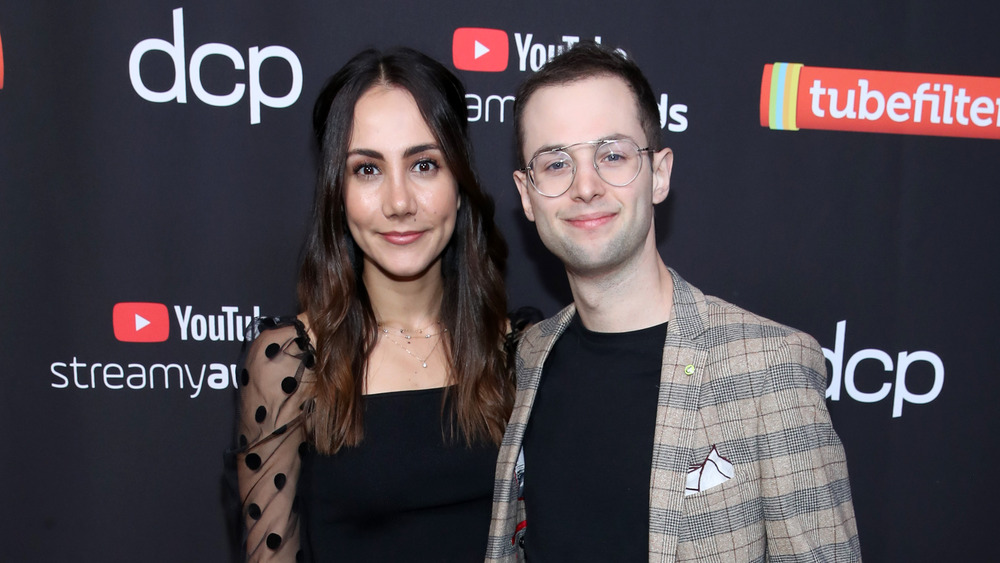 Randy Shropshire/Getty Images
According to her biography on Ramble, Maggie Bustamante is a mom. The full description states that the 28-year-old "is a registered nurse, health and wellness advocate, and proud Peruvian. When she's not saving lives, she's either on the hunt for delicious food, enjoying live music, or doing typical dog mom things" (via Ramble).
Bustamante's Instagram account also offers a few more details and insight into her life. For starters, she's a pediatric RN, which means she likely enjoys working with kids. It also seems like she takes public health very seriously; Bustamante shared on Instagram that she contracted COVID-19 early in 2020, and then even outlined all the steps she took to ensure that everyone around her, including Kornfeld, were safe and healthy.
Maggie Bustamante also a dog mom to an Australian Shepherd named Bowie, who even has his own Instagram account. Bowie is often photographed out on adventures with both Bustamante and Kornfeld, including this recent snap where they hung out with the dog's "best friends."