The Truth About Tony Bennett's Friendship With Amy Winehouse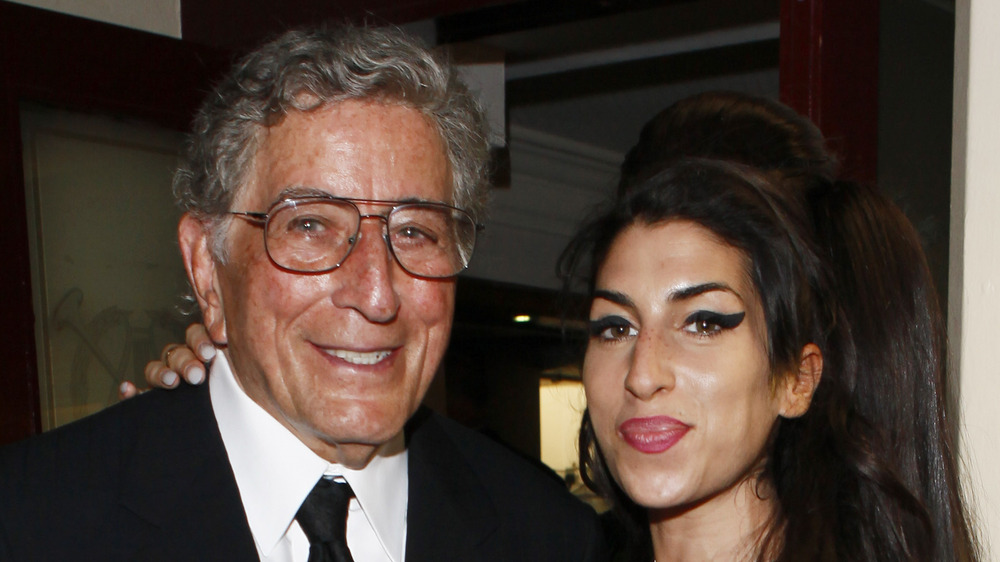 Dave M. Benett/Getty Images
Amy Winehouse's final recording before her tragic death was a collaboration with Tony Bennett of "Body and Soul" (via Entertainment Weekly). She died on July 23, 2011, two months before the single was released. Winehouse was 27. 
Bennett reflected on the day the pair spent together in the Abbey Road Studios in his 2016 book, Just Getting Started. As reported by People, the "Blue Velvet" singer wrote the song while being aware of Winehouse's reported addictions. He noted regretting not saying something to her about her struggles at the time, which he considers a "decision that weighs on him heavily."
"Should I have told her that I'd contended a little bit with [drugs and alcohol] myself and knew how you can fall into a bad cycle, but I also knew that you could bring yourself back?" Bennett wrote in his book, per People. "Would it have made a difference if someone she considered an idol had said to her something like, 'You're my idol. You are a once-in-a-lifetime talent. Please don't take that from the world.'"
Tony Bennett recalls having an instant connection with Amy Winehouse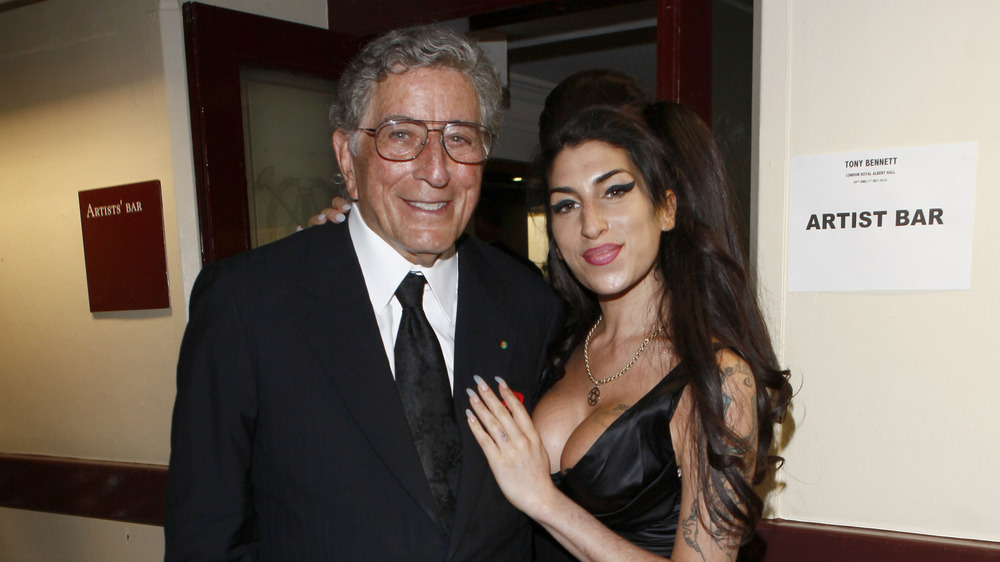 Dave M. Benett/Getty Images
Tony Bennett told Entertainment Weekly that Amy Winehouse was anxious about recording with him -since he was one of her longtime idols – but after a few minutes chatting in the studio he helped her relax.
"She was very nervous to perform, but I said, 'You know, it sounds like you're influenced by Dinah Washington.' And all of the sudden, her whole life changed," Bennett recounted to the outlet. "She said, 'How did you know that Dinah Washington is my goddess?' She did some Dinah Washington licks, and from that moment on, she just relaxed. And it came out wonderful. She was like, 'Tony understands me, you know?'"
Bennett further lamented not speaking with Winehouse about her addiction, per People, writing that, "Sometimes — sometimes — someone will say something that strikes home on just the right day. I said nothing on the day that I might have had a chance."
"Body and Soul" topped the music charts and won a Grammy. The sales were donated to the Amy Winehouse Foundation, a charity that helps young people who have alcohol and drug addiction disorders.
If you, or anyone you know, is struggling with addiction issues, help is available. Visit the Substance Abuse and Mental Health Services Administration (SAMHSA) website or contact SAMHSA's National Helpline at 1-800-662-HELP (4357).