Why Things Are Tense Between Dustin Johnson And Brooks Koepka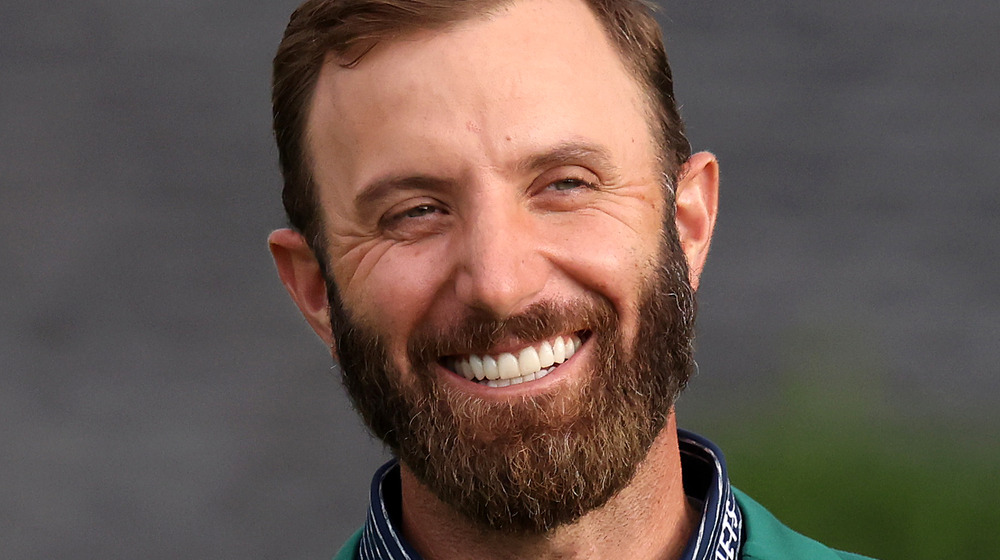 Rob Carr/Getty Images
When you think of sports with famously intense rivalries, golf probably isn't the first to come to mind. Well, some of golf's biggest talents today are changing that with a feud that comes as a surprise. Once upon a time, the golf world believed Dustin Johnson and Brooks Koepka to be good friends. The two were promoted when competing together and were even spotted partying together on a few instances years ago (via Golf).
Whatever friendliness was there was between the two subsided by the summer of 2020 as they worked their way to the Masters. Koepka made a snarky comment about his competitors, making a dig at Johnson in particular. "I like my chances and particularly when you look at how others have done when in contention to win majors," Koepka said (via FOX Sports). "I mean, DJ's only won one."
The comment even prompted another golfer, Rory McIlroy, to speak out. "I was sort of taken aback when I heard it," McIlroy said (via The Daily Mail). "I try to respect the fact that everyone out here is a great player and I think if you've won a major championship, you're a hell of a player. It's very hard to knock someone who's won 21 times out here like DJ, which is three times as many victories as Brooks."
It wasn't the first time there was shade between the two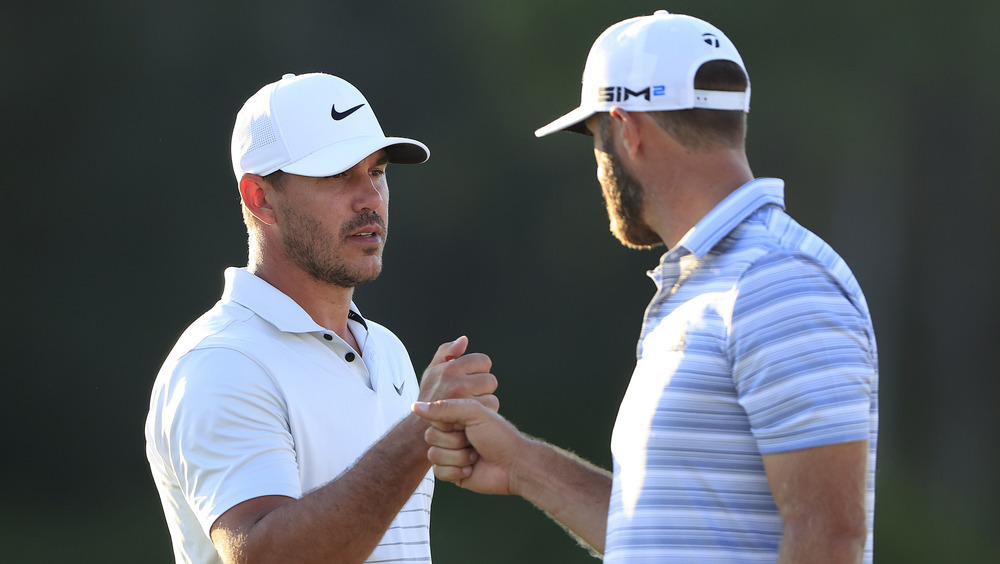 Sam Greenwood/Getty Images
In 2018, another bizarre story about the alleged feud between the two golfers surfaced — but was quickly denied. Reports came out that Johnson and Koepka had gotten into a fistfight at a Ryder Cup party and had to be physically separated (via Golf Digest). The next day, the two went to work denying those claims. 
"This Dustin thing I don't get," Koepka said at a press conference (via Inside Hook). "There is no fight, no argument, he's one of my best friends. I love the kid to death ... People like to make a story and run with it. It's not the first time there's been a news story that isn't true that has gone out."
It's been a confusing relationship between the two, to say the least. But now, Koepka says the idea there was a "relationship" there at all might be a stretch.
Brooks says they had nothing but a trainer in common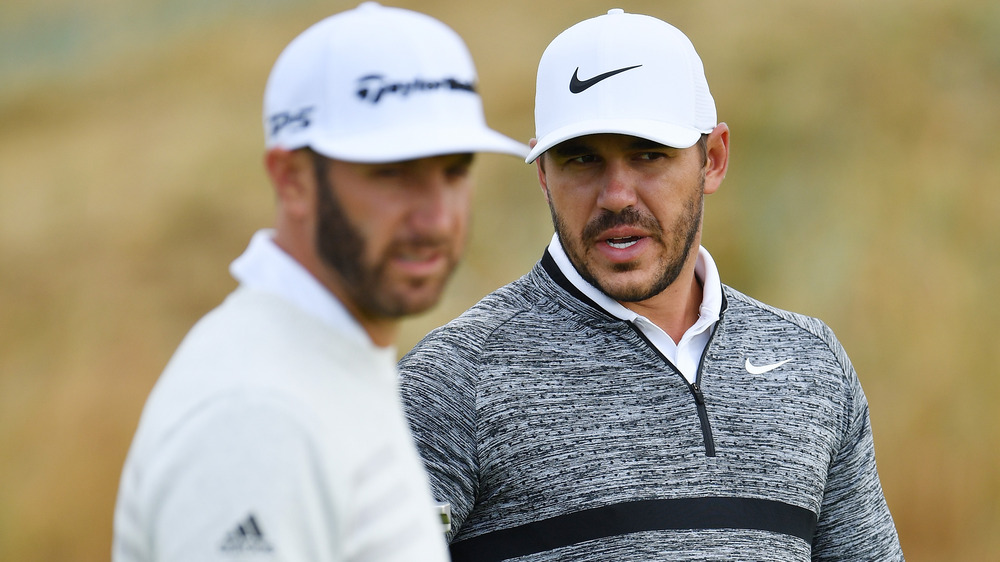 Stuart Franklin/Getty Images
In an August 2020 interview with Golf, Koepka said their supposed friendship was more of a media fabrication than a fact. He asserted the only link between the two was that they worked out with the same trainer, Joey Diovisalvi, at the same gym. He says that without that connection, the two would have only crossed paths on the green at tournaments here and there.
"We worked out for — I worked with Joey for two years. Yeah, I mean, I don't know," Koepka said. "I don't know what you guys — you guys make your own stories, so I have no idea what you all do," he leveled at reporters, saying that he and Johnson weren't the only example of the media over-hyping supposed friendships. "I think even the Jordan [Spieth] and Justin [Thomas] thing gets blown out too much. I think you guys overplay — you guys overplay a lot of things."