This Iconic ANTM Scene Was Much Worse Off-Screen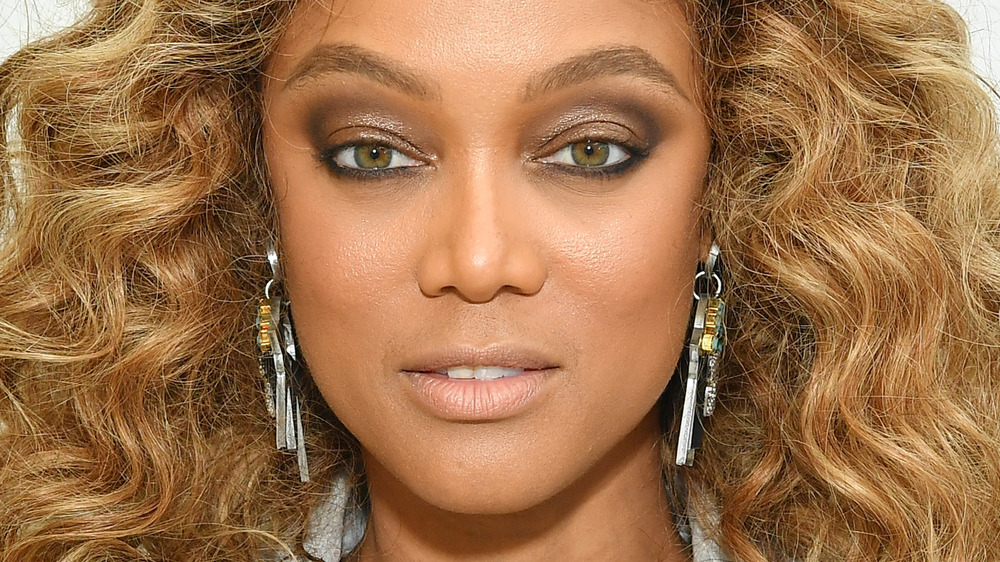 Amy Sussman/Getty Images
America's Next Top Model has featured many iconic moments over the course of almost two decades on the air, from Rebecca fainting during a judging session on cycle 4 to host Tyra Banks fake-fainting a couple seasons later in order to teach the models about something or other, the cereal bar fiasco during cycle 5's London sojourn, the flesh-eating bacteria scare (also from cycle 4), and essentially every time Banks, a supermodel in her own right, attempted to impart knowledge (via Self). 
One ANTM moment stands out above them all, however, to the extent it's entered the pop culture lexicon in the same way NeNe Leakes' infamous "I said what I said" (via YouTube) moment did; it was even featured once during a challenge on RuPaul's Drag Race (via Twitter). We are, of course, referring to the "we were all rooting for you!" moment that found Banks yelling at a girl as she never had before in her life. In reality, the moment was even darker and more uncomfortable than what was broadcast on TV.
It was a highly-charged emotional time for everybody involved
As BuzzFeed notes, Tiffany Richardson, the recipient of Banks' ire was a fan favorite on ANTM cycle 4. Her story was genuinely rags to riches, as a single mother who'd previously made ends meet by stripping. After being eliminated, Richardson tried to laugh it off with the other contestants only for the supermodel host to take massive offense and unleash a tirade about how ungrateful she allegedly was. Richardson revealed that Banks' rant was actually far more personal than what was shown, with the host allegedly sniping at the eliminated contestant, "You can go back to your house and sleep on your mattress on the floor with your baby," among other things. However, Richardson understands the reason for including it.
She acknowledged, "It was beautiful for TV. They love to see Black girls struggling and somebody coming to save her... and that just didn't work out that way this time." The former reality star doesn't regret the ANTM experience either, noting, "it made me who I am right now." Banks, however, does wish things had gone down differently.
Also speaking to BuzzFeed News, the supermodel and TV host admitted, "I wouldn't have done it... Actually, maybe I wouldn't have aired it." Banks explained she had grown incredibly attached to Richardson and simply let her emotions get the better of her, which is something Richardson understood. "It was such an emotional, visceral moment for me... I had so much love for this girl," Banks said.