Aaron Rodgers Won Over Jeopardy! Fans With This One Reference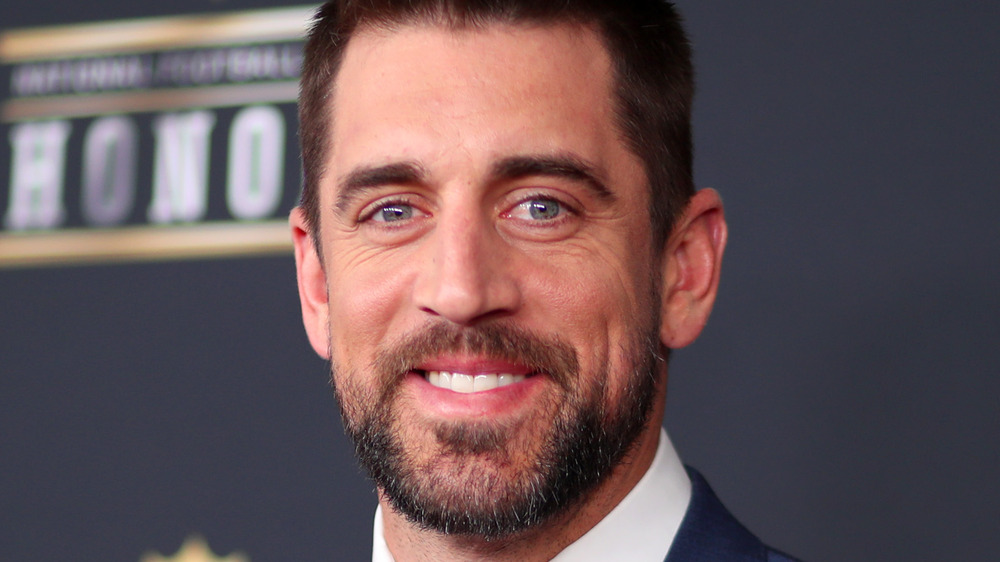 Christopher Polk/Getty Images
Jeopardy! has seen a slew of famous guest hosts since beloved longtime host Alex Trebek passed away in November 2020. Guest hosts have included past contestant Ken Jennings, journalist Katie Couric, and television host Dr. Mehmet Oz, according to the show's website. When it was announced Green Bay Packers quarterback Aaron Rodgers will be guest hosting between April 5 and April 16, some viewers might have been skeptical. However, the 6' 2" football player quickly won some new fans during the April 6 episode by dropping a pop culture reference.
While chatting with returning champion Brandon Deutsch, Rodgers asked, "It says here when you were 4-months-old, Burt Reynolds — or was it Turd Ferguson — was holding you at some point?" USA Today reported on the reference, which proved Rodgers is familiar with the Saturday Night Live parody of Celebrity Jeopardy! In particular, actor and comedian Norm Macdonald portrayed Burt Reynolds, who famously wrote his name as "Turd Ferguson" during a 1999 Saturday Night Live skit with Will Ferrell imitating the late Trebek. 
During the skit, Ferrell (as Trebek) said, "Mr. Reynolds has apparently changed his name." Macdonald (as Burt Reynolds) agreed and said with a smile, "It's a funny name."
Aaron Rodgers is a longtime fan of Jeopardy!
After guest host Aaron Rodgers made the Turd Ferguson reference on the April 6 episode, contestant Brandon Deutsch explained that, as an infant, he'd sat next to actor Burt Reynolds on a flight. But the conversation drove home the point that Rodgers is both a fan of SNL and Jeopardy! He told The Los Angeles Times earlier this week that he's loved watching the game show since he was a child and would love to become its permanent host. "I don't watch a ton of TV," he added. "Sports and Jeopardy! are the main things that I watch." 
This isn't the first time Rodgers has appeared on Jeopardy! either. He was crowned the Celebrity Jeopardy! winner in 2015, and according to USA Today and he made a Turd Ferguson reference then, too. During those rehearsals, he wrote down "Who Is Turd Ferguson" for Final Jeopardy! and later tweeted, "Had a blast on @Jeopardy checking off another bucket list item. Should have said turd ferguson on final jeopardy though."