Royal Expert Details Meghan Markle's Likely Battle Plan Against Piers Morgan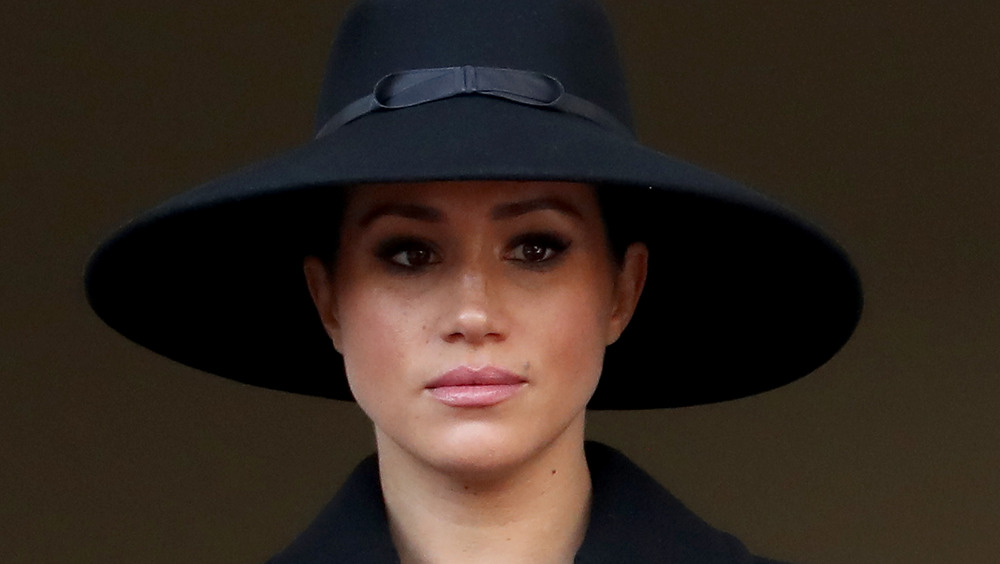 Chris Jackson/Getty Images
After Prince Harry and Meghan Markle sat down with Oprah Winfrey in March for a primetime interview, many people believed Markle's comment about concerns from the royal family surrounding her unborn child's skin color would be the biggest source of controversy. However, Piers Morgan decided to get involved in the royal drama — as usual. Following the premiere of the interview, Morgan accused Markle of lying 17 times in her interview, on his show, Good Morning Britain. The following day, the weather presenter Alex Beresford called Morgan out for his unfair claims, which led Morgan to leave the show permanently.
Since Morgan departed from GMB, he has doubled down on his accusations against Markle and has continued to say terrible things about the Duchess of Sussex. In an interview with Tucker Carlson, Morgan said that he doesn't believe the royal family is racist and that he is disgusted that Markle would say that (via The Independent). He added, "It's not really about Meghan Markle. She's a delusional duchess who wants to make millions off the royals while trashing family—it's really about free speech." Though Morgan has been trashing his former friend for years, Markle is reportedly finally going to fight back against him.
Meghan Markle intends to fight against Piers Morgan with her legal team
Todd Williamson/Getty Images
According to Page Six, a spokesperson for the UK's Office of Communications, or Ofcom, revealed that Meghan Markle filed a complaint with British broadcasting regulators against Piers Morgan, following his claims on Good Morning Brian. Now Markle is anticipated to get her legal team involved in the fight against Morgan. Angela Levin told Talk Radio host Mike Graham that she knows Markle to be a very determined woman who will want to get back at Morgan, even though she is heavily pregnant. She said, "Piers is a brave man, but let's wait and see... I imagine the lawyers are still working out if there is a sentence or a verb or something that Piers said that they could jump on" (via YouTube).
Unsurprisingly, just hours after Levin spoke, Morgan had more harsh words for Markle and her husband. He told Extra that Markle owes it to the United Kingdom taxpayers to reveal which royal they are accusing of racism, before adding that the Queen is way more popular in the UK than the Duke and Duchess of Sussex.