Meghan And Harry's Tribute To Prince Philip Has People Talking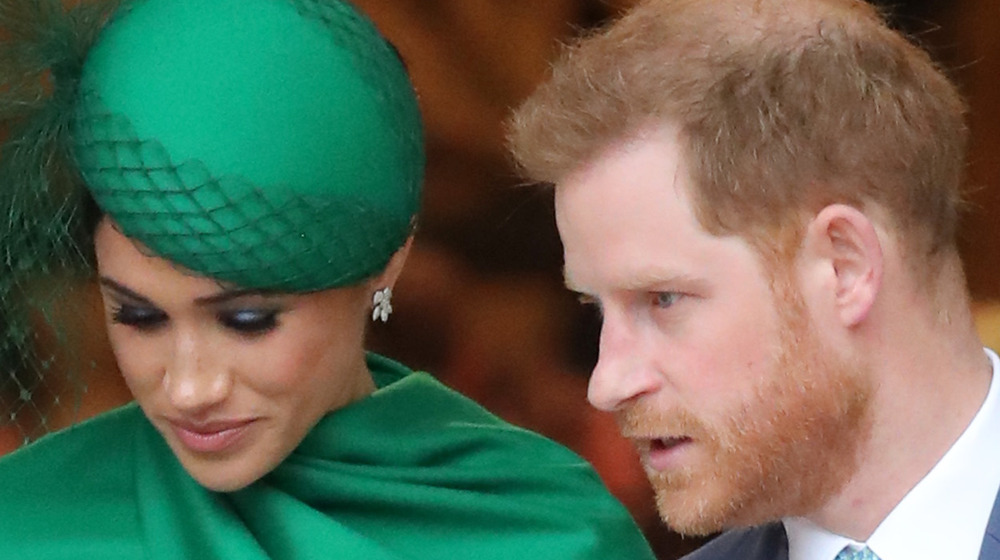 Chris Jackson/Getty Images
At the age of 99, Prince Philip died in his home at Windsor Castle on April 9, 2021. 
The Duke of Edinburgh had recently spent a month in the hospital, where he was treated for an infection and had a procedure on his heart (via CNN). According to The Daily Mail, Philip endured a lot of stress during his final year of life, some of which was caused by his grandson Prince Harry and Harry's wife Meghan Markle. The outlet claims that Philip was "rocked" when Harry and Meghan chose to exit as senior members of the royal family. In addition, Harry and Meghan sat down for a shocking tell-all interview with Oprah Winfrey in March 2021 that made many eye-raising claims about the royal family. 
During the sit-down, the Duchess of Sussex opened up about a time when Kate Middleton made her cry and admitted to suffering from suicidal thoughts as an active member of the family. However, one of the most shocking moments came when the couple accused members of the royal family of making racially insensitive remarks about the skin color of their son, Archie (via USA Today). 
Philip's death is casting an even bigger spotlight on the royals and the controversy that surrounds them. Despite it all, Harry and Meghan have spoken out about the Duke of Edinburgh's death.
If you or someone you know is struggling with mental health, please contact the Crisis Text Line by texting HOME to 741741, call the National Alliance on Mental Illness Helpline at 1-800-950-NAMI (6264), or visit the National Institute of Mental Health website.
Fans react to Harry and Meghan's tribute to Prince Philip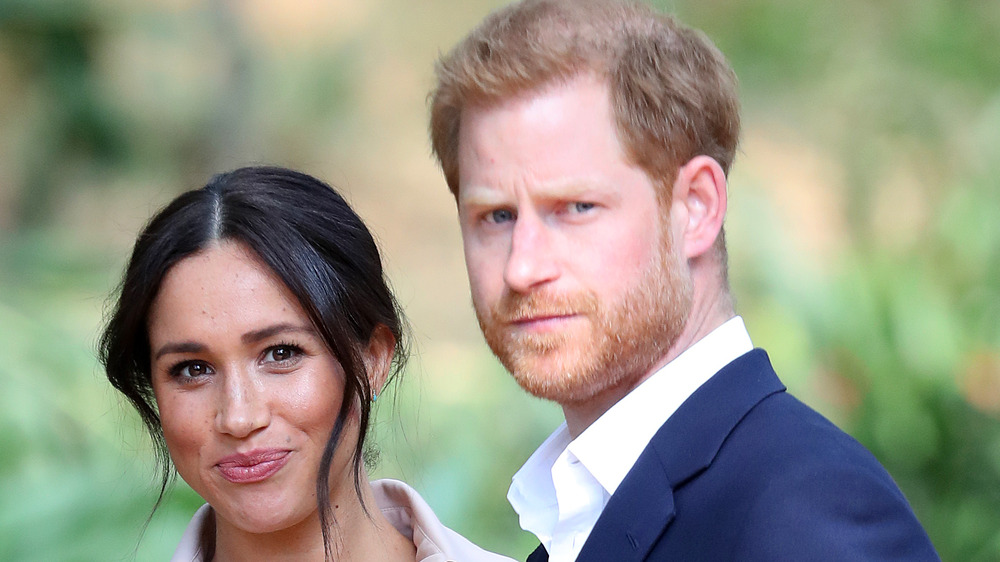 Chris Jackson/Getty Images
Following Prince Philip's death, Prince Harry and Meghan Markle paid tribute to his grandfather (via Us Weekly). The pair issued a brief statement on their website that read, "IN LOVING MEMORY OF His Royal Highness. The Duke of Edinburgh 1921-2021. THANK YOU FOR YOUR SERVICE...YOU WILL BE GREATLY MISSED."
Fans took to social media to give their opinions about the tribute, with many people calling out the Duke and Duchess of Sussex for their brief words. One Twitter user wrote, "I bet Harry feels terrible for that interview now," Another stated, "'Thank you for your service' is possibly the most apathetic and clinical tribute to a deceased grandparent I've ever seen."
Another Twitter user commented, "I've no beef with Meghan and Harry but I'm dumbfounded by that statement. It has absolutely zero warmth toward a grandparent. Probably would have been better to stay silent as per the rest of the family?" In agreement, a user added, "Sounds like something someone would write in someone's retirement card!!!!!! I am actually disgusted by them this time." Whether fans side with Meghan and Harry or not, it appears that all eyes will be on the couple when or if they attend Philip's funeral.