What Does Some People Do By Old Dominion Mean?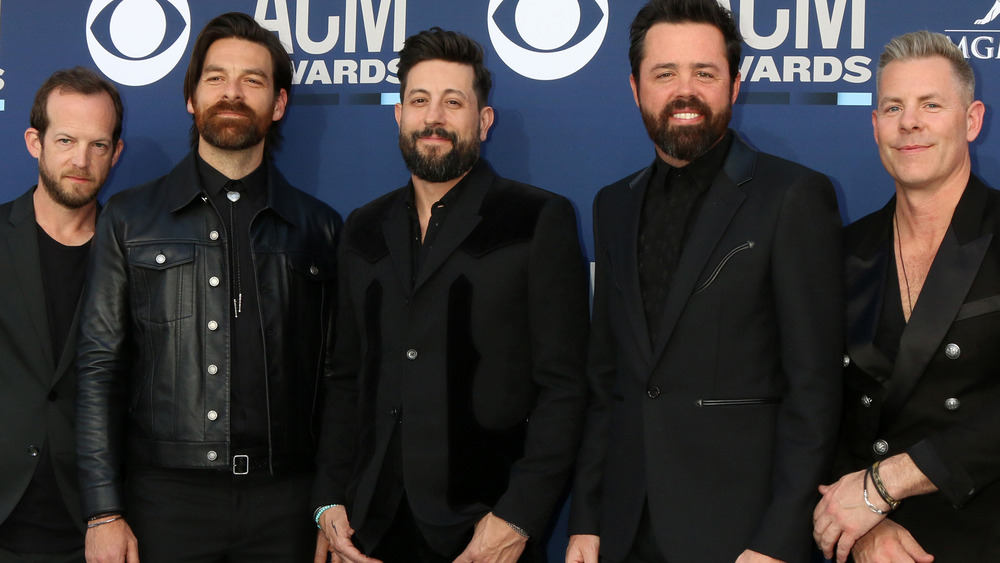 Shutterstock
One of the frontrunners for Best Group at the 56th Academy of Country Music Awards is Old Dominion, the powerhouse group that won the award in 2020, per Gold Derby. After all, it's been a strong year for the country music band; Old Dominion was nominated for two Grammy awards in March for their hit song "Some People Do." The song, which is also nominated for an ACM Award for Song of the Year, has received accolades, not only for its touching lyrics, but for the inspirational music video that accompanied it.
CMT explains that the documentary-style video used footage obtained when members of the group — Matthew Ramsey, Trevor Rosen, Whit Sellers, Geoff Sprung, and Brad Tursi — assisted celebrity men's groomer Jason Schneidman while he delivered haircuts and other aid to the homeless. Ramsey said the video helps elevate the song. "The average listener may not pick up on the message of hope that is under the surface in this song," he said. "The video shines a bright light on that aspect."
So, what is the powerful song "Some People Do" about?
The song's message is that change is possible
"Some People Do" was written by Old Dominion's vocalist Matthew Ramsey and country singer Thomas Rhett along with Jesse Frasure and Shane McAnally, according to The Boot. When the band announced the song on Instagram, Ramsey explained its meaning, writing, "I think inherently we're all good people and want to be good people, but no matter who you are, sometimes you hurt the ones you love. It's about that desire to be the best person you can be for those people."
Its poignant lyrics support that message: "In a world that's gone crazy / You don't know what's true / Most people don't change / But some people do." The band recently released a mini-documentary directed by Mason Allen about the video that accompanies the song, which provides deeper insight into Jason Schneidman's mission to help the homeless and those suffering from addictions. Schneidman, a former drug addict, credits his stint in a year-long sobriety program with helping him change. 
Ramsey told CMT he was proud of the song and the video, which complement each other better than he could have expected. "We need to be gentle with each other right now and hopefully seeing the video can inspire that in some people," he said.
If you, or anyone you know, is struggling with addiction issues, help is available. Visit the Substance Abuse and Mental Health Services Administration (SAMHSA) website or contact SAMHSA's National Helpline at 1-800-662-HELP (4357).