Inside Jennifer Aniston's Morning Routine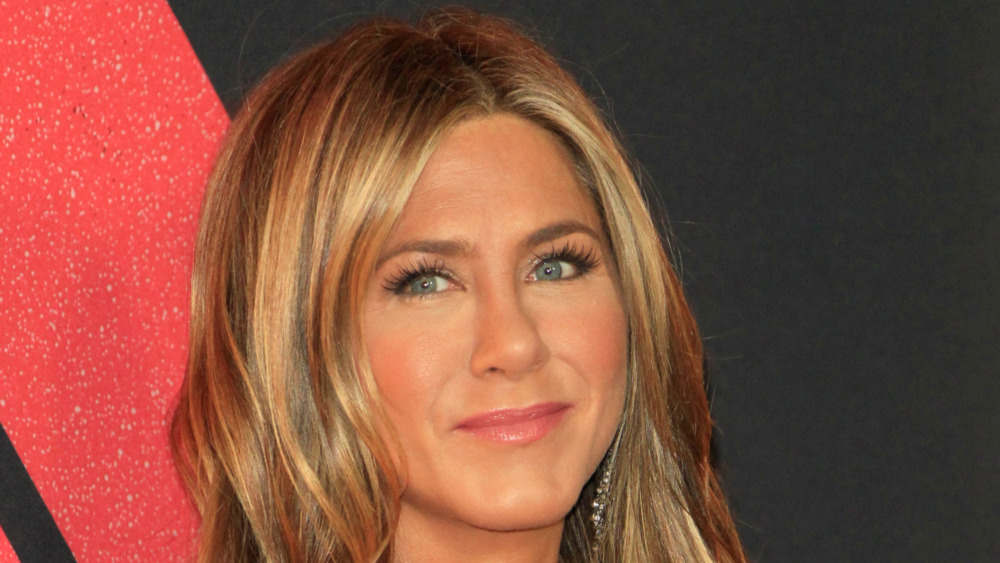 Shutterstock
Morning routines are a buzzword in the wellness world, with many opting for their green juice, meditation, and a breathwork session before they start their day. The same is true for the rich and famous — including Jennifer Aniston.
While you may assume that those with everything they need take their day pretty slow, the Friends actress actually rises early — like, 4:30 AM, early. According to Well+Good, Aniston wakes up at the crack of dawn if she's working, but closer to 8 or 9 AM on days off. Of course, she explained, her next step is hot water with lemon to wake up her digestive system and alkalize her body. After a quick face wash, she heads to her meditation mat, she explains to the outlet, where she sits in peace anywhere between 10-20 minutes in Transcendental Meditation. 
Shape notes her routine's multiple workouts in the morning, which can change on any given day. An early sweat sesh can make way for tons of health benefits, including better sleep and improved blood pressure, according to the publication. Aniston gets moving with a spin class followed by yoga and then a trip to the gym for strength training or more cardio, she says. The actress's main motivator for this routine is variety, "Keeping your body confused is always the key for me," she says.
Jennifer Aniston drinks celery juice in the morning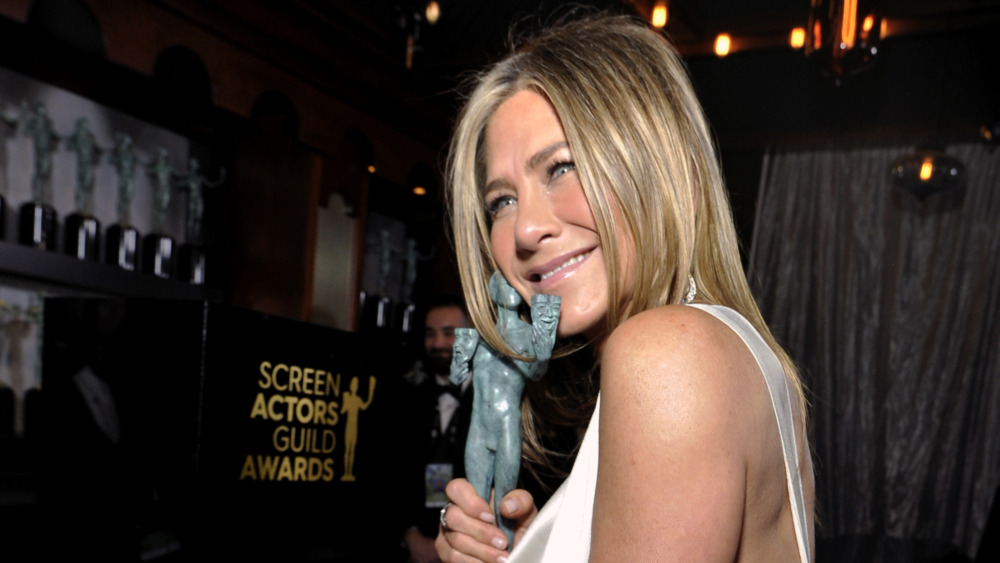 John Sciulli/Getty Images
It should come as no surprise that Hollywood's sweetheart knows how to eat healthy after all of these years in the spotlight. Insider reports that Jennifer Aniston opts for celery juice upon waking up as well as a smoothie with clean protein, greens, blueberries, and collagen. She even told Well+Good that she's noticed a difference in her skin from adding this supplement. "My nails are stronger and there's a healthier... how do you explain it? A glow. It's sort of that working from the inside-out thing," she said.
Furthermore, Aniston credits daily hour breaks from technology for her calm resolve and inner peace. She told the Los Angeles Times that stepping away from her phone makes a huge difference in the way that she feels. "You don't really need it — unless it's your job. But if you don't have anything that's pressing, an hour is not going to hurt to not look at it," she told the newspaper.
Plus, to get her beauty sleep, the actress meditates once again before bed. Helping her unwind and relax, this routine gives her the energy to meet her busy mornings with a fresh face. Of course, regular facials also help with her skin's youthfulness, but her healthy, steady mornings clearly help with that as well.