The Real Reason Nicolas Cage Got Bailed Out Of Jail By This TV Star
Shutterstock
Actor Nicolas Cage is no stranger to finding himself in a little hot water, whether that's on screen or off. As a result of one real-life altercation that took place in April 2011, he found himself facing charges following an argument with his then-wife, Alice Yung Kim. According to E! News, the couple were going at it on the streets of New Orleans when the cops became involved. "Cage and his wife were standing in front of a residence that he insisted was the property the couple was renting. She disagreed, and Cage grabbed her by the upper arm and pulled her to what he believed was the correct address. There were no signs of injury on his wife's arm," the New Orleans Police Department told the outlet in a statement. 
Cage allegedly struck multiple vehicles before trying to get into a cab, at which point a police officer who'd been flagged down by onlookers ordered an allegedly intoxicated Cage out of the cab, prompting the actor to start yelling. After he was booked into jail on charges of domestic abuse, public drunkenness, and disturbing the peace, a surprising fellow celeb came to his aid.
Dog the Bounty Hunter stepped up to bail Nicolas Cage out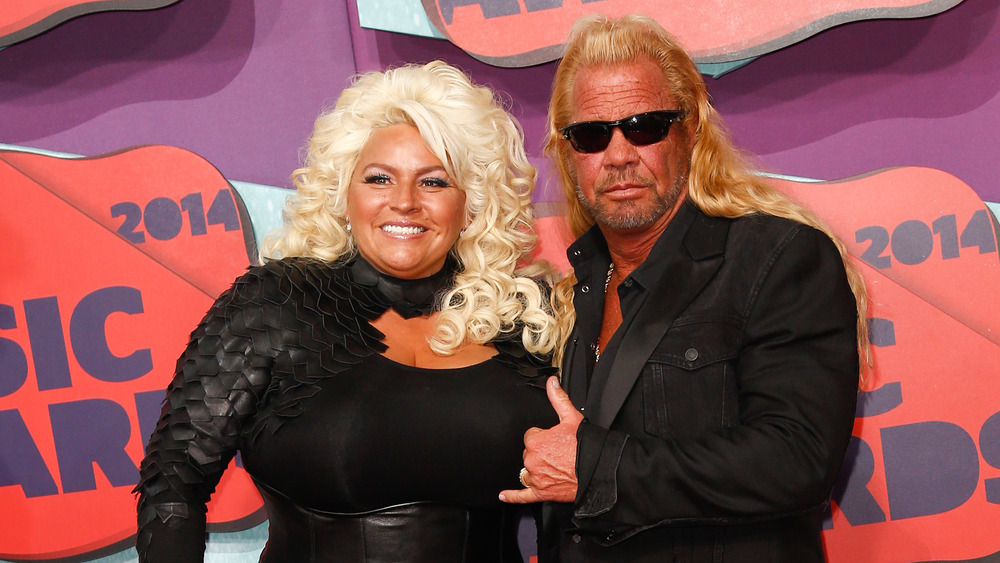 Shutterstock
Duane "Dog" Chapman, the famous bounty hunter, is the one who put up the money to free National Treasure star Nicolas Cage. Per The Hollywood Reporter, the reality star and wife Beth Chapman, who died in 2019, posted the $11,000 bond required, though don't expect to find the moment chronicled on their show. While Dog the Bounty Hunter was still airing until 2012, Dog told E! News that he took on the actor as a private client. "I performed my duties as a bail bondsman and not in connection with our show. This is what I do for a living," he said at the time. He also declined to comment further, explaining, "Media from around the world have been requesting interviews with me today after reports surfaced about my posting a bond for actor Nicolas Cage in New Orleans. I am a truly dedicated fan of Mr. Cage and will not be granting any interviews about my client as I wish to respect his privacy."
His wife, on the other hand, did have something to say — and it was an indictment of law enforcement. "My guy just walked out of the jail," she tweeted following Cage's release. "Damn new Orleans [sic] 8 hours holy cow that's a lot of time to Process one guy." The charges were ultimately dropped, with BBC reporting that prosecutors decided Cage's actions "did not amount to criminal conduct." The Leaving Las Vegas star was free to sort out his personal issues with his wife in private — and if he ever needed any relationship advice, well, he could just give Dog a call.