How To Take Care Of Passion Twists The Right Way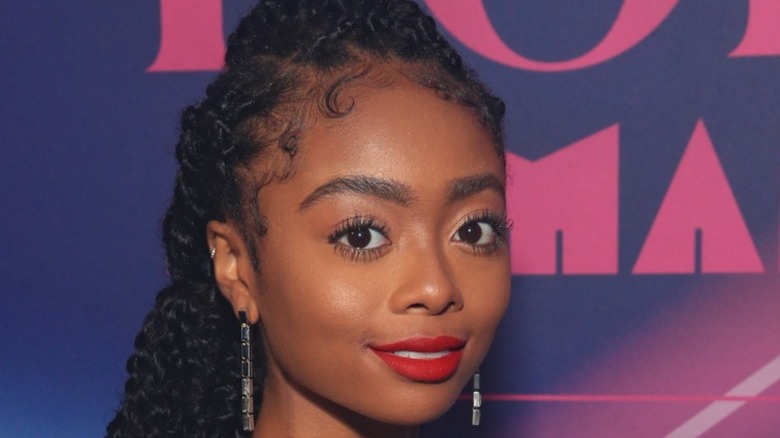 Rich Fury/Getty Images
Protective hairstyles offer up the best of both worlds: They promote healthy hair growth by giving your natural hair a much-needed break, and they can elevate any look. Passion twists are the latest hair trend to dominate social media and the red carpet, with stylish celebs and beauty lovers like Skai Jackson, Keke Palmer, and Taraji P. Henson all showing their love for and putting their own twist on the protective style. Birthed by Miami hair stylist Kailyn Rogers, passion twists combine the sleek look of twists with low-maintenance installation and styling (via Byrdie). 
Whether you prefer a tousled-but-chic look or a more glam appearance, anyone can put their stamp on the passion twists trend, which is what makes it so appealing. Plus, this protective style is super low-key, easy to DIY, and lasts for a long time, depending on your hair care routine (via Naturally Curly). Before you install and style your protective hairstyle, here's what you need to do so they last longer.
This simple routine will make your passion twists last longer
Upkeeping your passion twists comes down to three things: the type of hair you decide to use, moisturizing, and good sleep habits. Textured hair is the easiest to both install and detangle, and comes off very natural (via Jorie Hair). When you're working with passion twists, it's important to stick with beauty products that are moisturizing and light — such as a leave-in conditioner spray — to prevent your own hair from drying out or being damaged (via Byrdie). 
You should also invest in hair oils to keep your scalp hydrated, but avoid nasty buildup by regularly washing your scalp. Just be careful around your actual twists, and slowly shampoo them so your hairstyle doesn't get ruined (via Jorie Hair). To really stretch out your protective hairstyle, do not neglect your night-time routine. Keep your hair wrapped and protected in a satin or silk sleeping cap — or sleep on a satin pillowcase — to reduce your chances of waking up with frizzy hair (via Byrdie).