Prince Philip Wore The Same Shoes For Over Seventy Years. Here's What We Know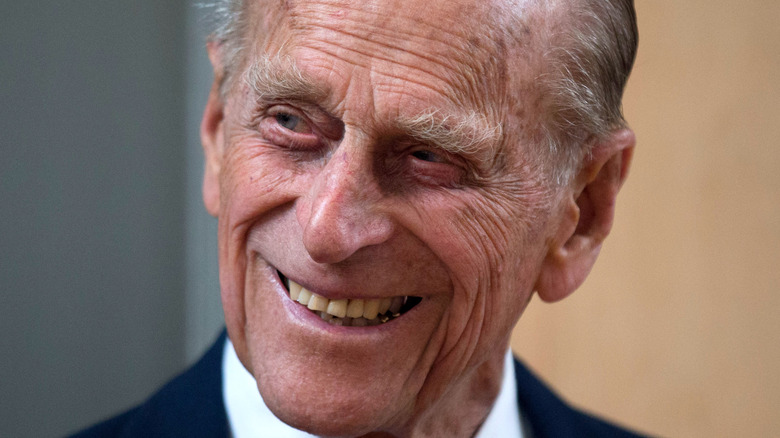 Wpa Pool/Getty Images
For many years –- in fact, throughout most of our lifetimes –- the Duke of Edinburgh was one of the quieter members of the royal family. He was never the one creating the drama, nor did he throw gasoline on any of the bonfires constantly breaking out in Buckingham Palace. In fact, were any conflagration to threaten the royal family (real or metaphorical) he'd be the first to grab a fire extinguisher. A prince in his own right, Philip was happy to spend 70+ years in the shadow of his far more powerful wife. As his friend Lord Karan Bilimoria described him (via the Daily Mail), Philip was "the most extraordinary husband, consort, champion, supporter and a rock to Her Majesty...[and] the embodiment of true service leadership."
Now that he's gone, friends and family are sharing anecdotes about what the Duke of Edinburgh was like behind castle doors. From Prince Harry calling him "master of the barbecue" (via Archewell) to former chef Darren McGrady sharing (via YouTube) how Prince Philip once cooked him dinner, we can't help but think of Philip as the royal grandpa we all wish we had. One of the more endearing anecdotes comes from Lord Bilimoria, who revealed that the Duke, a man married to one of the world's wealthiest women, wasn't one to throw away money on unnecessary expenses. Case in point: the shoes he wore at his 1947 wedding were still in service over 6 decades later.
Frugality wasn't the only reason Prince Philip hung on to those shoes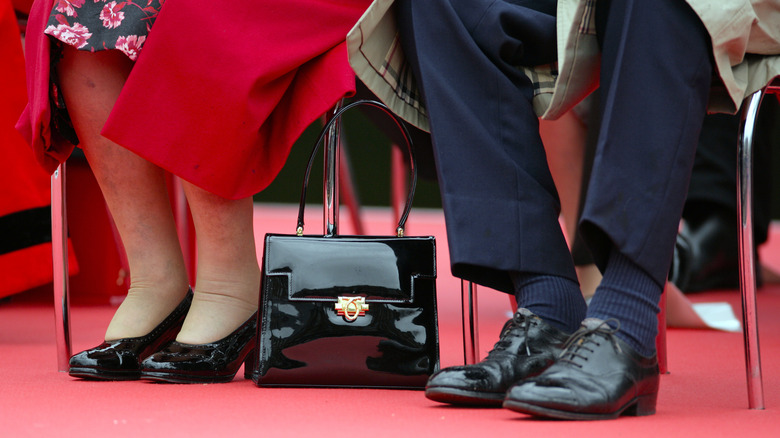 Max Mumby/indigo/Getty Images
As Bilimoria told the Daily Mail, back in 2011 he invited the Duke to attend an event being held at the Zoroastrian Centre in London. (Lord Bilimoria, according to Parsi Khabar, is an Indian-born British peer whose religion is Zoroastrian Parsee.) Prince Philip gladly attended, and, as is the custom of the venue, he removed his shoes at the door. When the event was over, Bilimoria was sitting next to him as he laced up his black leather shoes, and the Duke let slip that the shoes he was wearing were the exact same pair he'd had on at his wedding 64 years earlier. Bilimoria describes the revelation as "amazing," and speculates "Who knows how many times they would have been re-soled or repaired?"
It seems that Prince Philip wore those shoes on many formal occasions through the (many, many) years following his wedding. Was it just because he was thrifty? Perhaps a dedicated environmentalist like his son, committed to reducing, reusing, and recycling? Maybe he just hated to go shoe shopping, something many men probably relate to. Bilimoria, however, thought there was another reason behind the Duke's attachment to that one pair of shoes, thinking he wore them "because of his sentimentality...that genuineness which was ever present...[and] showed what a wonderful husband he was." Aww! Pass the tissues, please.