Here's How To Achieve The 'Buttery Skin' Trend
Shutterstock
While Kim Kardashian still prefers a matte makeup look, the rest of the beauty world is taken by the buttery skin trend. The style was popularized a couple years ago but still holds significant weight, with influencers and celebrities using the look for events, photoshoots, and trendy TikTok videos. But what is buttery skin, exactly?
According to Glamour, buttery skin is a specific makeup technique. Like the glass skin technique, it's all about extra shine in all the right places. However, the ideas behind these two trends are completely different. Per Allure, glass skin is created through a complex skincare routine, which focuses on hydration and a smooth feel. However, buttery skin uses makeup to achieve the same effect instantly.
Isabelle De Vries, the makeup artist who coined the term, told Glamour, "I came up with the term buttery skin because it gives off the same silky-smooth texture and natural sheen that butter has." Ready to flawlessly execute this look on your own? Your first step: clean, hydrated skin.
The buttery skin look focuses on layering makeup and creating a dewy shine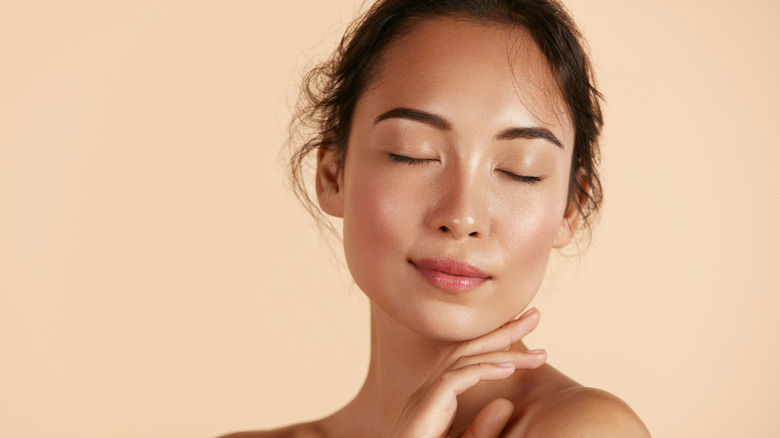 Shutterstock
Isabelle De Vries explained to Glamour that she always starts off the buttery skin look on a clean face. She preps the skin with a chemical face peel to remove dead skin cells. Then, she quickly hydrates the skin with a hyaluronic acid sheet mask. If you don't have a face peel or sheet masks, Better Be suggests that you can simply wash your skin, pat it dry, and moisturize it with your favorite face cream or lotion.
Next, the layering begins, starting with an illuminating primer and then adding a dewy foundation. De Vries says you can create an extra glowy look by mixing a little liquid highlighter into the foundation. As an added tip, use your fingers to apply the mix. The warmth of your fingers will help the foundation spread over your skin more easily, creating a natural feel.
Then you move on to your cheeks. To maintain that hydrated glow, De Vries recommends that you choose liquids and creams for your blush and highlighter. You are allowed to use a powdered contour at the end to create more depth in the look. To bring it all together, you'll need a clear highlighter balm. Spread this over your cheekbones and place a little on your eyelids. You can even add a small amount to your cupid's bow. Finish the buttery skin look with a setting spray, and you're good to go.