Queen Elizabeth Is So Much Smaller Than She Used To Be. Here's Why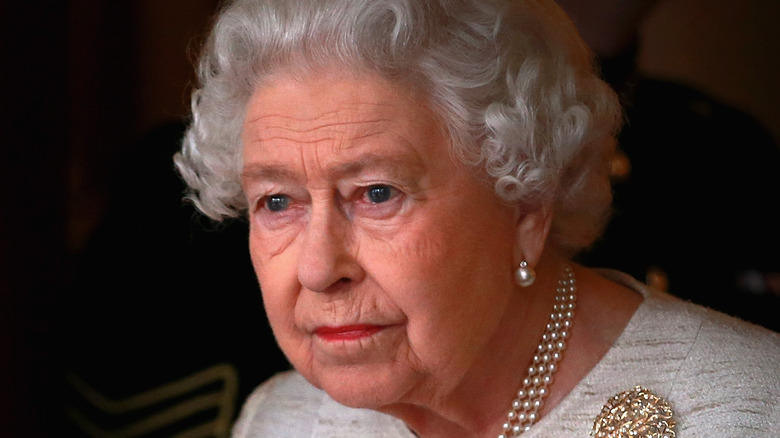 Chris Jackson/Getty Images
Those watching Prince Philip's funeral were most certainly on the lookout for what his mourning widow, Queen Elizabeth would look like. Appropriately, the monarch wore black, including a black hat and face covering (via The Washington Post). It was notable that in accordance with COVID-19 restrictions, Queen Elizabeth entered St. George's Chapel without any other members of her family, and sat alone, while the royal family — and the world — paid final respects to the longest serving British consort in history.
But royal family followers may have also noticed how small Queen Elizabeth appeared when she walked from her Bentley to the chapel. Of course, at 94 years of age, she is physically very different than she was when she ascended the throne in 1952 at the tender age of 25 (via Express). Her gray hair was once dark, and her walk was undoubtedly a bit more brisk. She is also now said to be about 5 feet 1 inch tall.
Upon her coronation, the monarch was 5 feet 4 inches tall, according to reports. So, it seems Queen Elizabeth has lost about 3 inches in height over the years. And, it turns out losing some of your stature is normal for all women as they age, according to Cleveland Clinic. But why does this happen?
Queen Elizabeth's loss in height may signify a health problem... or not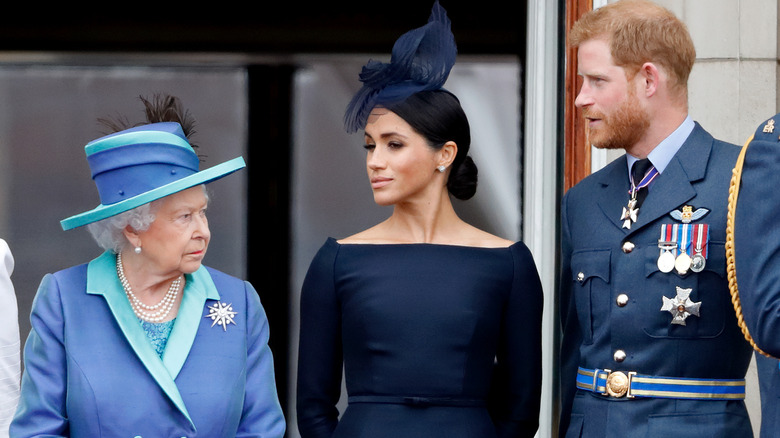 Max Mumby/indigo/Getty Images
According to Cleveland Clinic, losing one's height over time is a sign of bone loss, or osteoporosis. It's worth noting that Camilla Bowles, Prince Charles' wife, is a crusader for awareness about this disease, having lost her mother and grandmother to brittle bones associated with osteoporosis.
But again, some degree of spine compression is normal as women age, with Abby G. Abelson, MD, FACR, telling Cleveland Clinic, "Certainly losing a half-inch or three quarters of an inch may be normal, but I've seen patients who say they've lost two, three, or four inches in height, and they thought that was a natural consequence of aging. But it's not."
It seems Queen Elizabeth may be at risk for bone breakage due to her significant shrinkage. That said, let's remember she is 94 years old, and that her mother lived to 101 (via The Guardian). Clearly she is doing much right (some say it's her daily glass of champagne that's the key according to British Heritage) when it comes to her health, whether she has lost several inches in height or not.