Prince's When Doves Cry Lyrics Explained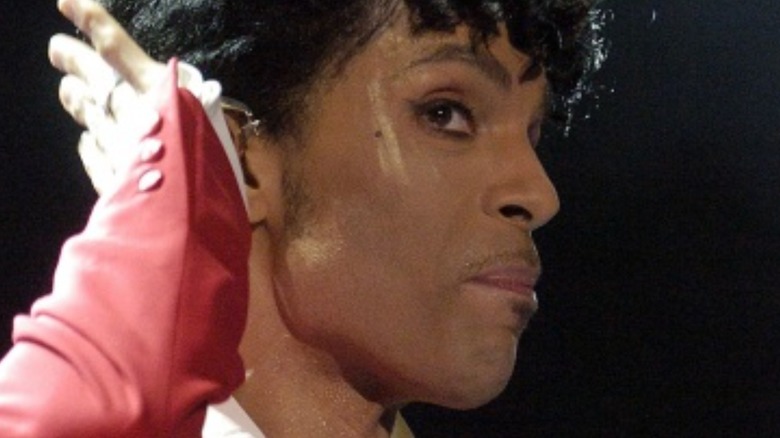 Getty Images
Rarely does a song's chords hold as much power and impact as its lyrics, but the legendary Prince was in a league of his own. Time and again, the late singer-songwriter, multi-instrumentalist, composer, and all around musical genius created something special with his catalog and inspired generations of fans (via Britannica).
When the opening riff of Prince's classic hit "When Doves Cry" sounds, it transports you back to wherever you were the first time you heard it. Per blogger Anil Dash, Prince's liner notes on his greatest hits album titled The Hits/The B-sides revealed that the track almost turned out completely different. Before its final iteration, he made major changes to its instrumentation, including removing the song's original bass line.
These changes were bold and pretty unheard of since the '80s music era was synonymous for heavy bass lines and synths. But according to the liner notes, which were written by manager Alan Leeds, the revolutionary singer's team encouraged his experimentation on the classic song, explains Dash, and he eventually scrapped the bass line entirely. "PRN [his initials] was said to have said, 'if. (sic) had my way the song would sound like this.' He then shoved down the bulk of the instrument faders and left up only the drums and the xylophone, when the voices began to sing the chorus," Leeds wrote, before confirming that Prince did exactly that.
As far as "best ever" playlists go, there's no contest. But what do the lyrics of "When Doves Cry" actually reveal?
In When Doves Cry, Prince sings about toxic romantic and familial relationships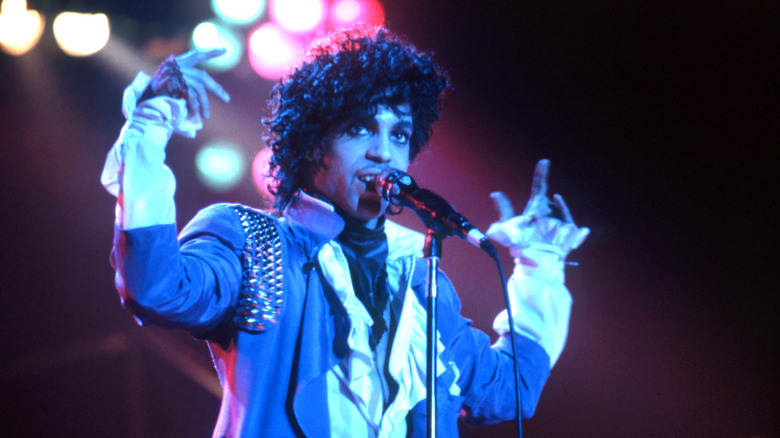 Icon And Image/Getty Images
In 1984, Prince's "When Doves Cry" shot straight to No. 1 and spent 23 weeks on Billboard's Hot 100 chart (via Billboard). Written for his semi-autobiographical film Purple Rain, he opens the track with lyrics that hint at a once passionate relationship that has now turned toxic. When he implores his lover to "Dig, if you will, the picture / Of you and I engaged in a kiss / The sweat of your body covers me / Can you, my darling? Can you picture this?" in the first verse, he cleverly sets the stage for the song's core message, per Genius. It's rumored that he drew inspiration from his on-again, off-again relationship with Vanity 6's Susan Moonsie, according to Ultimate Prince.
But the introspective song doesn't solely focus on his romantic relationships — Prince also opens up about his fear of becoming a self-fulling prophecy. There's clear tension layered in the chorus when he questions how his ex-lover can abandon him "in a world that's so cold," before comparing their relationship to that of his parents. In the cutting lines "Maybe I'm just too demanding / Maybe I'm just like my father: too bold," Prince seemingly mourns a childhood that was plagued by a strained relationship with his father — though it's never been confirmed just how much of the song (and film) were pulled from his own life — as reported by Songfacts.
There's a duality behind the symbol of crying doves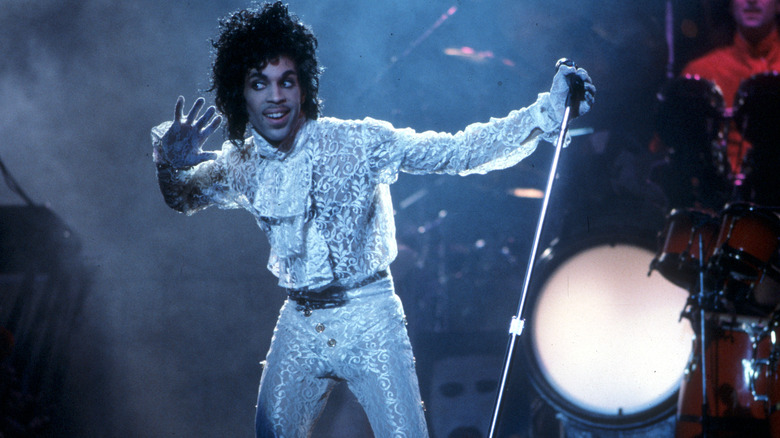 Michael Ochs Archives/Getty Images
The last line of the chorus is the most iconic because of its universal theme of both sorrow and hope: "This is what it sounds like / When doves cry" (via Genius). In this context, crying doves symbolize a deteriorating relationship that was once positive and pure, but has now lost its spark (via Bustle). But the third verse gives off a hopeful tone as Prince shows his vulnerability using the words "trembles inside" and "butterflies all tied up." Here, he's open to second chances, but reminds his partner that he won't wait for them forever because "Even doves have pride" (via Genius). With just one line, Prince conveys the complicated relationship between passion and coldness, and being hopeful things will get better versus staying trapped.
"When Doves Cry" remains well loved decades after its inception. According to international news radio program The World, music journalist and author Alan Light once attributed the song's immeasurable success to the late singer's penchant for taking risks for the sake of his art. "Nobody believed that this was going to be such a catalyst for the kind of success that it had. To be able to do something that's that experimental and that bold, and have it be that popular and connect that universally, it's just unbelievable. It takes an artist of that magnitude to be able to pull that off," he marveled. Now, the world marvels at Prince's genius right alongside him.