Here's Why Kaitlyn Dever Really Left Last Man Standing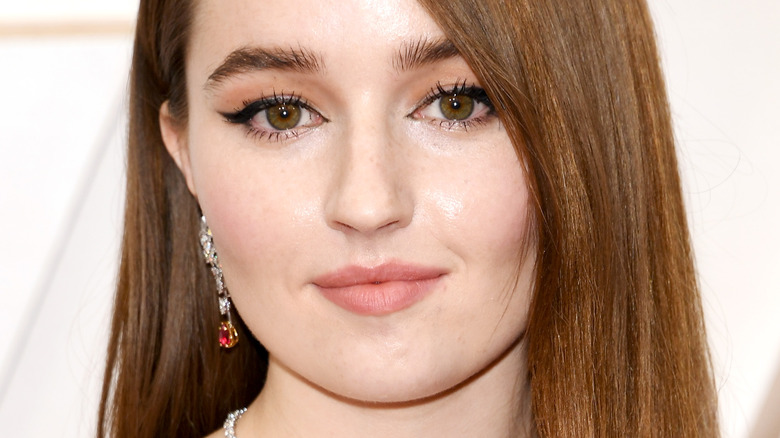 Kevin Mazur/Getty Images
Wildly popular sitcom Last Man Standing has kept audiences laughing for nine long seasons; the final episode is set to air on May 20, 2021 (via TV Line). The series stars comedy legend Tim Allen as Mike Baxter, the director of marketing for a sporting goods store in Denver, Colorado. Allen plays a self-proclaimed "manly-man" who often feels outnumbered by his loving wife and three hilarious daughters.
Rising star Kaitlyn Dever played the youngest of the daughters, Eve Baxter. Eve is a hardworking young woman who eventually attends the U.S. Air Force Academy. She gets along really well with her dad and can be very sarcastic and quick-witted. Over the years, fans of Last Man Standing grew to love Eve and many young viewers found her to be one of the most relatable characters. Though Dever was a series regular for most of her time on the show, since 2011, in season 7 she transitioned to a recurring role to pursue her burgeoning film and television career.
Following the show's cancellation on ABC, Dever made other plans
Last Man Standing originally premiered on the network ABC in 2011. The series was canceled in 2017 after its sixth season, despite being ABC's second-most-watched sitcom at that time (via Deadline). Luckily for the fans, Fox decided to pick up the series for its seventh season and later renewed Last Man Standing for its final two seasons. 
When news broke that the series had been canceled, Kaitlyn Dever began searching for other projects. Due to her immense talent, Dever booked starring roles in the 2019 comedy Booksmart, alongside Beanie Feldstein, and the Netflix mini-series Unbelievable. Dever received wide praise for her performances in both roles and has worked on many more projects since transitioning to a recurring character on Last Man Standing. 
Before the premiere of the series' ninth and final season, Tim Allen opened up to Fox News about how Dever's exit affected him. He said, "We had an episode ... where we had to change Eve's [Kaitlyn Dever] room and it reminded me of real life. You know, your kid's not coming back. They'll visit, they're not going anywhere, but they're not coming back to the bedroom they grew up in. It was really a hard one for me to do based on my oldest daughter, when she left."
Though Dever is not as involved in season 9 as Tim Allen and the fans wish she could be, she's already appeared in a special episode and is anticipated to be in the series finale.