Why Chris Stapleton's Wife Got Replaced By Miranda Lambert At The ACMs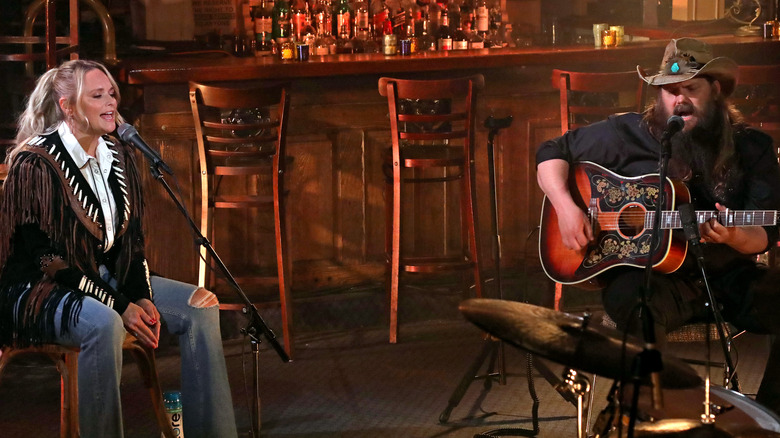 Terry Wyatt/acma2021/Getty Images
Miranda Lambert appeared in a surprise performance with Chris Stapleton at the Academy of Country Music (ACM) Awards. Lambert, who was nominated for four awards, sang in place of Stapleton's wife, Morgane, soon after she opened the show with Elle King. The ACMs announced the change mere minutes before the show was set to air, via People. An official statement submitted to People read, "Due to her prior doula commitment, Morgane Stapleton is unable to join Chris Stapleton at the Bluebird as scheduled. Miranda Lambert will instead take the Bluebird stage with Chris tonight for 'Maggie's Song.'"
Morgane and Chris have five children together, per Country Living, and welcomed their fifth baby in May 2019. Morgane made no mention of the ACM switch on social media, but Chris Stapleton did retweet Miranda Lambert soon after the performance. Lambert posted a video of herself singing the sweet song, "Maggie's Song," with Stapleton. The singers kept their outfits lowkey, with Stapleton wearing dark colors and Lambert wearing a brown tasseled jacket.
Lambert used her performance with Chris Stapleton to promote her foundation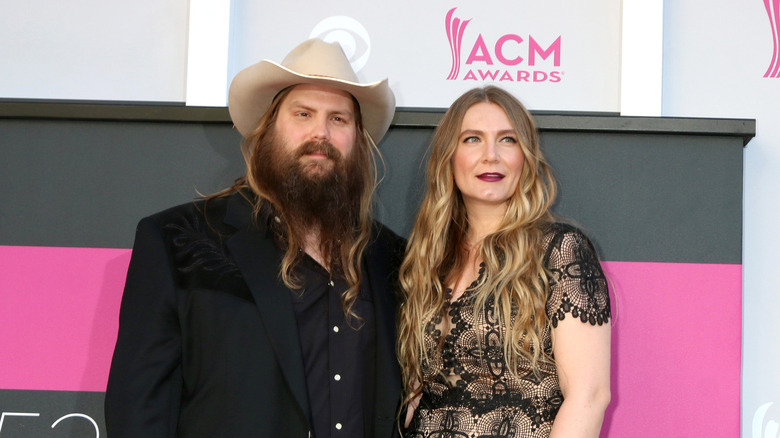 Shutterstock
"Maggie's Song" was a tribute to Chris and Morgane Stapleton's late lab-terrier, Maggie, according to People. The lyrics describe the couple's life with Maggie, which began when they rescued her from a shelter. For Chris Stapleton, the song has always been difficult to sing. "It's all true stuff," he said in an interview with the Los Angeles Times. "There's no embellishment to it ... That one was hard to sing. I kept crying through a lot of it."
As it turns out, Miranda Lambert may have been the perfect stand-in for Morgane. Lambert and her mother are the founders of Mutt Nation, a nonprofit organization that helps dogs find their forever homes. As such, Lambert used the surprise ACM performance to promote Mutt Nation. Stapleton also promoted the organization in a tweet that went live soon after the performance. He wrote, "To support or adopt a shelter pet, visit Miranda Lambert's foundation MuttNation.com."