Body Language Expert Calls Out Maren Morris And Ryan Hurd's Lack Of Chemistry At ACM Awards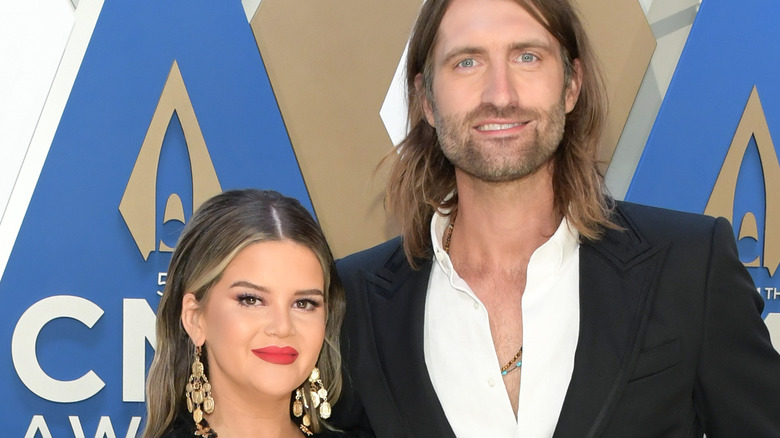 Jason Kempin/Getty Images
It's no secret that Maren Morris and Ryan Hurd are the "It" couple who have taken the country music world by storm. Not only do the lovebirds have a storybook-looking marriage as well as an adorable newborn baby boy, but their respective music careers have skyrocketed and even led to a romantic duet.
To fans everywhere, the blurred line between their love life and their professional career is what makes them so special and likeable. At tonight's ACM performance, in which they sang their new duet, "Chasing After You," people can't get over the chemistry the two shared. However, not everyone agrees with this insight.
Alison Henderson, a body language expert and Certified Movement Pattern Analyst at Moving Image Consulting LLC, talked to The List. Henderson discussed their ACM performance, as well as their overall energy as a couple during the award show — and according to her, not everything appears to be sunshine and roses.
Maren Morris and Ryan Hurd were missing chemistry, per expert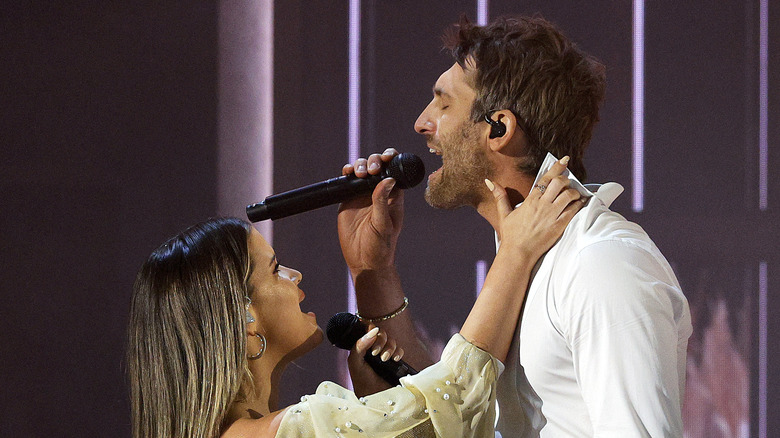 Jason Kempin/Getty Images
Starting with their "Chasing After You" performance, while many Twitter comments suggested that the performance was romantic and even the highlight of the night, Henderson seems to disagree. Indeed, she believed the two could have used more time in rehearsal before the big night. "Maren Morris and husband Ryan Hurd needed more rehearsal and a choreographer. Ryan was as stiff as his starched white shirt." She added, "Maren was not in sync with him and missed his first reach cue to take his hand." She also commented that their drastic height difference — Morris standing at barely 5'1 and her husband towering over her at a whopping 6'0 (via The Focus) — made things awkward.
Henderson observed that the couple appeared to be missing out on fundamental "body language signals," which she believes every married couple has, making them more akin to strangers. Henderson explained, "I saw no love signals. There was no romantic heat and the last touch and kiss felt forced. Even when Maren won for Song of the Year, Ryan escorting her up the steps wasn't with much joy or love. Where was the loving look between them?"
Finally, Henderson noted that there was tension between the couple during Morris' acceptance speech. "Maren's acceptance speech mentioning the song was for Ryan didn't even include a pause or loving look to him in the front row. Ryan sat awkwardly and stiff."