What Pregnant Women Need To Know Before Getting The COVID-19 Vaccine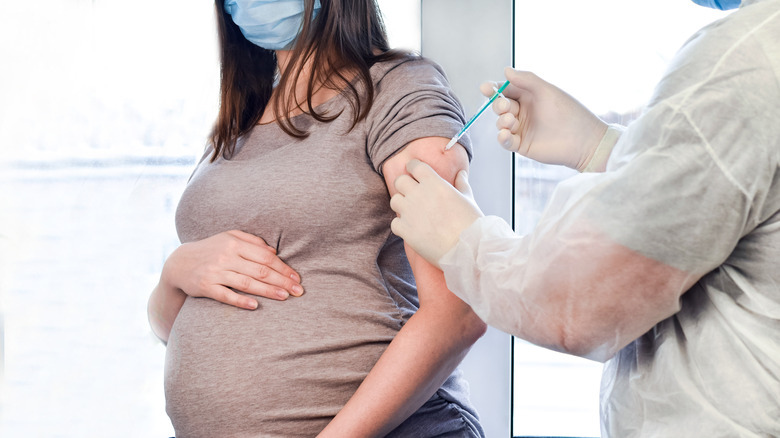 Shutterstock
The COVID-19 vaccine is now available for all adults, and a certain number of young adults, throughout the United States, and although we're still a ways away from herd immunity — declaring the pandemic to be over, resuming life as we knew it circa 2019, etc. — things are undeniably brighter than they were a year ago. While we're all being urged — and, in some cases, even bribed (free donuts will do it every time) — to step up and get our shot(s) in the arm, there is one group of people who have some reason to be a bit hesitant: women who are currently expecting a baby.
The List spoke with board-certified OB-GYN Kelly "Dr. Lady Doctor" Culwell, a women's health expert who gave us her take on whether the COVID vaccine is or is not safe for pregnant women. While she acknowledges that "none of the studies done prior to authorization of any of the vaccines included pregnant women," she did say that animal studies as well as data collected since the vaccine rollout began "have not found anything concerning for the safety of the vaccines in pregnant women." She also notes that both the CDC and the American College of Obstetricians and Gynecologists seem to feel it is okay for both pregnant and breastfeeding women to receive the vaccine.
It's a good idea for most pregnant women to get vaccinated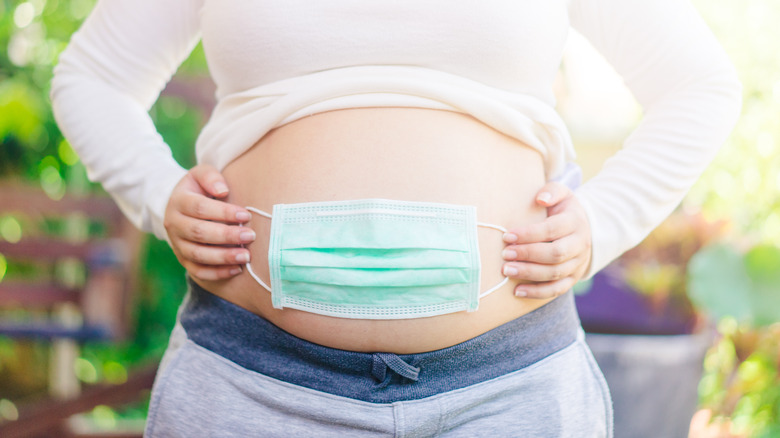 Shutterstock
Culwell points out that "pregnant women are at increased risk for severe disease if infected with COVID," and feels this should be taken into account when a pregnant woman decides whether or not to be vaccinated. She also says recent studies indicate that COVID antibodies from the vaccine transfer over to the baby, who's then born with a certain amount of immunity to the virus. These antibodies can be transferred via breast milk too, so breastfed babies may get a double dose of protection. "We don't know how long this immunity lasts," she admits, but that's pretty much the case for vaccinated adults as well at this point.
So does Culwell herself feel it's safe for her pregnant patients to get vaccinated? While she advises talking to a healthcare provider about any underlying medical conditions, she feels that "any pregnant woman who does not have a known contraindication to the vaccine such as allergy to any of the components ... can get the vaccine." As to side effects, she says pregnant women may experience the same ones as anyone else would, although they should check with their doctor to see what medications may be safe to counteract any of those effects. (Acetaminophen, she says, is usually a good bet.) While the choice is ultimately up to you as to whether to get vaccinated, in most cases it would seem to be the safest choice for both you and your baby-to-be.