The Truth About Lyndsay Lamb And Leslie Davis' Relationship - Exclusive
For Leslie Davis and Lyndsay Lamb, the bonds of twin sisterhood influence everything they do. Besides the fact that the co-hosts of HGTV's Unsellable Houses provide sound advice to homeowners, these leading ladies in home renovation are so enjoyable to watch because their deep love for one another radiates on screen. 
The List sat down with the inseparable identical twins, who are "together 24/7," to celebrate the premiere of season 2 of their hit show where they invest their own money to make an unsellable house appealing to buyers. Besides catching us up on what to expect this time around, the ladies explained how their uncanny connection influences their work. "I feel like that's the way that we have built this successful business and built this successful — just brand, is because we really do challenge each other and we accept the challenge from each other," said Lamb.
The lovable siblings also do acknowledge that it isn't always smiles and laughter behind the scenes. "Already this morning we've had to shut our door," added Davis. "And one of us, I won't say which one, had to apologize to the other one for being short and snippy."
Lyndsay Lamb and Leslie Davis have twin intuition and know what the other is thinking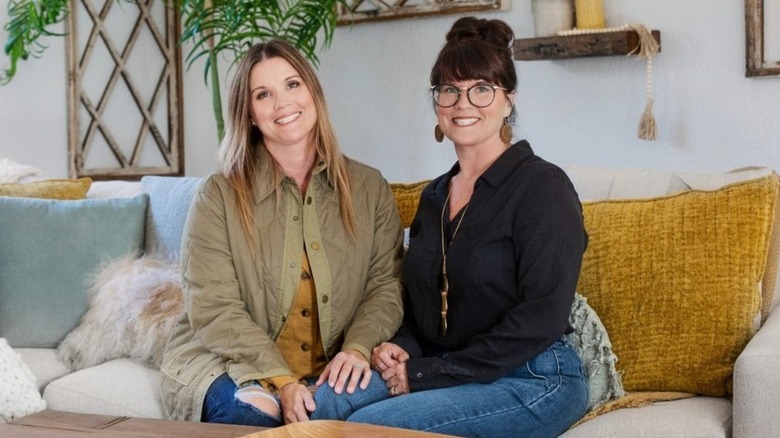 Courtesy of HGTV
So just how attached are the reality starlets? "I think we even were together the night before her wedding and shared a bed," Leslie Davis said. "Other than our honeymoons, I think we have not spent more than maybe ten, 15 days apart." The dynamic duo, who've had a sisterly partnership for 40 years, realize that this relationship is way longer than the ones with their other partners — their high school sweethearts-turned-husbands, Justin Lamb and Jacob Davis (via Distractify). "... And we've both been married 20 years," said Davis. "So it's a relationship that you really can't describe."
This led to our obvious question of whether or not the women shared a twin intuition. "Yes, definitely. I mean, we don't even have to talk. It's like creepy and people around us hate it," said Davis. "We can communicate just with our body language or our eyes. I always know what she's thinking. Always, a hundred percent." According to this twin tag team, the fact that they're aware of what the other is thinking assists in daily decision-making, saving them a lot of time, so they can focus on growing their brand. With a real estate company, retail store, and a television show, their "twintuition" seems to be working!
Lyndsay Lamb and Leslie Davis balance each other out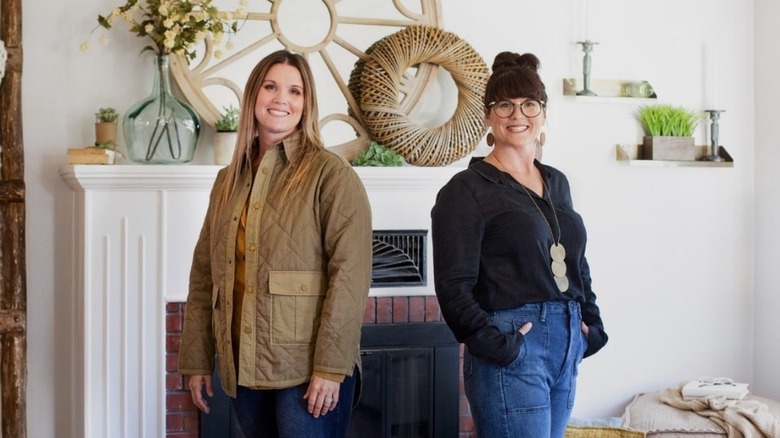 Courtesy of HGTV
The sisters agree that their twin intuition makes their business partnership even more powerful. "We just can get a lot more done in the sense that we don't have to talk through every single detail of everything we're doing," Lyndsay Lamb said.
And as far as their home improvement work on the show, the two have their own distinct specialties that complement the other perfectly. Their unique recipe for success in real estate is a combination of Lamb's expertise in home renovation, design, and staging, and Leslie Davis' strengths in budgets and negotiations.
"So I think we balance each other because I'm a lot more risky and I'm more of a visionary and a dreamer and a little bit more of that free spirit," Lamb explained. "And Leslie's a lot more conservative and she plays the game real well." Davis reaffirmed the sentiment. "She definitely likes to spend money and I keep her more in line. I like to keep the money in the bank."
New episodes of Unsellable Houses air Tuesdays at 9 p.m. ET/PT on HGTV.