Inside Paul McCartney's Friendship With George Harrison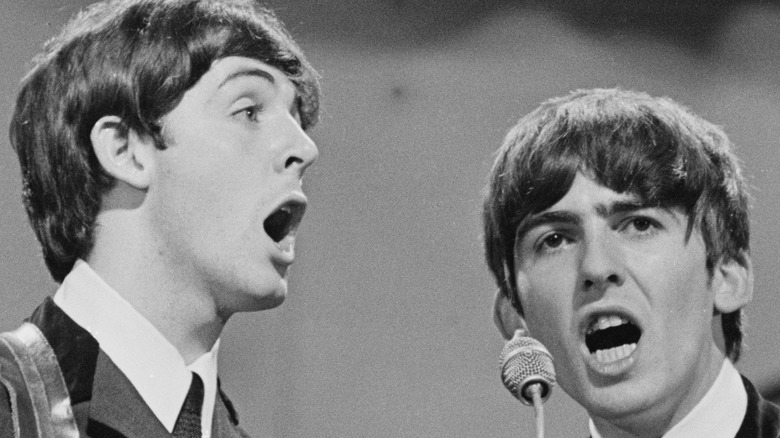 Edward Wing/Getty Images
As one of the two surviving members of The Beatles, Paul McCartney has nothing but kind words to say about his former bandmates — especially John Lennon. In a recent interview with the Sunday Times (via NME), the singer-songwriter shared how the duo got their friendship back after The Beatles split. McCartney also explained how he continues to work with Lennon, albeit spiritually, by handing ideas over to a "virtual John" when writing songs.
It seems that McCartney's connection to the late-Lennon is still going strong, but what about his friendship with George Harrison? The two were friends since childhood, after all.
As McCartney told Howard Stern on his radio show (via Cheat Sheet), Harrison was considerably younger than McCartney, but the two attended the same school and hit it off almost immediately. "Just the idea of knowing him before there was a Beatles and before he was in The Beatles. Then just the idea of him and me hitchhiking around the country and the friendship that gets is very deep," McCartney said. "We had some great times together and then it goes on and it becomes The Beatles and all that crazy madness. It's beautiful."
Paul McCartney's favorite George Harrison song is a classic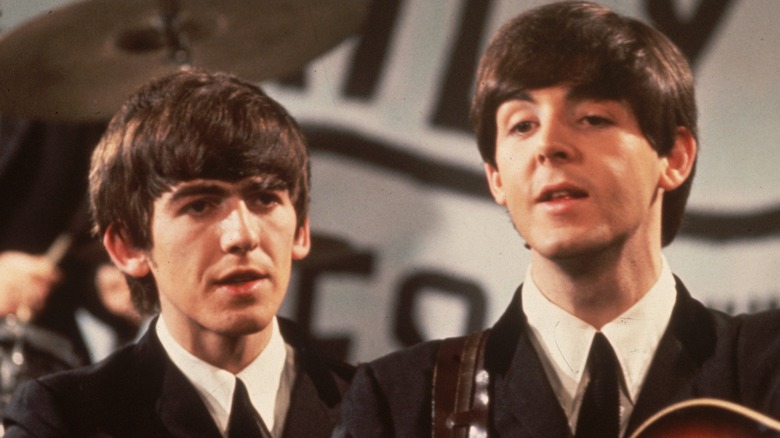 Fox Photos/Getty Images
The Beatles' bassist also discussed how George Harrison was underestimated as a musician in the beginning, but eventually found his footing by creating songs like "Here Comes The Sun" and "While My Guitar Gently Weeps." As Paul McCartney told Howard Stern (via Cheat Sheet), "George was a late bloomer as far as writing was concerned. He wasn't that interested in the beginning. But then he started to get interested and boy, did he bloom. He wrote some of the greatest songs ever." 
For McCartney, it was "Here Comes The Sun" that held a special place in his heart. While it was "quite complicated" to record, McCartney told a fan on Reddit (via Far Out) that it is his favorite Harrison song. "It is a brilliant song and the kind of song that's really good in times like these," he wrote.
From Harrison's perspective, he had a lot of admiration for McCartney but was also a bit wary of working with him again following The Beatles split. "Paul is a fine bass player, but he's a bit overpowering at times," he said during his 1974 North American tour (via Express). "To tell the truth, I'd join a band with John Lennon any day, but I couldn't join a band with Paul McCartney. It's nothing personal; it's just from a musical point of view."
George Harrison gifted Paul McCartney a fir tree before he died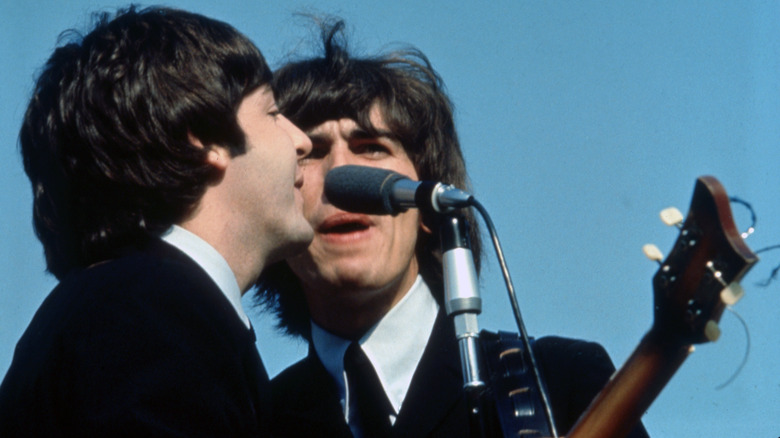 Icon And Image/Getty Images
While it may seem their relationship was a bit touchy following the Beatles split, that couldn't be further from the truth. Describing George Harrison as his "little baby brother" to Uncut in 2008, Paul McCartney mentioned in an interview with NPR (via Daily Mail) that he talks to the late guitar player daily through a fir tree.
"George was very into horticulture, a really good gardener, so he gave me a tree as a present," he explained. McCartney said whenever he leaves or comes back to his house, he always looks up at the tree and says hello to Harrison.
"It's lovely. He gave it to me — I just planted it," McCartney continued. "But then, as the years go by, every time I look at it I go, 'That's the tree George gave to me.' George has entered that tree, for me. I hope he's happy with that."