The Surprising Person George W. Bush Voted For In The 2020 Presidential Election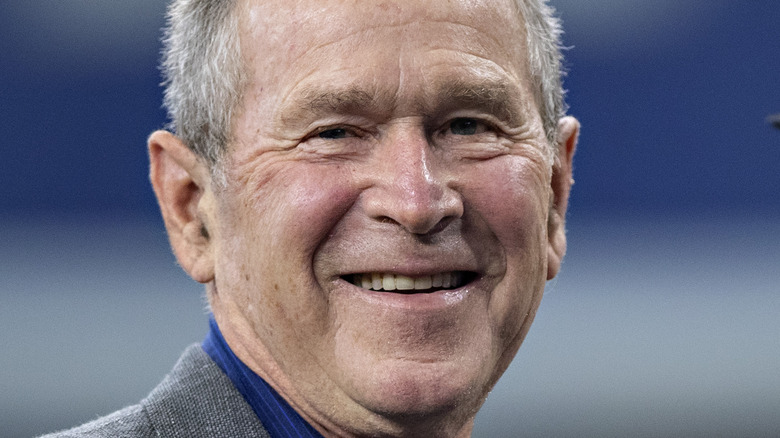 Wesley Hitt/Getty Images
While former United States President George W. Bush has remained mostly silent regarding his political views since leaving the White House, he recently admitted who he voted for in the 2020 presidential election to People magazine — and the answer will likely surprise you. Bush admitted to the publication that he actually did not vote for Donald Trump or Joe Biden. Instead, he wrote in Condoleezza Rice, who served as his secretary of state during his second term as president from 2005 to 2009. "She knows it," Bush told People magazine. "But she told me she would refuse to accept the office."
While his vote may be a bit surprising, Bush has condemned the actions of Trump supporters during the insurrection at the U.S. Capitol on January 6. "I am appalled by the reckless behavior of some political leaders since the election and by the lack of respect shown today for our institutions, our traditions, and our law enforcement," Bush told The Texas Tribune. "The violent assault on the Capitol — and disruption of a constitutionally mandated meeting of Congress — was undertaken by people whose passions have been inflamed by falsehoods and false hopes."
Aside from these comments, Bush made it a habit to avoid discussing political matters and has mostly stayed out of the limelight for the past few years. In the past week, however, the former president has re-emerged to promote his second book, "Out of Many, One" (per People magazine).
Bush had some choice words for the Republican party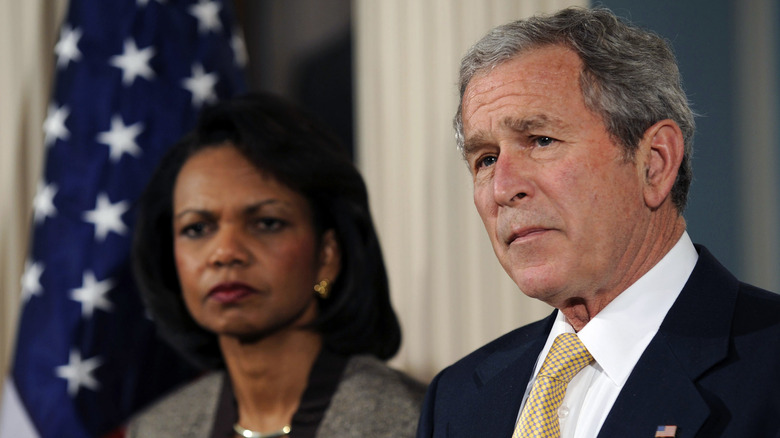 Bloomberg/Getty Images
While promoting his new book on the Today show, which includes portraits painted by the former president and highlights the journeys of several American immigrants, Bush also revealed his thoughts on the current Republican party. "I would describe it as isolationist, protectionist, and to a certain extent, nativist," Bush told Today host Hoda Kotb. "That's not exactly my vision, but I'm just an old guy they put out to pasture. Just a simple painter." Bush later clarified what he meant by those comments while speaking with People magazine. "Really what I should have said — there's loud voices who are isolationists, protectionists and nativists, something, by the way, I talked about when I was president," Bush told People magazine. "My concerns [are] about those -isms, but I painted with too broad a brush ... because by saying what I said, it excluded a lot of Republicans who believe we can fix the problem."
Since leaving the White House, Bush has also left the political world behind to pursue simpler hobbies, like painting. While speaking to People Magazine about his recent book, "Out of Many, One," and accompanying paintings, Bush says that he hopes that it will change the way that political leaders deal with immigration matters. "I think, hopefully, once things settle down in Washington they'll be able to focus on this issue and get something done, and maybe this book will help," Bush told People magazine.