MAFS' Cortney Hendrix Just Revealed Exciting Family News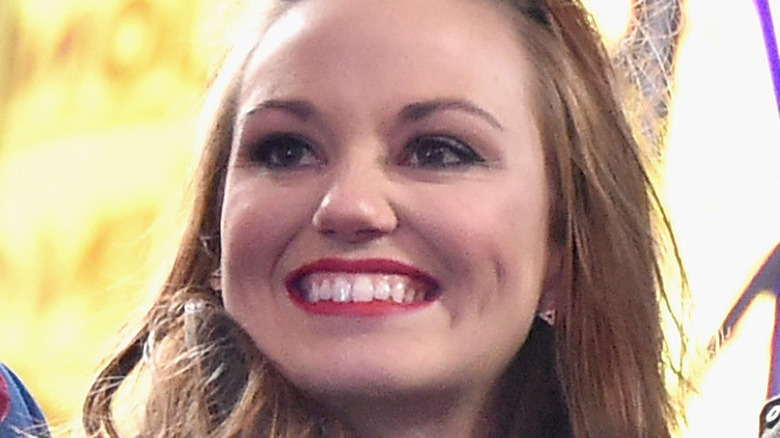 Mike Coppola/Getty Images
Lifetime is responsible for giving us some of the most binge-worthy reality shows on television, including "Dance Moms," "Wife Swap," "Marrying Millions," and of course, the network's most popular franchise, "Married at First Sight." The first season of "MAFS" premiered in 2014, and over the past seven years, fans have been fortunate enough to indulge in the can't-peel-your-eyes-away drama for a whopping 12 seasons. On top of the original "Married at First Sight" series, there have been multiple spin-offs in the "MAFS" universe, including "Married at First Sight: Couples Cam" and "Married at First Sight: Unmatchables," which premiered on the network on April 21, 2021.
Viewers were introduced to Cortney Hendrix on Season 1 of "MAFS" when she was matched with Jason Carrion. Throughout the season, Cortney and Jason seemed like they were perfect for each other, and chose to stay married on Decision Day. However, once the cameras were gone, the couple revealed that their issues, which included conflicting schedules, began to get in the way of their fairy tale romance (via ScreenRant).
In 2019, Hendrix took to Instagram to reveal that she and Carrion were getting a divorce. "We have decided together to move on in different paths, but that doesn't mean we don't have love for each other," she wrote. "He will always have a special place in my heart and life. We do love you all and appreciate the support that you have shown us from the beginning."
Cortney shares some exciting news with fans
Cortney Hendrix found love again shortly after her breakup with Jason Carrion, and married her "favorite person," Sherm, in a gorgeous "Peaky Blinders"-themed wedding in North Carolina in October 2020. She told People in an exclusive interview at the time, "I was broken for a really long time. I thought I was never going to have a chance to have love again. But I have never laughed this much in my entire life. Sherm is the funniest person I've ever met. He's my favorite person."
Just six months after their wedding, Hendrix revealed to People that she and Sherm are expecting their first child together. "As long as I can remember, I've dreamt of being a mother. I didn't really know if it was going to happen for me naturally because of endometriosis. It was a fear I've always had in the back of my head and voiced it often to my friends and family," she shared with the outlet. "Seeing two pink lines was the most joyous and terrifying moment. I immediately cried, and we just hugged each other."
"We chose to wait to announce our joyous news because we know that this is not news everyone can celebrate," the expectant mom added. "We know how lucky we are. Fertility is extremely emotional and draining, and my heart goes out to all the mommy's and daddy's waiting. We are praying for you."