Anna Duggar Reveals Exciting Family News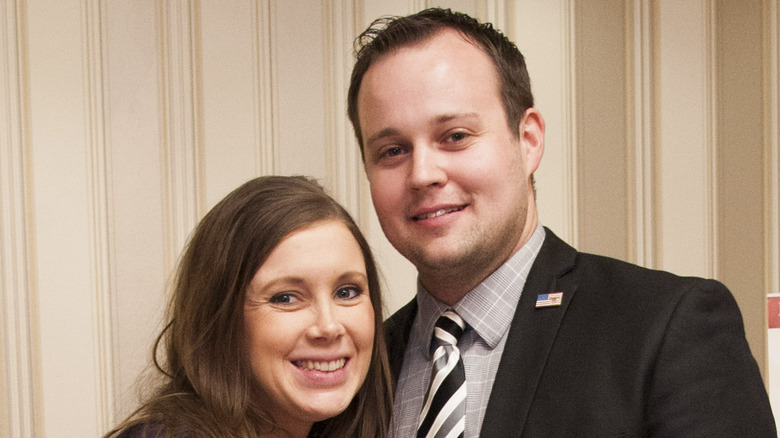 Kris Connor/Getty Images
The expansive Duggar family tree is getting yet another twig. Anna Duggar, the wife of oldest son Josh, revealed a new post on her Instagram feed late on Friday, April 23. "It's a GIRL!!!" she wrote. "We are overjoyed to announce baby seven is on the way and we can't wait to hold her in our arms this fall!" She added the hashtags #littleduggars and #babyseven.
The post showed a short video of the family standing in an open field. Josh and Anna are opening a clear umbrella that floods them with a shower of pink confetti, while their children gleefully run toward the camera. The next slide is a still photo of their growing clan, which includes big siblings Mackynzie, 11, Michael, 9, Marcus, 7, Meredith, 5, Mason, 3, and Maryella, almost 17 months. Although Anna is holding Maryella over her baby bump, it's still clear that she is fairly well along in her pregnancy.
The news followed weeks of speculation by sharp-eyed fans who noticed that Anna's recent photos were mostly of her children. When she did appear on camera — including an episode of Counting On — she seemed to be cleverly concealing her stomach (via The Sun). Congratulations immediately flooded in for the expectant mom, including one from a brand-new family member. Claire Duggar, who married Josh's brother Justin Duggar in February, wrote, "So excited for your sweet family!"
This Duggar couple moved beyond a scandal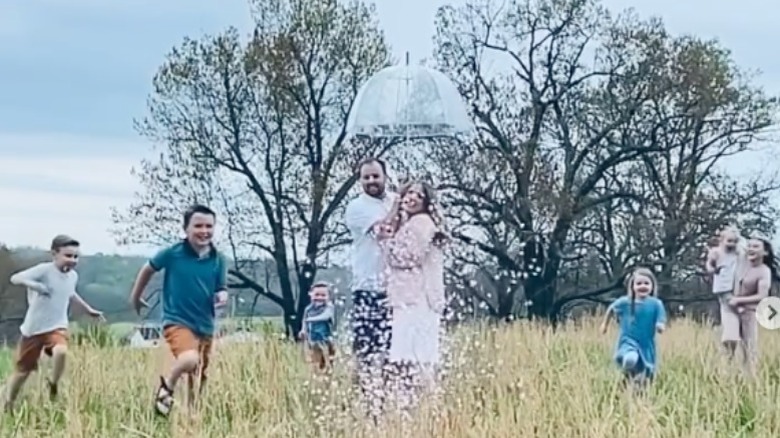 Another follower noted that the pink is now outnumbering the blue in the extended Duggar family: "ANOTHER girl for the Duggar family!! HOLY COW when will a boy be born to this family?" Anna replied, "I'm not sure ... it's been a while" with a laughing emoji. Indeed, all the most recent births in the 19 Kids & Counting family have been girls: Bella Milagro (daughter of Josiah); Evelyn Mae (daughter of Joy); Gracie (daughter of John); Ivy (daughter of Jessa); Evangeline Jo (daughter of Jinger); Brooklyn Praise (daughter of Joseph). Jessa is expecting her fourth child later this year, so that may break the streak. 
Things haven't always been smiles and confetti for Josh and Anna. Six years ago, several of his sisters revealed that as a teen, he had touched them inappropriately. Scandal erupted again just months later when a hack of the Ashley Madison "cheating" website found that Josh was a client. Josh confessed to being "the biggest hypocrite ever" and addicted to pornography (via Time). However, the deeply religious Duggar clan holds a dim view on divorce, so Anna and Josh underwent intensive counseling instead, according to CheatSheet. Only the two of them know for certain that he has reformed and she has forgiven. But the fact that they're still together and still adding to their family suggests that they've at least reached a point of peace in their marriage.