Best Pastel Hair Colors For Your Skin Tone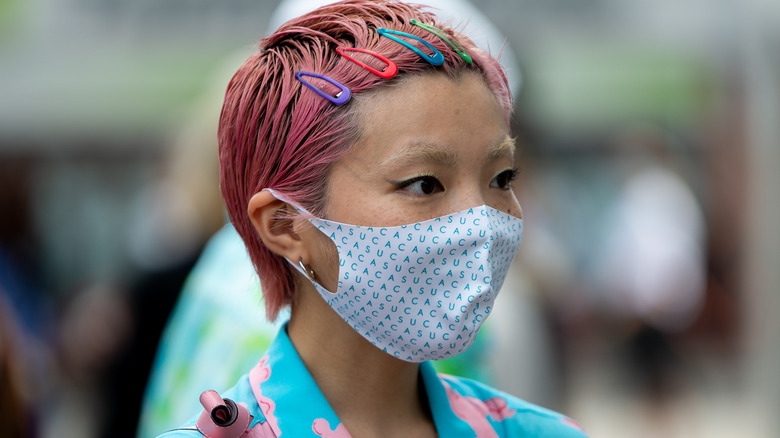 Raimonda Kulikauskiene/Getty Images
Spring is in the air and you know what that means. It's the time to embrace floral-inspired pastel colors again. One trend that's taking over TikTok and Instagram is pastel hair colors, with pink hair especially being trendy (via Teen Vogue). But it's far from a new trend. According to Glamour, the trend started in the 1930s, but it has started to become even more mainstream now. From cotton candy pink to mint green, there are several dreamy, eye-catching shades. But choosing between all the options can get daunting, especially if you've only had natural hair colors before and are not sure what pastel shade would be right for your skin color and undertone.
Before choosing your perfect pastel, the most important thing to remember is that unless you have light or medium blonde hair, you will have to bleach your hair first so that the pastel color will show up on your hair (via L'Oreal). Our guide below has different suggestions based on your skin color and undertone. A great way to figure out your undertone is to look at the back of your wrist, according to Cosmopolitan. If you have green veins, you probably have a warm, golden undertone. If you have blue veins, you probably have cool, pink undertones. If you see both blue and green, or are unsure, you could have a neutral undertone. The good news, according to Hype Hair, is that neutral undertones can usually pick colors that suit either warm or cool undertones. 
Pastel hair colors for warm undertones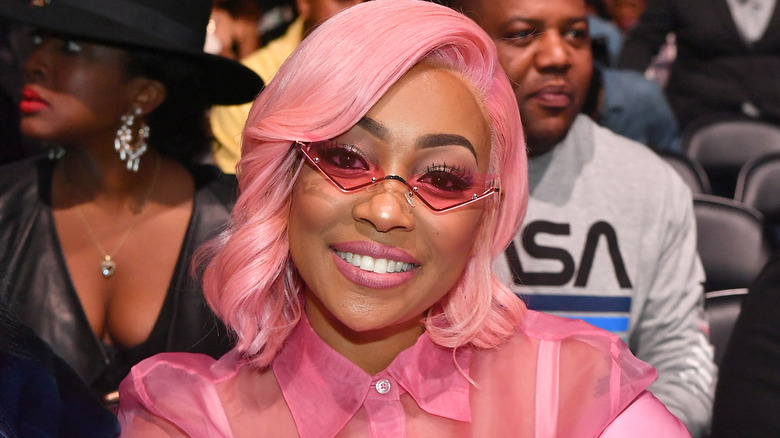 Paras Griffin/Getty Images
Generally people with warmer undertones can't go wrong with warmer colors, according to Hype Hair, and the same can apply to pastels. Think pinks and peaches. Those with a warm, olive-leaning undertone should opt for rose gold or a golden peach, according to PopSugar. The one exception to this rule is if you have fair skin with a warm undertone. To avoid sallowness and/or a washed out look, lavender or aqua-colored hair will give you that under-the-sea mermaid glow (via L'Oreal).
For those with medium skin, L'Oreal recommends warmer shades that will accentuate your face like rose gold or mauve. And if you have darker skin, you can try amped-up, neon pastel shades like turquoise, as L'Oreal suggests, or a brighter, more saturated baby pink as PopSugar suggests. If you try a hot pink, it's suggested to go neutral or cooler-toned so that it doesn't clash with the golden undertones in your skin.
Pastel hair colors for cool undertones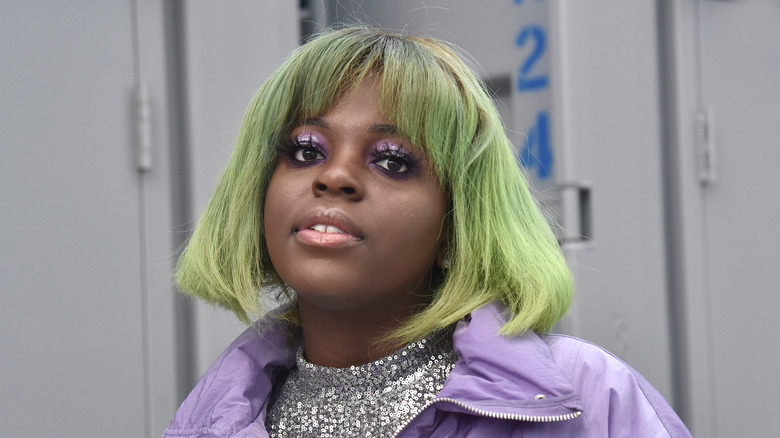 Tim Mosenfelder/Getty Images
Just like fair skin with warmer undertones can complement their face by choosing a cooler undertone, the same can be applied vice-versa with people who have fair skin and cooler undertones. L'Oreal suggests warmer shades like baby pink or pastel red that will help warm up the face. Think cotton candy or strawberries and cream. Cooler-olive undertone skin tones look great in a muted grayed-out lavender or sky blue, according to PopSugar.
People with medium skin tones can go with amped-up hot pastel pinks and fuchsia so that you avoid washing out your face, according to L'Oreal. Darker skin people with cooler undertones have lots of options that would suit them. L'Oreal suggests gemstone-inspired pastels like greens and purples. According to Glamour, amethyst purple or peridot green can really pop on deeper skin. When in doubt, the best way to find the pastel shade that's right for you is to pick whatever color you feel like will make you the most confident version of yourself.