Here's Why Donald Trump Might Be Leaving Mar-A-Lago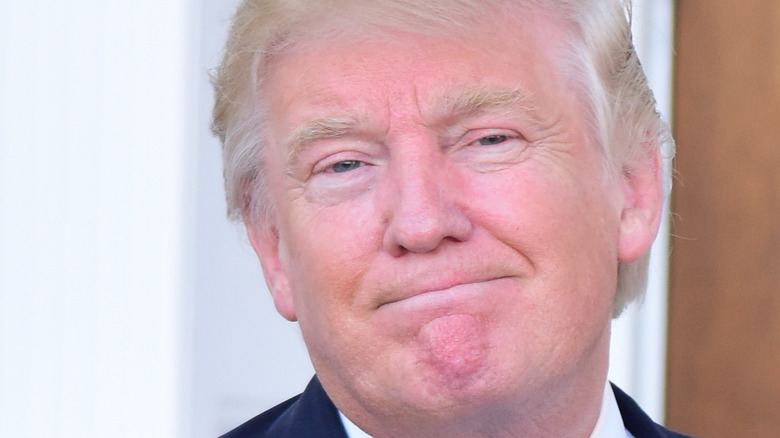 Shutterstock
On Inauguration Day 2021, Donald Trump wasted no time moving on to the next phase of his life. Defeated in his bid for re-election, the former president and his family flew off to Palm Beach rather than watch Joe Biden's swearing-in ceremony (via People). There, they settled in at Mar-a-Lago, his swanky resort club, where Trump and his wife Melania established their new headquarters. It was assumed that they were in there for the long haul; after all, Trump had declared Florida his official residence in 2019, and the property was a frequent retreat for him when he wasn't in the White House (via Sun Sentinel). The ex-commander in chief was even spotted at a wedding reception within the resort, toasting the bride and groom.
Now it seems that the Trumps won't be living in their Florida paradise permanently — at least, not all year long. Business Insider is reporting that the former president is planning to relocate to his Trump National Golf Club in Bedminster, NJ, for a few months starting in late spring. It's one of a chain of Trump clubs he owns on both coasts. But in case you're worried, it's not because he can't afford the membership fees.
Mar-a-Lago isn't the best place to spend the summer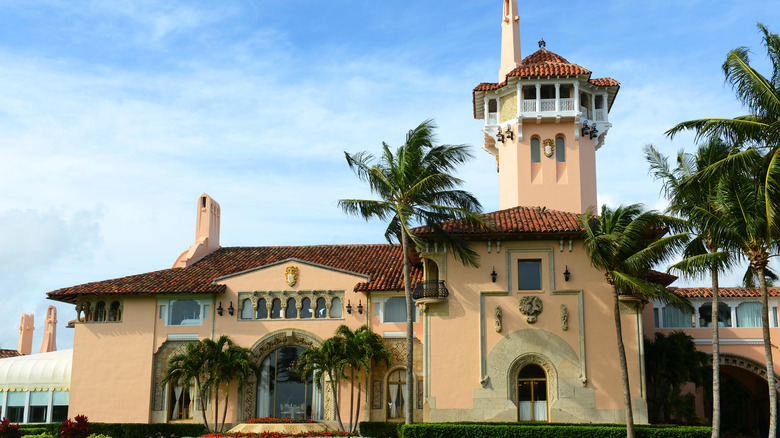 Shutterstock
Donald Trump hasn't soured on his beloved Mar-a-Lago — far from it. What he's not so crazy about is the Florida weather. As Business Insider also notes, the period between June and September is a miserably hot and humid time, not to mention prime hurricane season for the Sunshine State. The snowbirds who come down for the winter usually head back north by springtime. For that reason, Mar-a-Lago shuts down right after Memorial Day and doesn't reopen till fall. Without his friends and fan base around, there's no reason for Trump to stick around and swelter. 
Business Insider also reports that the former president is expected to conduct his fundraising efforts in Bedminster once he relocates. He has recently been hinting that he is "very seriously, beyond seriously" looking at a 2024 presidential run (which would give him yet another opportunity to claim that the last election was stolen from him).
Two of Trump's children, Ivanka and Donald Jr., also moved down to Florida in early 2021. Don Jr. and his partner, Kimberly Guilfoyle, bought a mansion in the town of Jupiter, while Ivanka and her husband, Jared Kushner, are living in a lush Miami condo not far from Mar-a-Lago while their permanent home is under construction, accordign to the Palm Beach Post. No word yet on whether either of them will be joining their dad in New Jersey; however, since both Don and Ivanka have young children, they may be less likely to do a summer relocation every year.