The Truth About Cosmetic Facial Tattoos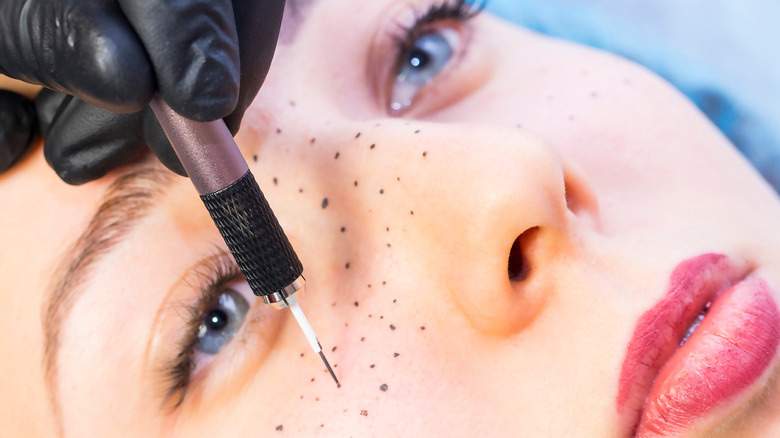 Shutterstock
Gone are the days where you have to choose between the hassle of applying your makeup everyday versus getting harsh permanent makeup applied. These days, there are semi-permanent makeup options available, otherwise known as cosmetic facial tattoos (via Lacquer Gallery).
Microblading is one of the most popular forms of semi-permanent makeup, according to Allure. This process involves using a thin pen that creates micro-cuts into the skin and deposits color to create hair-like strokes. Ranker reports the cosmetic facial tattoo trend taking over right now are faux freckles, with some people opting for a natural "born this way" look to the more avant-garde options like "rainbow freckles."
Whether you struggle with getting your eyeliner close to your lash line for a natural look or you struggle drawing even cat-eye wings, semi-permanent eyeliner may help with these dilemmas. Instead of the bold lip-liner looks that were popular in the '90s, you can now get a healthy flush tattooed on your lips.
This technique is called lip blushing and according to Vogue Magazine UK, it consists of blending a color slightly darker than the color of your lips around the lip line with a lighter, more natural color in the center of your lips. Kait Paige of Boom Boom Brow Bar in New York City told the publication, "It's also a great way to create the illusion of a fuller pout without injections, while leaving a beautiful hue so you don't need lipstick."
The risks surrounding cosmetic facial tattoos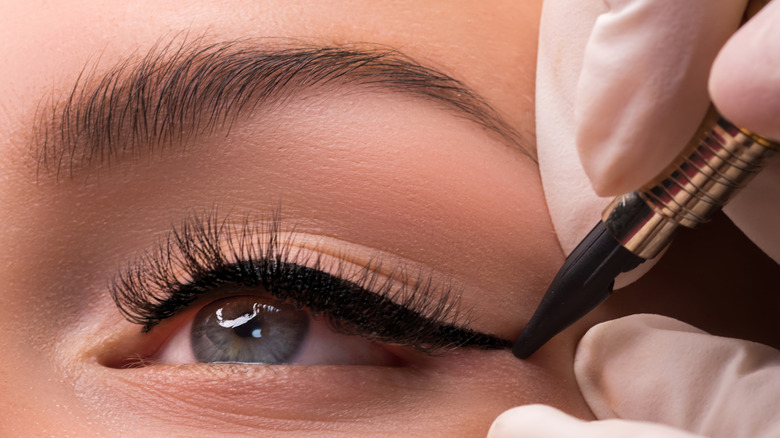 Shutterstock
Semi-permanent makeup typically lasts for a year before it needs to be touched-up. Certain procedures are safer than others. According to Allure, microblading is dermatologist-approved. So if you want to try microblading, it's highly recommended to book an appointment with a dermatologist.
Cleveland Clinic reports that the two most significant risks from cosmetic facial tattoos are infection and allergies. Sanitization of needles can significantly decrease the risk of infection. Allergic reactions can happen to people who are sensitive to certain pigments or chemicals in the ink. Dr. Shilpi Khetarpal, a cosmetic dermatologist told Cleveland Clinic, "Once you have a reaction, it can be very difficult to treat, but this can be avoided by doing a test area behind the ear to see if there's a reaction."
Dermatologist Ava Shamban told Allure that while she approves of eyeliner tattoos, she does not recommend lip blushing. Shamban said, "There is a higher incidence of allergy to red pigment in the tattoo." Shamban added, "When correction laser is done to remove the red pigment, it almost always turns black."
It is important to note that the Food and Drug Administration (FDA) does not regulate cosmetics, and that includes tattoo ink. The FDA cites keloid formation, or the development of scar tissue, as another risk some people face. Some people, especially those who have permanent eyeliner, report swelling or blurring after undergoing a MRI. To avoid this issue, the FDA recommends telling your doctor before any procedures.