The Adorable Moment That Stole The Oscars Red Carpet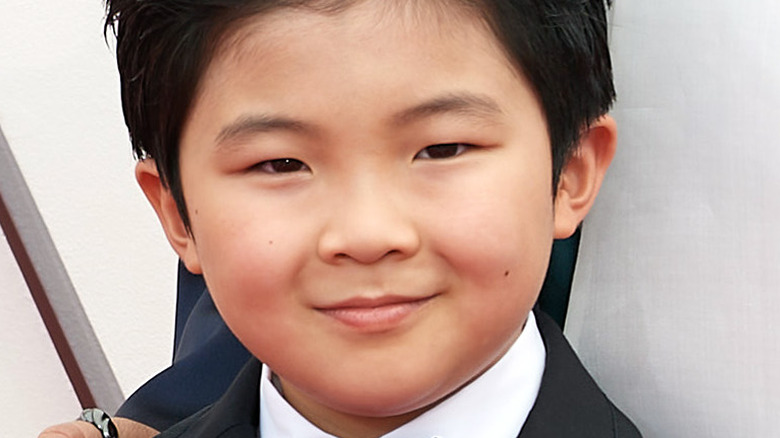 Handout/Getty Images
Alan S. Kim is one of Oscar night's biggest stars to watch. The young boy at the center of "Minari" is now 9 years old and coming into his own as an actor. He earned rave reviews for his portrayal of a young David Yi in the film that follows a Korean-American family's relocation to rural Arkansas in pursuit of the American dream (per IMDb). 
While Kim himself isn't nominated for an award tonight, "Minari" has a lot of buzz, with six nominations at the 2021 Oscars. Don't feel too bad for him, however. He's already nabbed a Critic's Choice Award, and his adorable speech warmed hearts. "Thank you, thank you. First of all, I'd like to thank the critics who voted and my family," he said through tears in a speech which went viral (per Glamour UK).
Kim spoke with Teen Vogue about being excited for the big night. "The producer luckily got me to go to the Oscars, so yeah," he said about getting to attend in person. Of his red carpet attire, he shared, "My mom says it's a secret, but I'm pretty sure it's going to be a tuxedo or something."
Alan S. Kim didn't disappoint with his 2021 Oscars style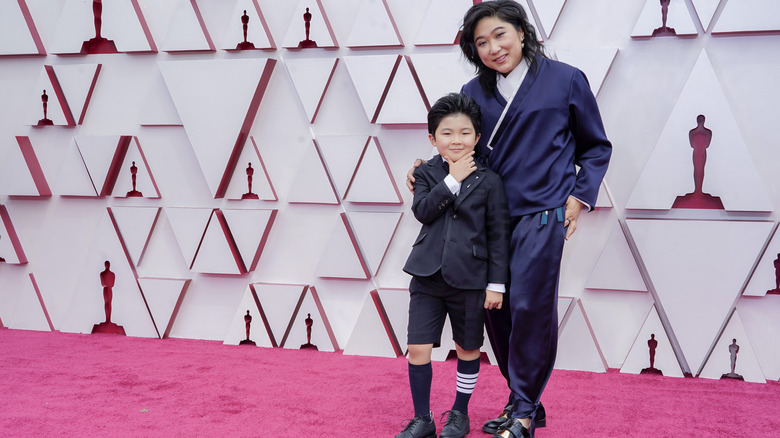 Pool/Getty Images
Alan S. Kim appeared on the red carpet alongside producer Christina Oh. He drew the attention of his many fans with some awesome fashion choices. He was dressed in a tuxedo with suit shorts and sweetly mismatched socks (per Indy100). He was excited to tackle those red carpet interviews, telling E!'s Giuliana Rancic all about his favorite gift from his recent 9th birthday.
"I got a Fitbit for kids," he shared (per Glamour UK). When asked who he was most excited to meet, he said he was just excited to see his "Minari" castmates. The sweet interview proved just how genuine the talented young man is.
Per Twitter, Variety caught some footage of Kim after the interview, dancing along a stretch of the red carpet. His little shuffle is followed by a break into the robot, and it's pure perfection. We can't wait to see more of this young man and his lovely personality in projects to come.