The Sweet Moment Riz Ahmed Shared With His Wife On The Oscars Red Carpet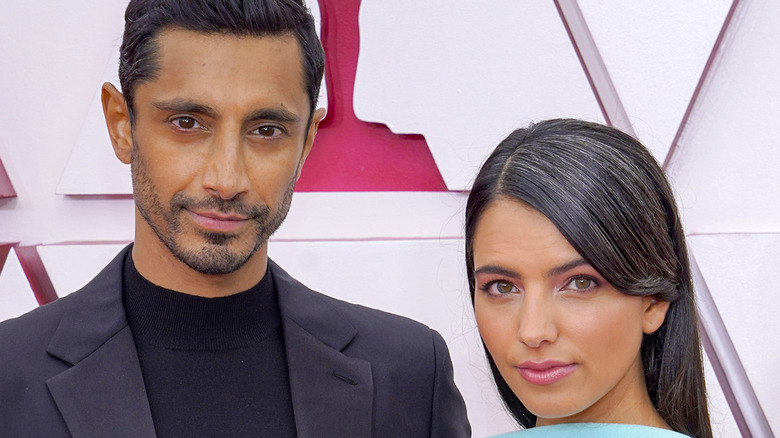 Pool/Getty Images
Riz Ahmed showed that he is first a loving husband and an Oscar-nominated actor second during a sweet moment with his gorgeous wife, award-winning novelist Fatima Farheen Mirza on the red carpet. In a touching moment captured by Variety (via Twitter), Riz looked at the paparazzi and pointed a finger at them to take a moment's pause. 
The "Sound of Metal" actor turned his back to the line of photographers and put his hands under the length of his wife's tresses to fluff them before they began posing. Fatima, Riz's wife of one year, smiled brightly at her handsome husband as he took a moment to make sure she looked red-carpet ready during this pivotal moment in his career. He joked, "I'm the official groomer." Fatima looked stunning in an aqua-colored, long-sleeved gown as she stood next to her handsome husband, who was dressed head to toe in a black suit and shirt.
Riz Ahmed revealed he and Fatima secretly married during quarantine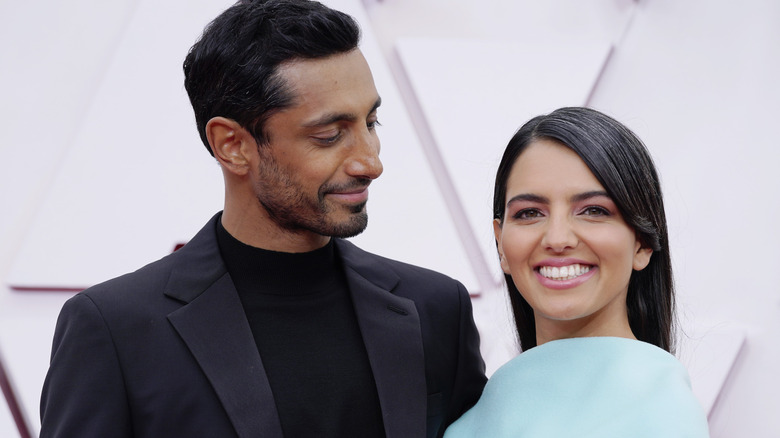 Pool/Getty Images
Riz admitted to Jimmy Kimmel during an appearance on "Jimmy Kimmel Live" that he asked Fatima to marry him using Scrabble tiles (via YouTube). He told the talk show host that during a picnic, he used this unique and surprising way to pop the question. "I did that corny thing where I stole all the correct letters up front and spelled out 'will you marry me?'" he shared. In response, Fatima first thought he was joking but later, accepted his proposal.
The couple met in Brooklyn, where Riz lives. He said in an interview with Jimmy Fallon for "The Tonight Show" that the couple met in a very New York way (via YouTube). "We met so randomly, while I was preparing for 'Sound of Metal' when I was in New York. We just both sat down at the same table in a café, where we both turned up to write. We were both jostling over the same laptop plug points, like a very modern way of meeting."
He added, "We struck up a friendship and then we reconnected down the line. But it's weirdly one of the many things about preparing for this role that was so special. It just brought a lot of goodness into my life."