Why Margot Robbie's Stunning Oscars Hairstyle Is Causing Such A Stir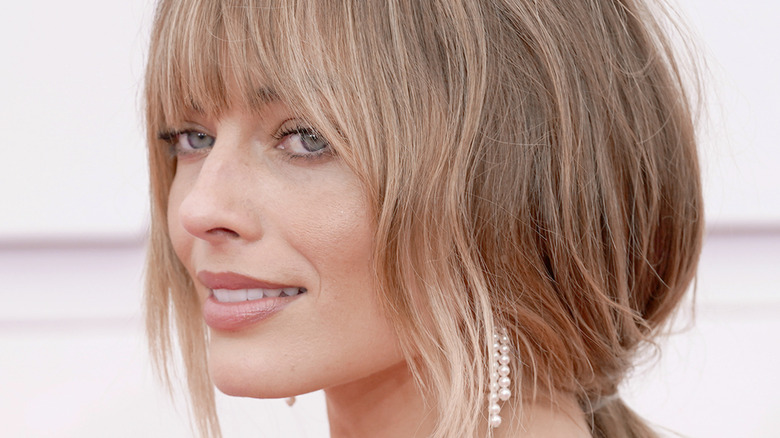 Pool/Getty Images
Margot Robbie may be best known for having platinum blonde locks, but she's switching up her style. In 2014, she spoke about her hair journey with Elle in an interview about her buzzworthy career. 
"Well I had to dye it brown for the role I just finished shooting in New Zealand and then on wrap I asked if we could just get the red out of it since I had to go to the Oscars. And we left it in for a little long and it went really dark. But it's great though, I love it. It's really fun," she shared. She later clarified that it wasn't the first time she went dark. In fact, she used to prefer her dark hair.
"I had it this color all through high school actually. I always dyed it dark in high school. I was devastated when I had to go blonde." Her latest hairstyle is neither that dark nor that blonde, but it's attention-grabbing in its own right.
Margot Robbie sported attention-getting bangs at the Oscars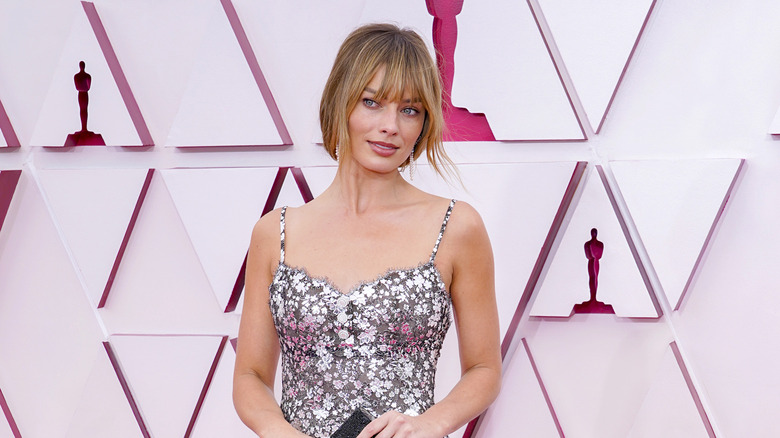 Pool/Getty Images
Margot Robbie appeared on the 2021 Oscars red carpet with her hair pulled back in a loose ponytail. She had long bangs that framed her face, and at their longest, fell to her shoulders. The look was polarizing for fans. 
Some fans believed Robbie looked stunning. "Margot Robbie's hair/bangs combo is going to live rent-free in my head for the foreseeable future," one Twitter user wrote. "So unfair that Margot Robbie can look good with any hair color. Top 10 most gorgeous humans ever. #Oscars," another added.
Other fans feel like this look is outdated and did the actress no favors. "Margot Robbie's entire glam team — hair, makeup, stylist — need to be fired STAT! It's been flop after flop for years and it is painful to see someone so gorgeous look so bad!!!!" another Twitter user noted.
The hairstyle was paired with a metallic-lace mermaid dress, giving her look an effortless feel. That was the draw, as she shared with Vogue. "I chose this dress because it has all the craftsmanship and luxury of Chanel but feels easy and not too fussy," she said (via PopSugar).