Zendaya's Oscar Outfit Cost A Small Fortune, According To A Fashion Expert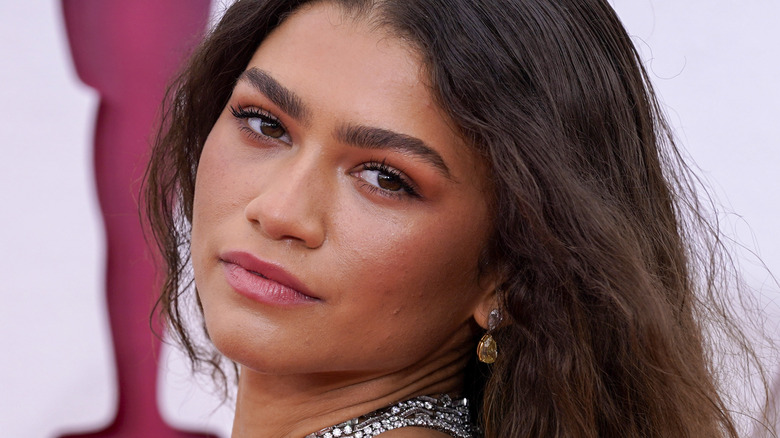 Pool/Getty Images
If there were any doubts, any at all, that Zendaya is a goddess in human form, the actress's 2021 Oscars look obliterated them. You might not have seen it, but the 24-year-old even wore a neon yellow face mask to match her awe-inspiring Valentino gown. As People sussed out, it was Cher who inspired Zendaya's Oscars get-up, created by Law Roach, and which Roach described to the media platform as a "glamorous, boho-chic."
As fashion expert and TV personality, Cindy Conroy exclusively told The List, Zendaya and Roach hit the nail on the head with the outfit. "Zendaya looked like a beach goddess with her wavy hair and floating strapless gown. Call me crazy, but it seemed like she was conjuring mother nature as she graced the red carpet," Conroy raved. To People, Roach described the experience of creating Zendaya's look, playfully, as "dress-up." But, as Conroy confirmed to The List, not many people can afford to play the kind of dress-up that Zendaya does. 
Inside Zendaya's multi-million dollar Oscar outfit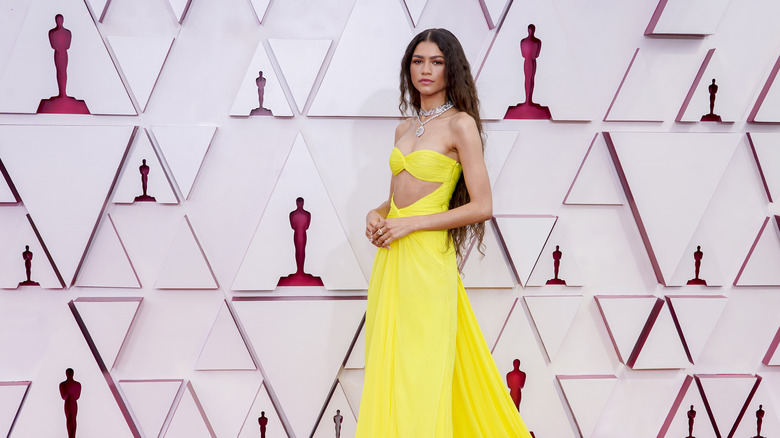 Pool/Getty Images
Her Jimmy Choo platform shoes or Valentino dress almost certainly did not come cheap. Neither, however, were the true stars of Zendaya's Oscar get-up. In fact, according to Cindy Conroy, Zendaya was wearing "183 carats of yellow diamond Bulgari jewels," in accessories, altogether worth over $6 million. Among her Bulgari jewels, the actress donned a diamond collar necklace, diamond drop earrings, and two diamond rings, one of them 30-carat. "The jewelry is the star of the look. It feels cool, modern, young, and really quite beautiful," Law Roach told People. 
Zendaya knows exactly how much she's wearing in "young" diamond bling. Roach told Harper's Bazaar that "Euphoria" star helped pick out her Oscars jewelry herself, selecting the final pieces a week before the Oscars. But, if her jewelry's price tag seems excessive to you, Conoy told The List that it was unquestionably worth it. "As the cameras flashed gusts of wind hit at just the right moment to showcase the breathless fluidity of her Valentino gown," Conroy said. "Between her 183 carats of yellow diamond Bulgari jewels, an ultra-sexy stomach cut-out, and sky-high Jimmy Choo platforms, Zendaya's look is like sunshine on a bright day. And who doesn't need an extra dose of sun in their lives."