Youn Yuh-Jung Has Something To Say To Brad Pitt During Her Oscar Speech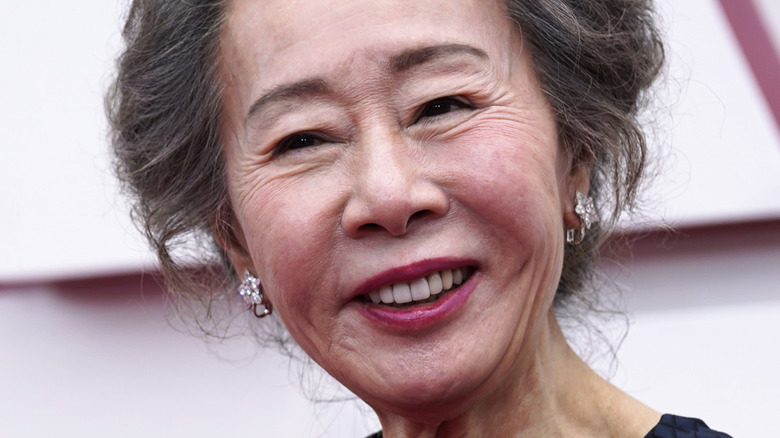 Pool/Getty Images
She might have made Oscars history by becoming the first Korean woman in history to win an Academy Award, but it wasn't for that alone that she set the internet on fire. Youn Yuh-Jung made waves for her acceptance speech, where she gave credit where she thought credit was due. "Mr Brad Pitt, finally, nice to meet you," she said with a girlish giggle. "Where were you when we were filming in Tulsa? It's an honor to meet you", she said of the legendary actor and executive producer of "Minari" (via Twitter).
Brad Pitt was not the only actor that got a mention; Youn also acknowledged the other actresses who had gotten nominated in the category, crediting her win with luck, and possibly "American hospitality." The win, she said, was poignant because until then, the Oscars was just another TV show. It was only later that she remembered to acknowledge her sons who she said "made her go out and work. "This is the result ... because mommy worked so hard."
The internet cheered Youn Yuh-Jung's speech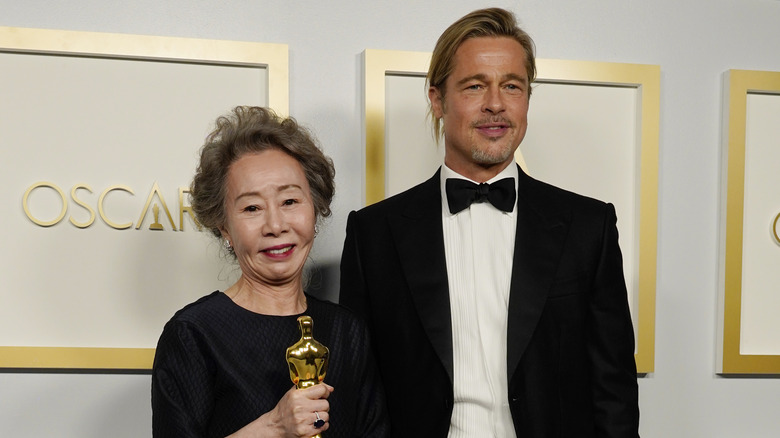 Pool/Getty Images
Youn Yuh-Jung's Oscars acceptance speech was given two thumbs up by social media. "How much of a badass is Youn Yuh-Jung that she gets up on stage to accept her #Oscar and immediately starts flirting with Brad Pitt," said film critic Christy Lemire. "So Yuh-jung Youn has an Oscar in her right hand and Brad Pitt in her left," tweeted another Oscar watcher. Youn got her moment with the actor in the end, with a delightful photo of both showing off the Korean actress' historic award.
Her speech also struck a chord with working mothers, one of whom took to Twitter to share: "'This is the result, cause Mommy work so hard' — Yuh-Jung Youn + every working mother, even if we didn't win an Oscar but we just bought them a Happy Meal."
Many among the Twitterati also felt her speech was the highlight of what some felt was a lackluster awards ceremony, marked by an absence of clips and an orchestra. Even veteran NBC White House correspondent Kelly O'Donnell took to Twitter to grumble: "This different year, I've seen none of these movies and the Oscars is not showing clips of nominated films and so I have no idea what anyone is talking about as they praise the work."