Body Language Expert Noticed Something Off About Brad Pitt At The Oscars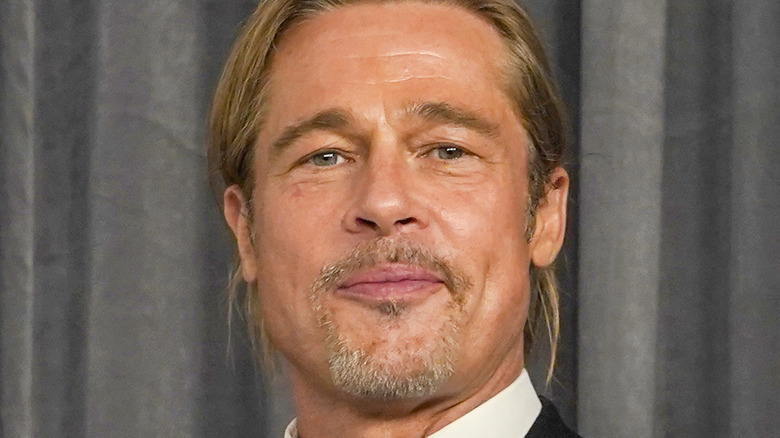 Pool/Getty Images
When you tune in to the Academy Awards, you expect to see stars on their A-game. After all, this is their time to shine. They work hard all year to promote their film projects, and it all culminates into a single night of glitz, glamour, and of course, recognition. So, when one of Hollywood's most famous seems a little bit off, it's pretty noticeable.
Brad Pitt, who won Best Supporting Actor in 2020 for his role in "Once Upon A Time ... In Hollywood" is no stranger to the Oscars. But tonight, he didn't seem to be totally himself. Though he had an adorable exchange when presenting "Minari" actress Youn Yuh-jung as the Best Supporting Actress winner, he seemed to lack energy and even to be a little distracted. He also didn't offer to help her on and off the stage, which drew attention from viewers. Actor LeVar Burton called Pitt out on Twitter, though several other fans commented that his distance was likely due to COVID-19 restrictions.
Perhaps Pitt's overall demeanor was because this year's ceremony looked quite different than usual, with a much smaller crowd and socially distanced tables? Read on for a body language expert's insight into the actor's mysterious behavior. 
Brad Pitt appeared to be distracted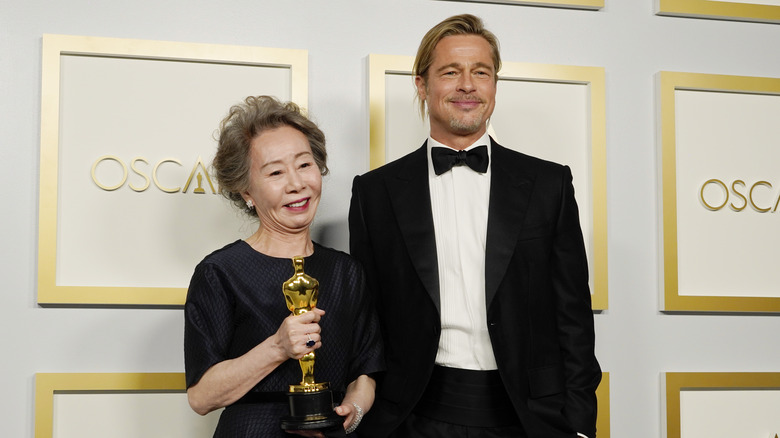 Pool/Getty Images
We didn't get to see Brad Pitt on the red carpet this year. In fact, Pitt stayed out of the limelight until it came time for him to present the Best Supporting Actress award to Youn Yuh-jung, who became the first Korean and second Asian ever to win an Oscar in the category (via NPR). The moment seemed to affect Pitt deeply, and People noticed him with tears in his eyes, watching the actress accept her award.  
Body language expert Lauren Cohen, an executive and career coach, shared her thoughts on Brad Pitt's behavior exclusively with The List. "Nothing about Brad Pitt seemed like he was on his A-game," Cohen said. "The little we saw when he presented was underwhelming and lacked his normal star power ... He was fidgeting his fingers holding the paper."
Cohen also theorized that Pitt's abnormal behavior was a product of him trying to focus. "Brad Pitt's fidgeting was possibly distraction," she continued. "Very often fidgeting is a way to try to force oneself to refocus attention and his mind at that moment as possibly just on something else (would love to know what!). He usually glows with star quality but tonight he was a bit more dull. The cameras kept even cutting out from him which is also not the norm. Pitt was more glossy-eyed compared to normal."
Whatever the reason for Brad Pitt's curious mannerisms,  Twitter let him off the hook. The social media platform was laser-focused on something else. 
This is what Twitter noticed about Brad Pitt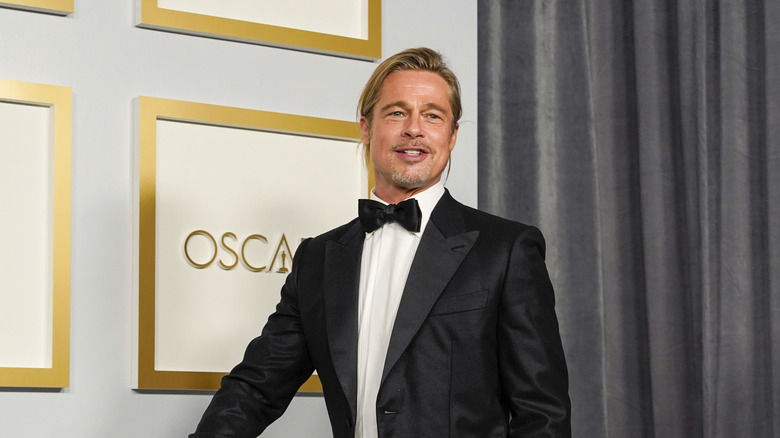 Pool/Getty Images
Brad Pitt's appearance at the Oscars came amid a slew of negative press coverage around his divorce from actress Angelina Jolie. Jolie recently opened up to Entertainment Weekly about how a "change in my family situation" had prevented her from pursuing the projects that she otherwise would have wanted to. Meanwhile, Jolie and Pitt are still in the middle of a heated custody battle. Last month, Page Six ran a story alleging that Pitt was "heartbroken" over it, and "devastated." 
Twitter, meanwhile, seems to have given the actor a free pass. It was too busy concentrating on something else to notice Pitt's fidgety mannerisms. Specifically, the social media platform couldn't get over Pitt's man bun. "Was I dreaming? Or did #BradPitt show up to the #Oscars looking all 'Interview with a Vampire' ish with that blonde man bun?" wrote one enamored tweeter. "Brad Pitt deserves an Oscar for still being fine as f***," tweeted another looks-impressed Oscar viewer. "No lie, Brad Pitt might be the sexiest man of All Time and this is coming from a straight man," raved a third. 
We, of course, may never know the real reason behind Pitt's behavior at the Oscars, but we'll definitely be keeping an eye on him.