Body Language Expert Noticed This About Youn Yuh-Jung And Brad Pitt At The Oscars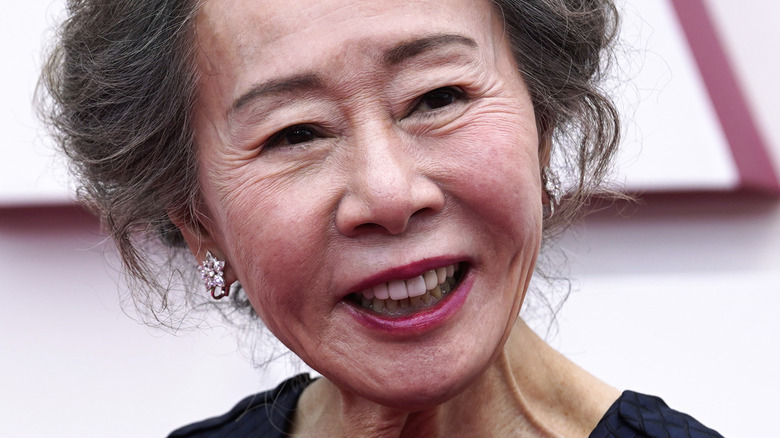 Pool/Getty Images
Brad Pitt hasn't been having an easy go of it lately. He's been back in the headlines for more ugliness related to his never-ending divorce proceedings from his no-longer true love Angelina Jolie, and as he appeared as a presenter at this year's Oscars, he seemed somewhat uncomfortable, even fidgety. People magazine even remarked that he seemed teary-eyed after announcing Youn Yuh-jung's win for Best Supporting Actress in "Minari" (a film that Pitt's Plan B produced). Whether he was overcome by emotion at her speech or whether he had reasons of his own to cry, it's not ours to know what went on under that man bun.
There was one person, however, who knew how to put a smile back on Pitt's face, and that person was Youn Yuh-jung herself. It would seem that the 73-year-old actress, the first Korean woman to win an Academy Award, is quite a fan of his. Mark Bowden, a human behavior and body language expert who's also a panelist on The Behavior Panel, watched Youn's speech and he was impressed with the actress's "great comic body language."
Bowden (and the rest of us) appreciated Youn's humor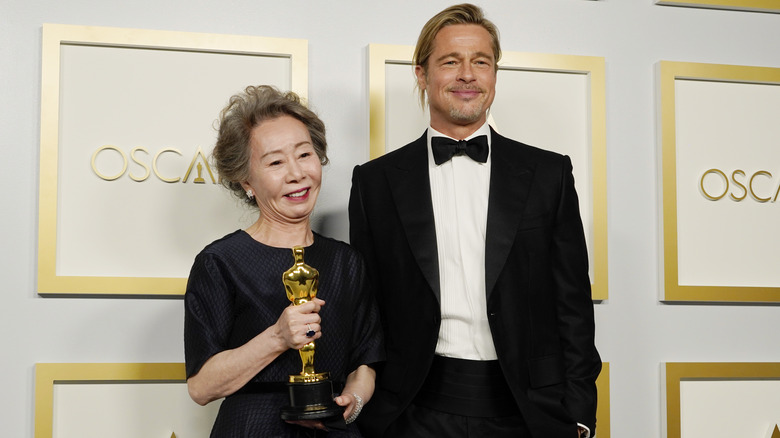 Pool/Getty Images
Bowden pointed out how, when Youn Yuh-jung was asking Brad Pitt where he'd been when they were filming in Tulsa, "she covers mouth with hands in a gesture culturally linked for her with embarrassment," but he didn't seem to feel that she was actually embarrassed. Rather, he felt that she was deliberately being funny, "suppress[ing] the thought all too late ... that she should not have said that." In the rest of her speech he felt that her hands-to-heart gesture showed "sincerity when talking about her colleagues that became 'family'" and that her "illustrator gestures in rhythm with her speech show[ed] she is relaxed and congruent with what she is saying."
Overall, Bowden felt that Youn's performance was "purposefully humorous with Brad Pitt and the audience," and describes her as "clearly an excellent comic performer," giving us a laugh that was "much needed at this point in the show!" Too true ... if only there had been more moments like that!