Body Language Experts Noticed This About Yuh-Jung Youn's Oscar Speech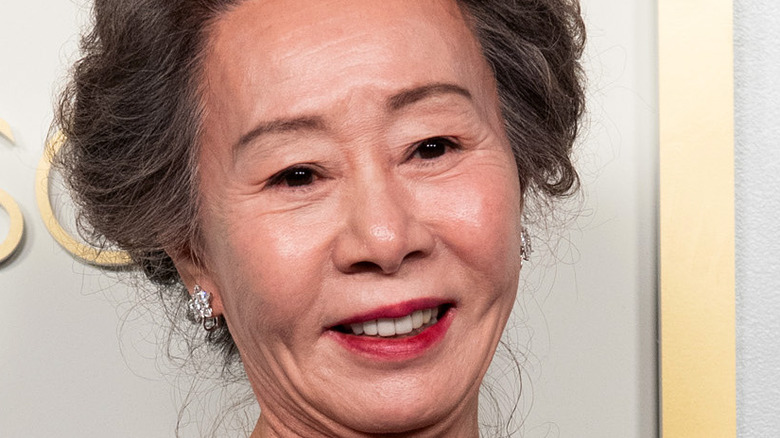 Handout/Getty Images
Korean actress Yuh-Jung Youn enamored herself to viewers worldwide as the sweet-natured grandmother in "Minari." Her BAFTAs acceptance speech, for Best Supporting Actress, made her an icon. "Thank you so much for this award. Every award is meaningful, but this one, especially [to be] recognized by British people, known as very snobbish people, and they approve me as a good actor. So I'm very, very privileged and happy," she hilariously advised (via YouTube). 
As Vulture notes, calling out Brits for being snobby to their faces while accepting an award from them is a baller move. Youn was favorite to win at the Oscars, too, and indeed she did emerge victorious on the night much to nobody's surprise except her own. The List spoke to body language experts Lauren Cohen and Nicole Moore about how the "Minari" breakout's body language spoke volumes, even if her acceptance speech wasn't quite as eyebrow-raising this time around. 
Yuh-Jung Youn seemed like she was in complete shock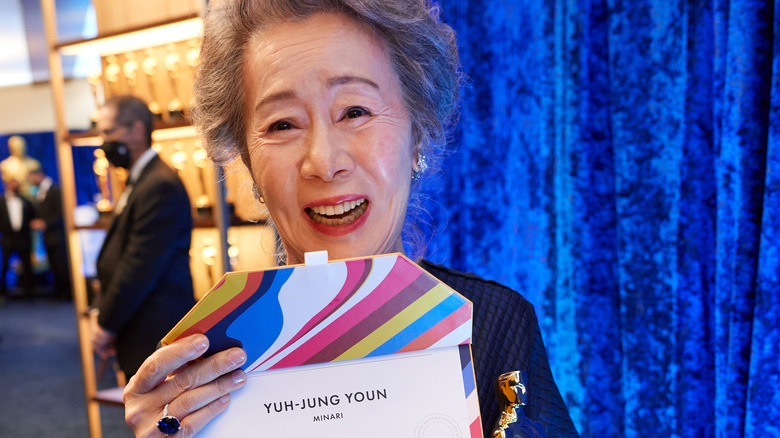 Handout/Getty Images
As body language expert Lauren Cohen, an executive and career coach, explains, Yuh-Jung Youn accepted her Oscar for Best Supporting Actress with "her hands clasped" and spoke "as if she was having a conversation." Youn is the first Korean actor to win an Oscar, and this was her first nomination too so, understandably, the "Minari" star was overwhelmed by the whole experience. However, as Cohen notes, "She spoke with heart and hands and turned and engaged many different people while she spoke. Not surprisingly she was very comfortable on stage." Body language expert, life coach, and relationship expert Nicole Moore saw it a little differently, though, noting Youn "was nervous and a bit reluctant to fully accept winning." 
Moore explains the Korean actress "clutched her hands nervously when she got to the podium to accept her award. She began her speech not by talking about herself but by mentioning Brad Pitt. This deflection of attention immediately from herself to Brad Pitt may indicate some discomfort on her part of fully accepting the award and she even mentioned that she felt the award deserved to be shared by all the nominees." Likewise, Youn "kept her hands clasped in front of her body for a lot of her speech, a body language indicator that typically shows nervousness." It's entirely possible the actress was simply overcome by emotion, but Youn was a deserving winner regardless — even if she couldn't quite believe it herself.